Michigan is surrounded on three sides by water. So it should come as no surprise that you'll find some fantastic dog friendly beaches to visit!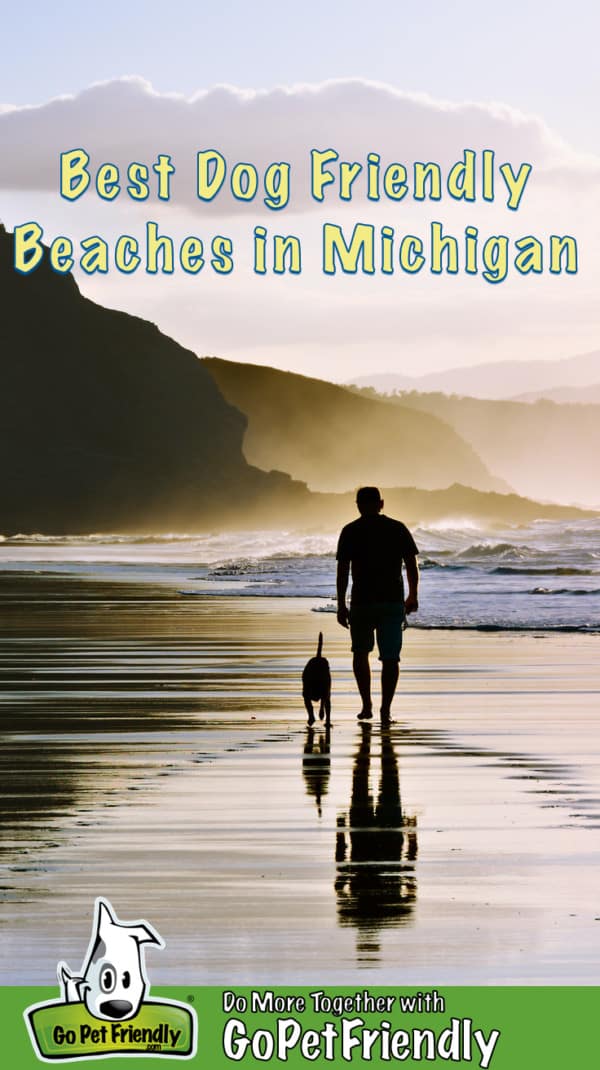 Coined the Great Lakes State, Michigan is known for its beautiful, sandy, freshwater beaches. Our mini-Goldendoodle, Kirby, absolutely loves the beach. He has a blast splashing in the water, catching a toy, and running in the sand. So today we're sharing 10 of the best dog friendly beaches in Michigan!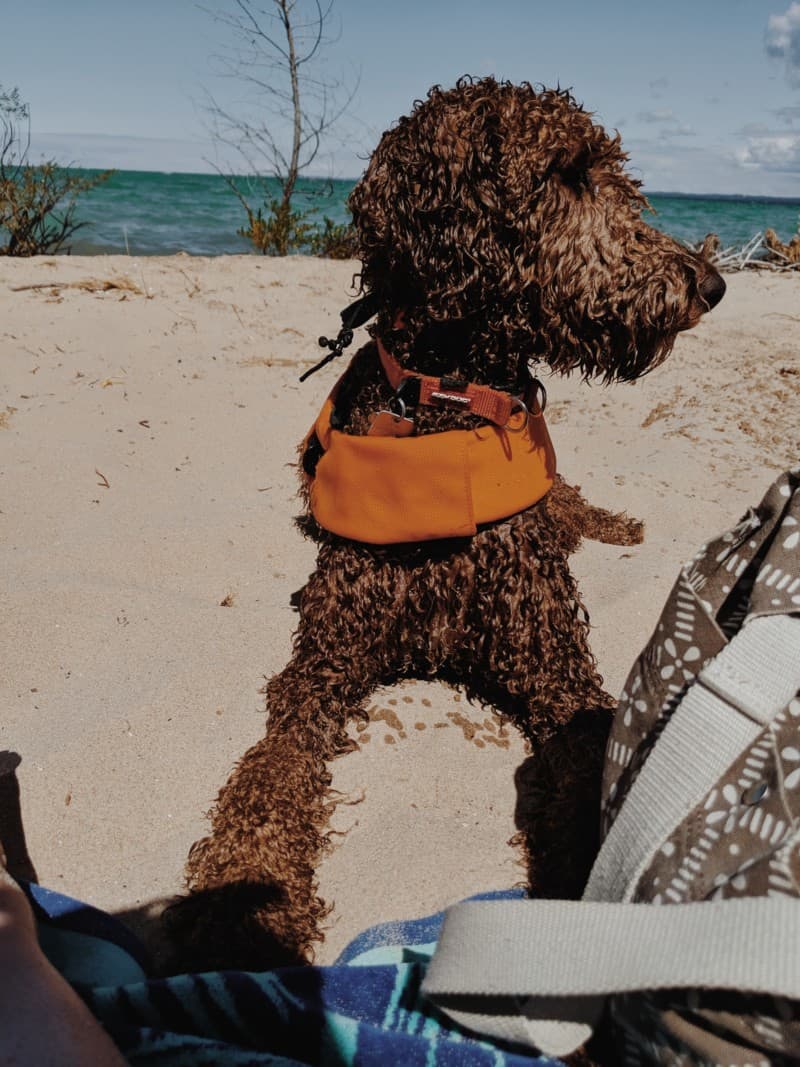 Know Before You Go
There are a few things to be aware of before you take your dog to the beach:
Not every dog friendly beach allows your dog to be off-leash. Most require you to keep your dog on a six-foot leash at all times. 
Not all beaches are dog friendly. In addition, some beaches have specific sections designated as dog friendly.
Pack a bag for your dog. Bring water, a life jacket, a towel, snacks, and dog booties for the hot sand. 
Clean up after yourself and your dog and leave no trace!
READ MORE ⇒ Keeping Your Dog Safe At The Beach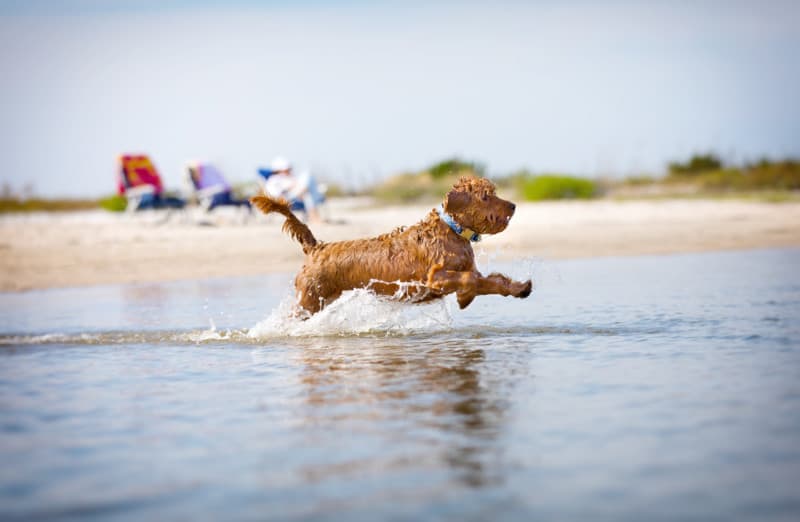 Michigan's Best Dog Friendly Beaches
#1 Port Crescent Beach – Port Austin, MI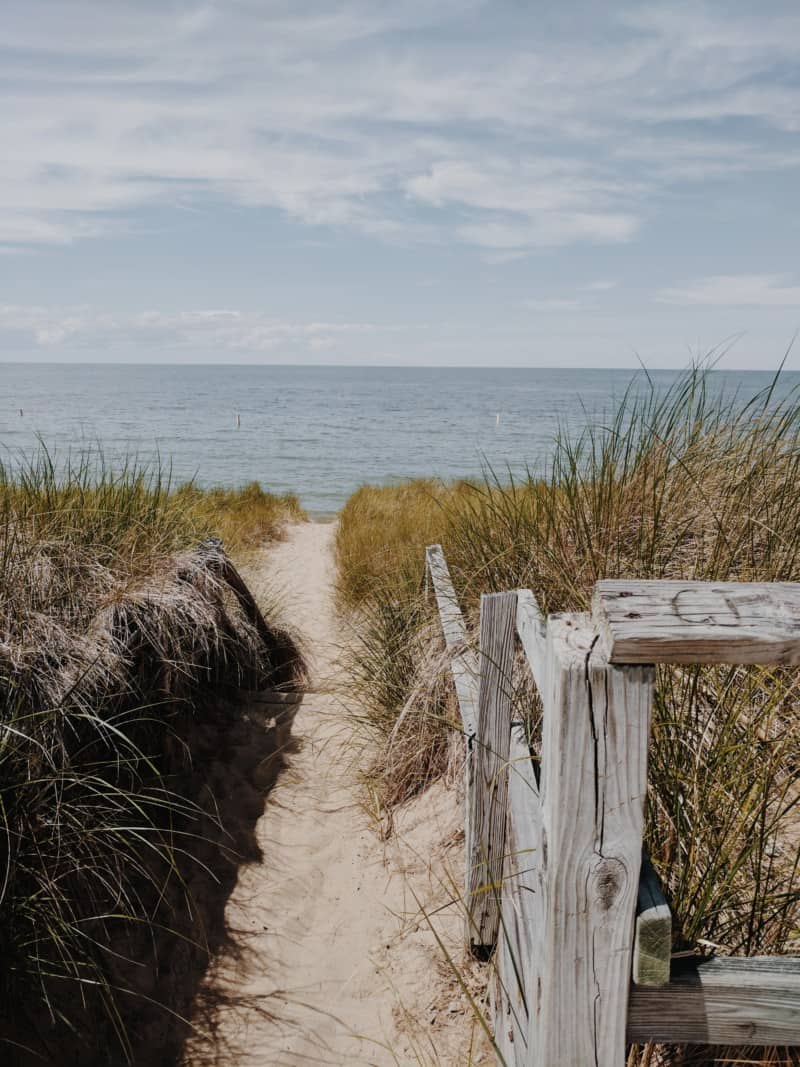 Located at the top of the "thumb" of Michigan, Port Crescent Beach is a beautiful beach to visit with your dog. Leashed dogs are allowed on the entire 3-mile length of the Lake Huron shoreline, but are not allowed in the designated swimming beach at the campground. 
Port Crescent State Park is also a Dark Sky Preserve. I would suggest staying overnight at the campground and gazing up at the stars with your dog!
Note: You will need to pay a fee to enter the state park.
#2 Kirk Park – West Olive, MI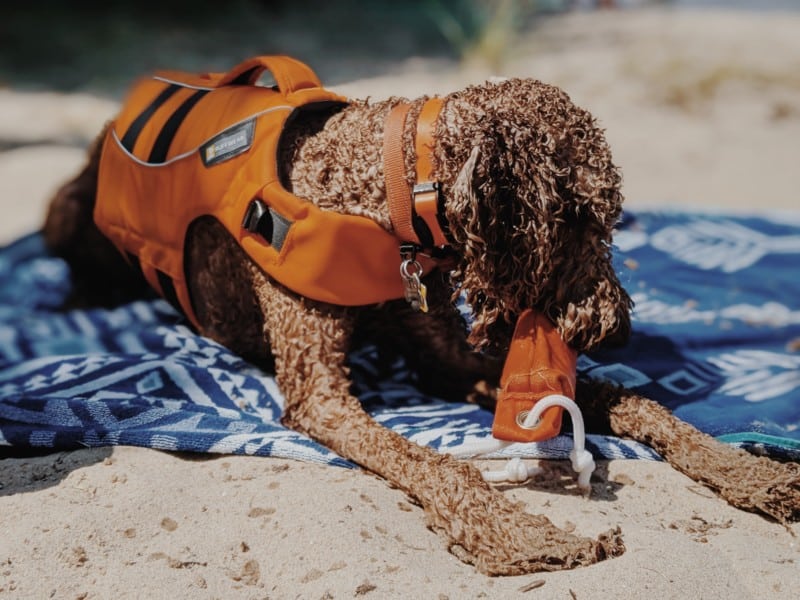 Kirk Park is another off-leash dog friendly beach that is also popular and family-friendly due to the acres of dunes, sandy shoreline, trails, and amenities. It is located south of Grand Haven. However, the beach has limited hours for dogs from May through September.
 Click here for more details, on their dog policy.
#3 Mission Point Lighthouse Park – Traverse City, MI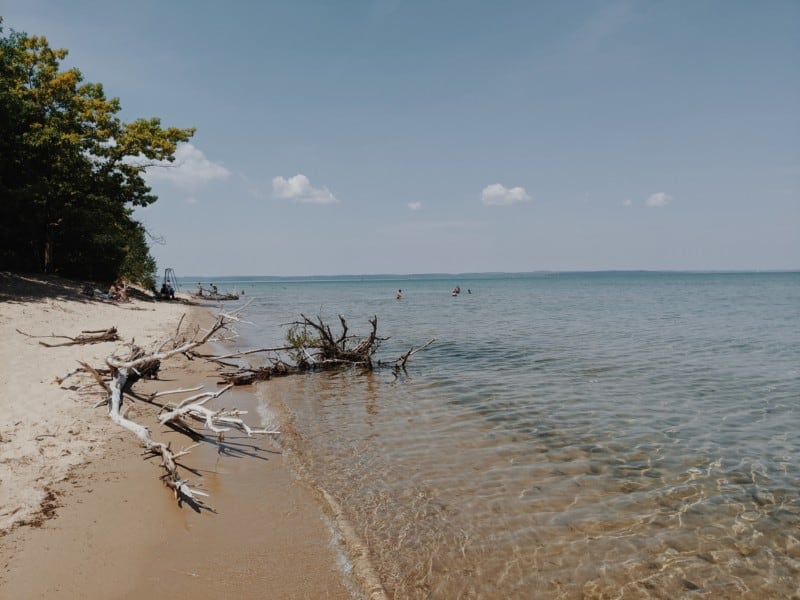 In the popular beach town of Traverse City, you'll find plenty of crowded beaches near the downtown. However, if you drive up to Mission Point Lighthouse, there is a beach that is dog friendly. And dogs who are well-trained and have good recall can be off-leash. So you can let your pup splash in the water and prance in the sand!
Also, this beach has never been overly crowded in all the years that I've been going to it. It really is a hidden gem for dog owners!
#4 Warren Dunes State Park – Sawyer, MI
A popular destination and one of the most highly rated state parks in Michigan is Warren Dunes State Park. It should definitely be on your list to visit! There you will find 2.5 miles of dog friendly Lake Michigan shoreline, hiking trails, and a dune that rises 260 feet above the water. 
To find the dog friendly portion of the beach, walk north of the northernmost swim buoy.
Note: You will need to pay a fee to enter the state park.
#5 Silver Lake Sand Dunes – Mears, MI
Silver Lake Sand Dunes is a popular destination for dune lovers and can be a blast for your dog.
Not only are leashed dogs allowed along the entire length of the Lake Michigan shoreline (3 miles) and the park's inland lake, Silver Lake, they are also allowed to ride with you in the designated ORV area!
Note: You will need to pay a fee to enter the state park.
READ MORE ⇒ Travel Guide: Pet Friendly Traverse City, Michigan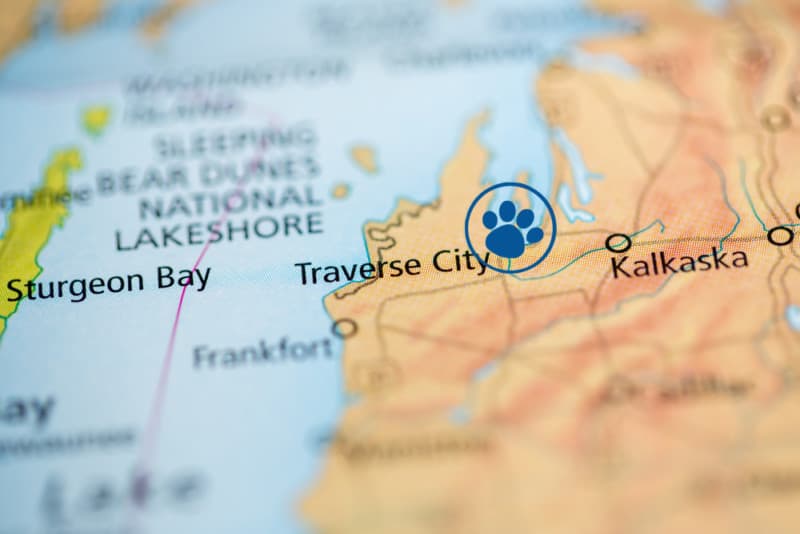 #6 Miners Beach – Shingleton, MI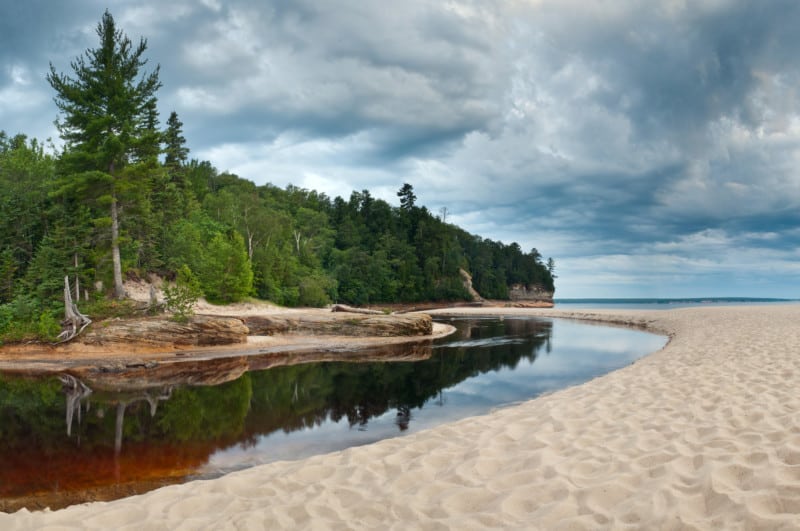 A great dog friendly beach to visit in the Upper Peninsula would be Miners Beach. Located in the Pictured Rocks National Lakeshore, Miners Beach has one mile of sandy shore to explore with your dog!
#7 Sleeping Bear Beach – Glen Arbor, MI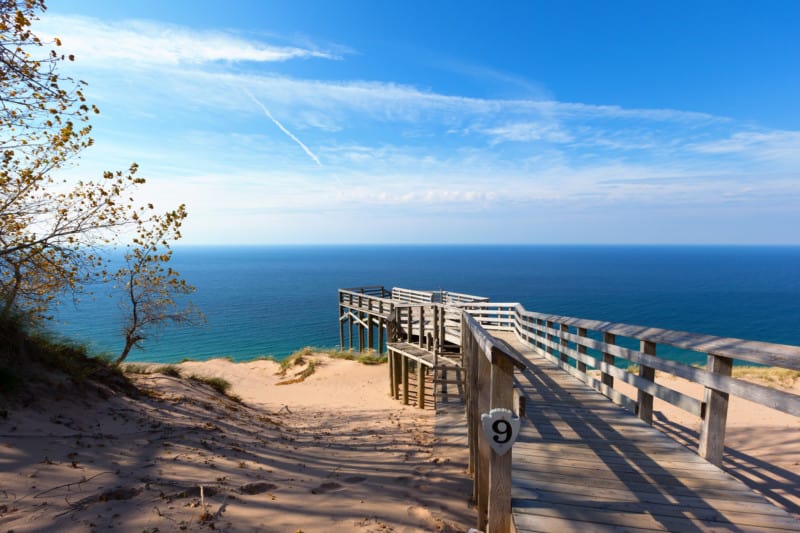 Near the Cannery Boathouse Museum, you'll find Sleeping Bear Beach. There are fewer crowds here because this beach is just outside the popular Sleeping Bear Dunes and famous Dune Climb. It is also easily accessible from the parking lot, so it won't tire your pup out just to get there. 
#8 Grand Mere State Park – Stevensville, MI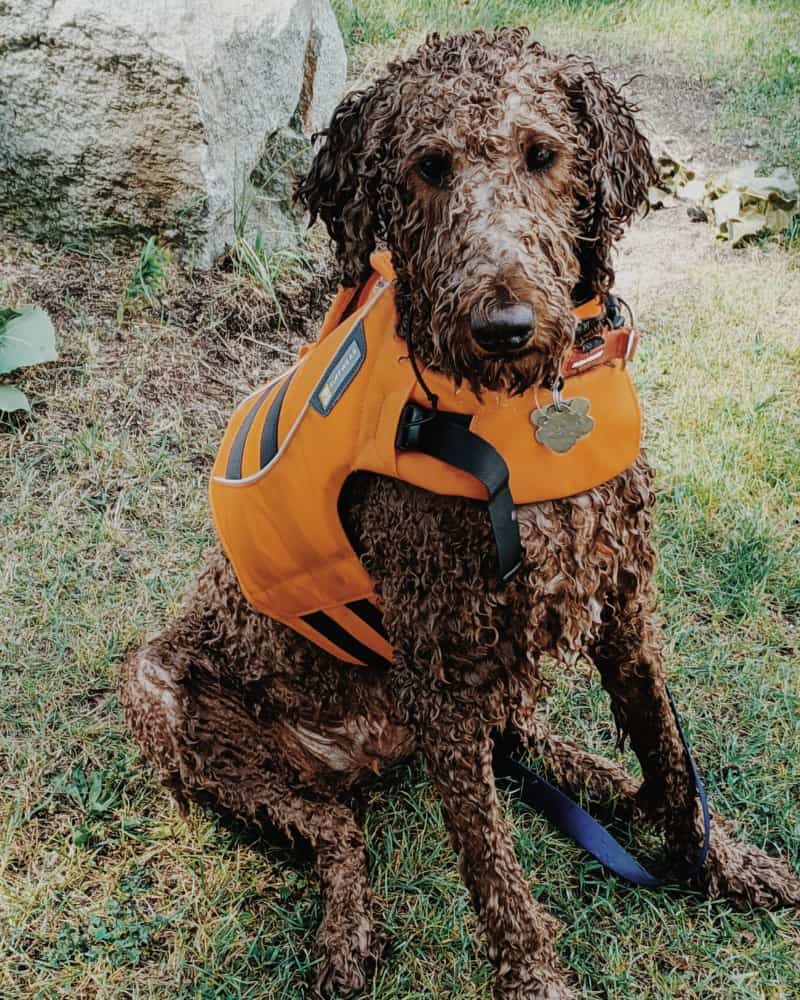 Accessible by two trails, the half-mile of the Lake Michigan shoreline at Grand Mere State Park is dog friendly. If you are looking for a combination of hiking and relaxing at the beach, then this beach would be perfect for you and your dog!
Note: You will need to pay a fee to enter the state park.
#9 Au Train Beach- Au Train, MI
Located on the beautiful shore of Lake Superior, Au Train Beach is a perfect way to spend a day in the Upper Peninsula. The beach is 25 minutes south of the city of Marquette.
Au Train Beach has a shallow outlet area where you can splash in a section of the Au Train River without worrying about the waves of Lake Superior being too much for your dog. And to top it off, this beach is not usually crowded. 
READ MORE ⇒ Mackinac Island: Michigan's Top Pet Friendly Attraction
#10 Buttersville Beach – Ludington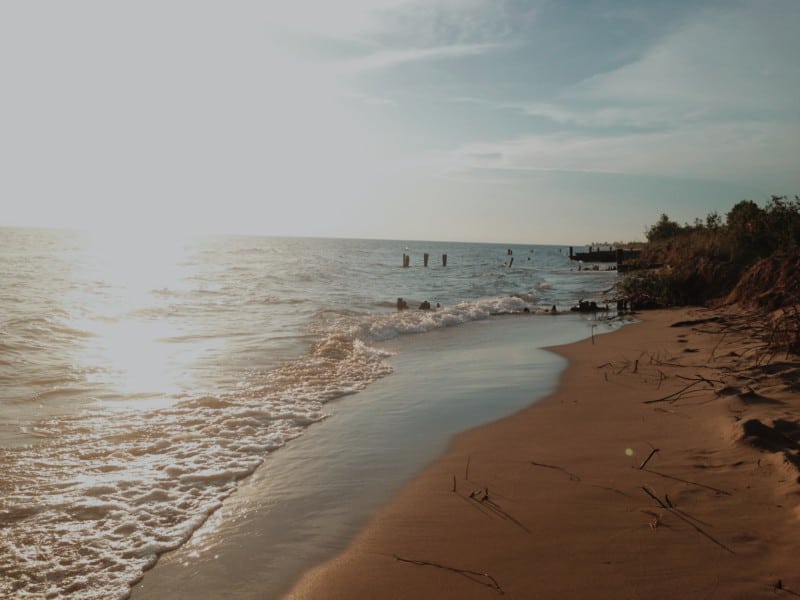 If you are visiting the southwest coast of the state, Buttersville Beach is a great dog friendly beach right next to Buttersville Campground. While you'll find a lot of crowds at Ludington State Park, Buttersville tends to be less crowded so it is popular with dog owners.
There are so many great dog friendly beaches in Michigan to choose from! We hope our tips help you find one that you and your dog love!
(Visited 1 times, 1 visits today)