Tucson is the perfect basecamp for exploring southern Arizona! From snowy mountains to desert landscapes with massive Saguaro cacti, the changing scenery and variety of activities will delight you and your pet.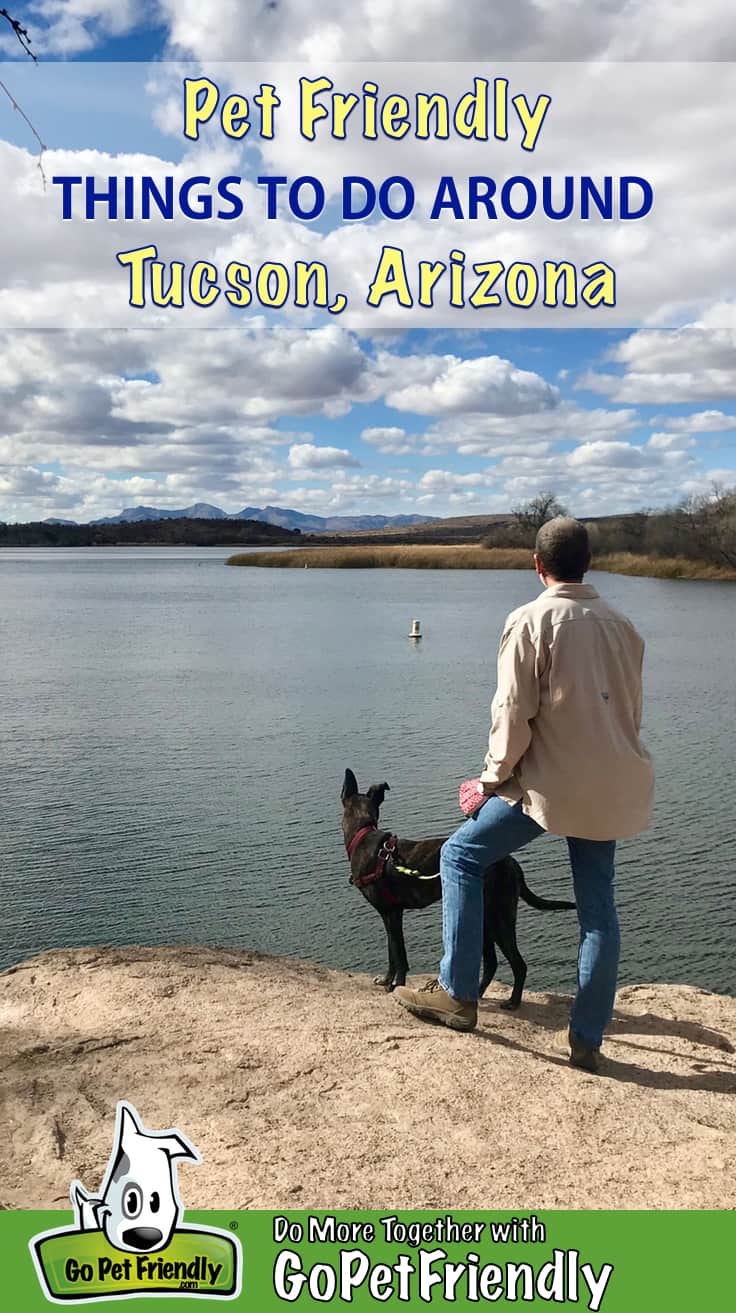 What's the most pet friendly city you've visited? Your answer, of course, depends on how you define "pet friendly."
After years of traveling with our dogs, my measure of pet friendliness is simple … can I get to know the place with my dog? That means having pet friendly options that allow me to do the types of things any visitor would want to experience.
I'm delighted to say that the many dog friendly options around Tucson definitely make that possible! Read on to discover fifteen fantastic ways you and your pets can experience southern Arizona together.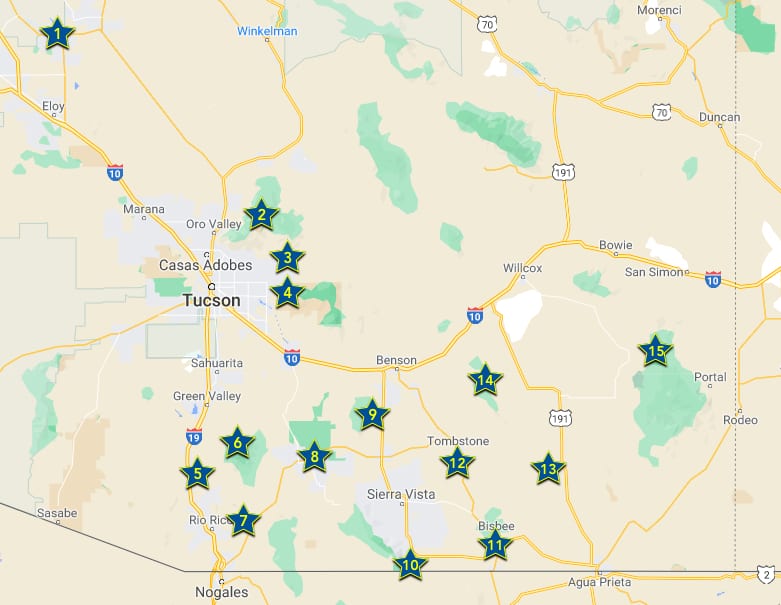 1 Hour North of Tucson in Coolidge, AZ
Casa Grande preserves the remains of an ancient Great House, which was build around 1350 by the Ancestral People who farmed along the Salt and Gila Rivers. Granted federal protection in 1892, this is America's first archeological reserve.
The site is not large, and you'll be able to admire the structures and ball courts and read what we know of the history in a couple of hours.
Leashed pets can join you on all trails and walkways throughout the park. Pets are not to be left in vehicles or unattended at any time.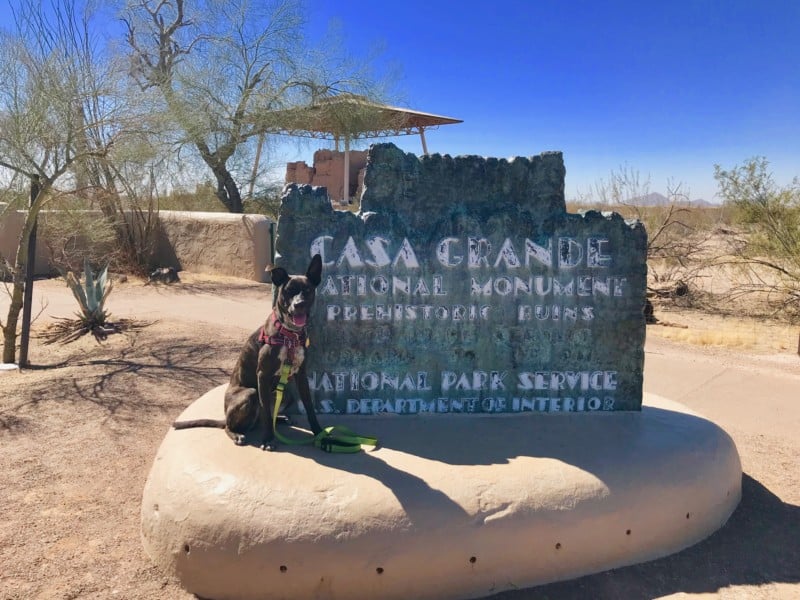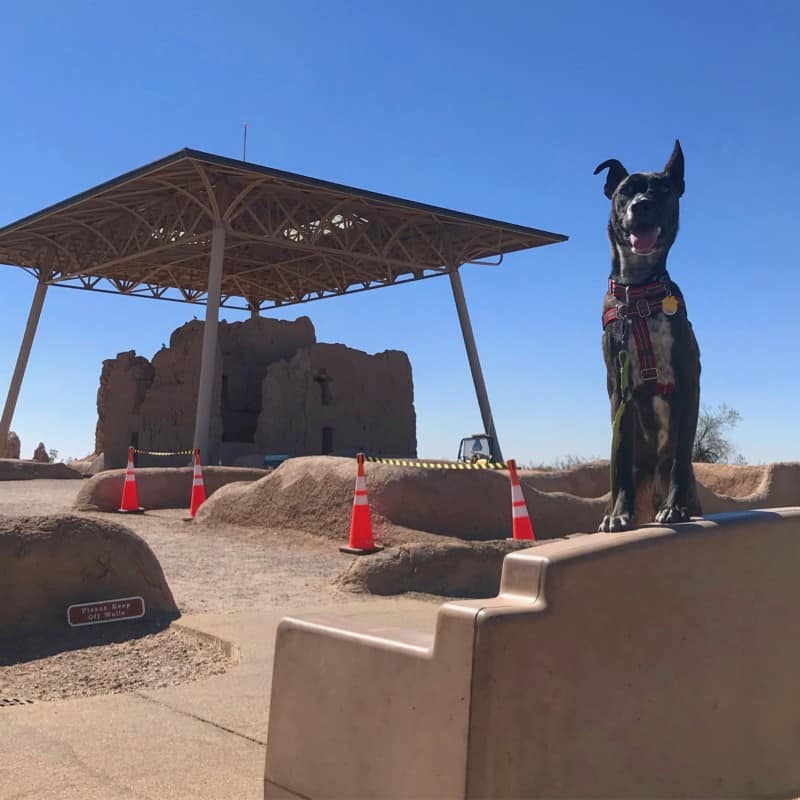 Pet Friendly Tip: Plan your visit so you can have lunch at the Pita Patio Grill in Coolidge! The outdoor seating is partially covered and very pet friendly. And the food is great!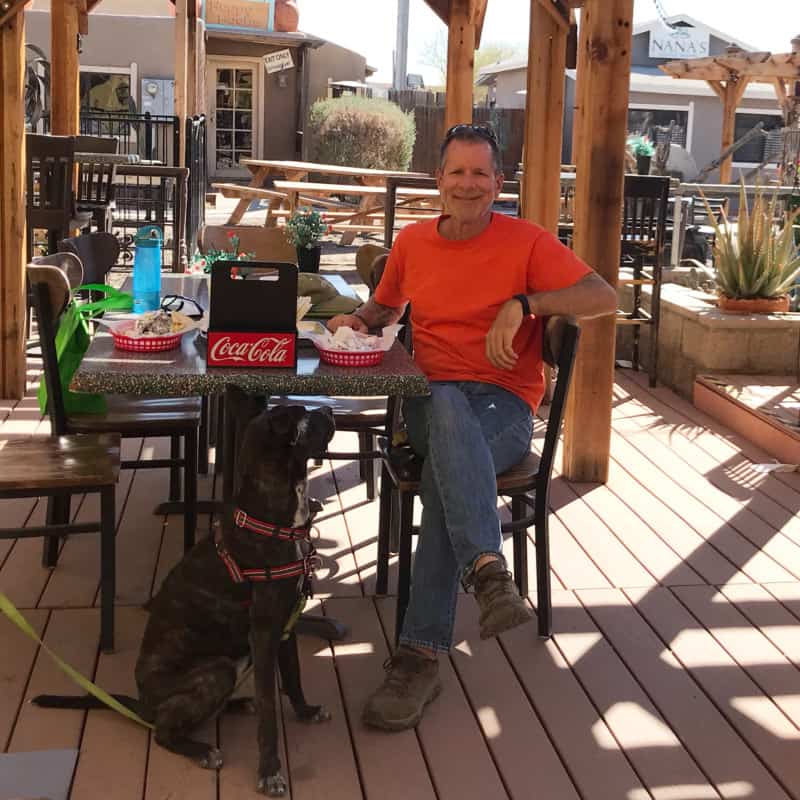 90 Minutes North of Tucson in the Coronado National Forest
From the valley, the drive to the top of Mount Lemmon is only 27 miles. But as you climb the 8,000 feet, you enter a different world.
During the summer the temperatures are 30 degrees cooler at the peak, and it's a wonderful place for hiking, picnics and camping. Winter brings plenty of snow for skiing, sledding, and snowshoeing. No matter the season, the views are breathtaking!
You must display a Coronado National Forest or Interagency (America the Beautiful) pass. You can purchase a day use pass at the site for $8.
Please check the national forest website for the Santa Catalina Mountains district for a list of trails and descriptions. Note that pets are not allowed in the Pusch Ridge Wilderness Area or Sabino Canyon Recreation Area — both in the Santa Catalina Mountains. However, aside from these two areas, leashed pets can join you for hiking, picnicking, or camping in the national forest.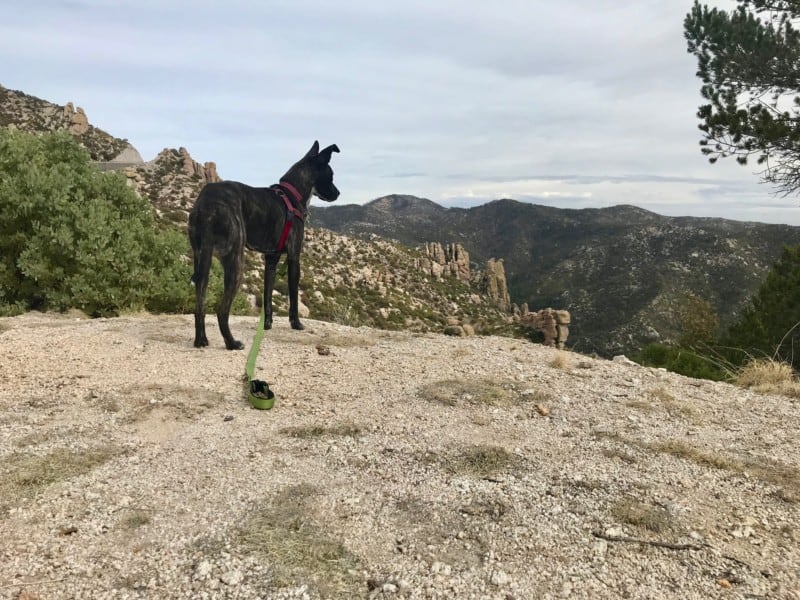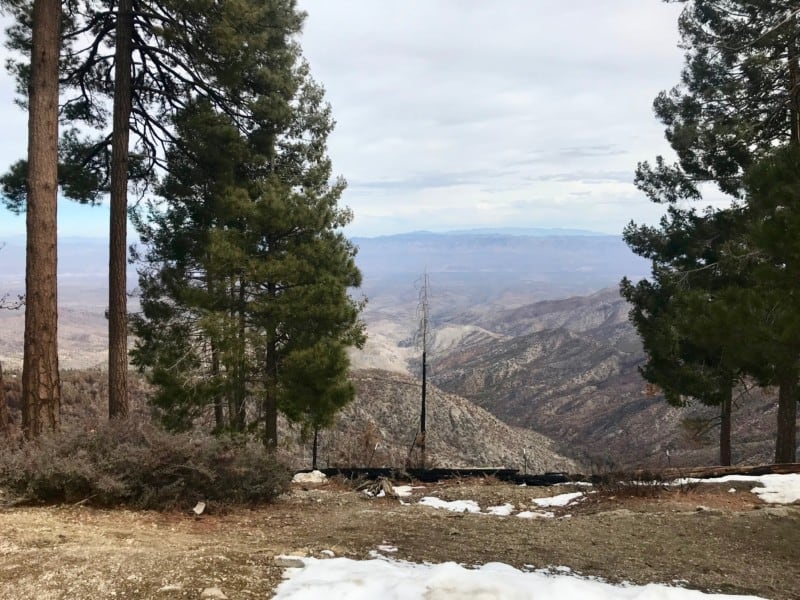 40 Minutes Northeast of Downtown Tucson
We did a lot of dog friendly hiking around Tucson during our visit, and this trail was our favorite! Crossing two canyons while we meandered through the desert filled with saguaro and ocotillo was just what we hoped for in southern Arizona.
Leashed pets are welcome on the Agua Caliente Loop Trail.
The trail is just over 6 miles and is fairly rated as "moderate." On top of the hike, you have to walk about a mile to the trail after parking at the La Milagrosa Trailhead (4996 N Avenida De Suzenu). There is no shade, so be sure to wear protective clothing and bring plenty of water for your and your pet.
READ MORE ⇒ 7 Essentials for Desert Hiking With Dogs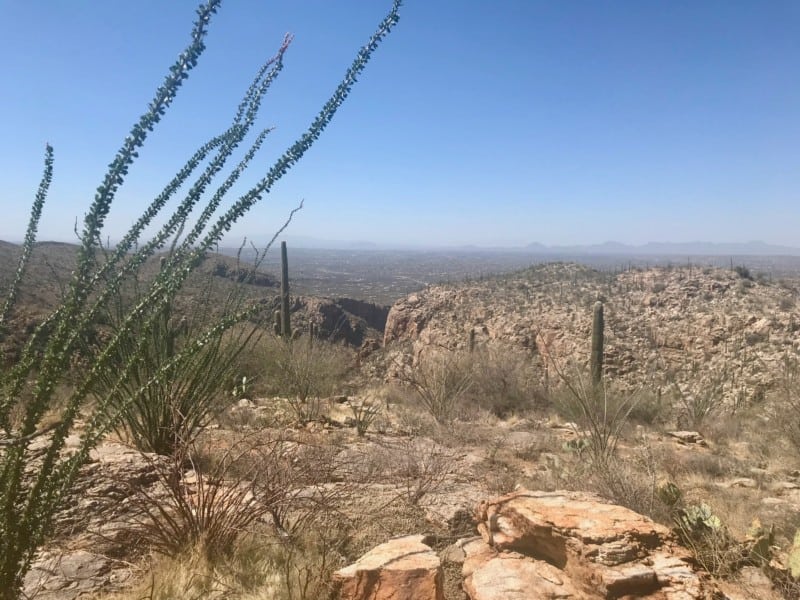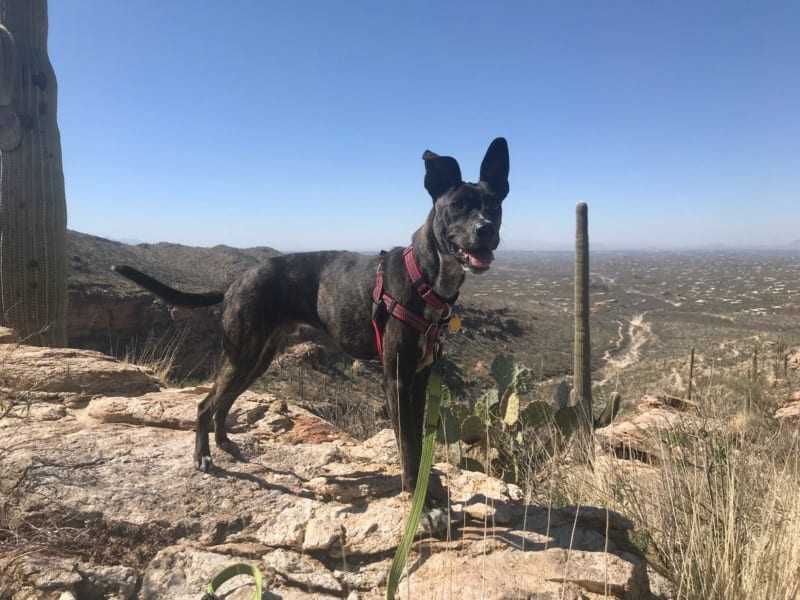 Pet Friendly Tip: After the hike, you'll deserve a treat from The Screamery (50 S Houghton Road). If you can't decide on a flavor, ask for a flight of their handmade ice cream!
East – 30 Minutes East of Downtown Tucson
West – 20 Minutes Northwest of Downtown Tucson
The majestic saguaro is the symbol of the American southwest, and these giant cacti are only found in a small portion of the United States. Therefore, no trip to southern Arizona is complete without visiting Saguaro National Park.
This national park is split into two sections, and both offer some options for those traveling with pets. However, the paved roads in the west district are heavily used by commuters, so we prefer the quieter east district.
Leashed pets can only go on roadways, picnic areas (except Mam-A-Gah picnic area in the west district) and paved trails in both sections of the park. Additionally, pets cannot be left unattended in or outside of a vehicle at any time.
At Saguaro East – The Mica View Dirt Road is a trail-like 1 1/2-mile route through a lush cactus landscape. Mica View Trail runs 3/4 mile from Broadway trailhead to the Mica View Picnic Area. The paved 1/4-mile Desert Ecology trail is also dog friendly. You can also walk the Cactus Forest Loop Road, the scenic road through the park.
At Saguaro West – The unpaved 5.2-mile Bajada Loop Drive is pet friendly, as is the half-mile, paved, Desert Discovery trail. In addition, Golden Gate Road, between the Bajada Loop and Picture Rocks Road, has been closed to vehicles and is a good dog walking spot.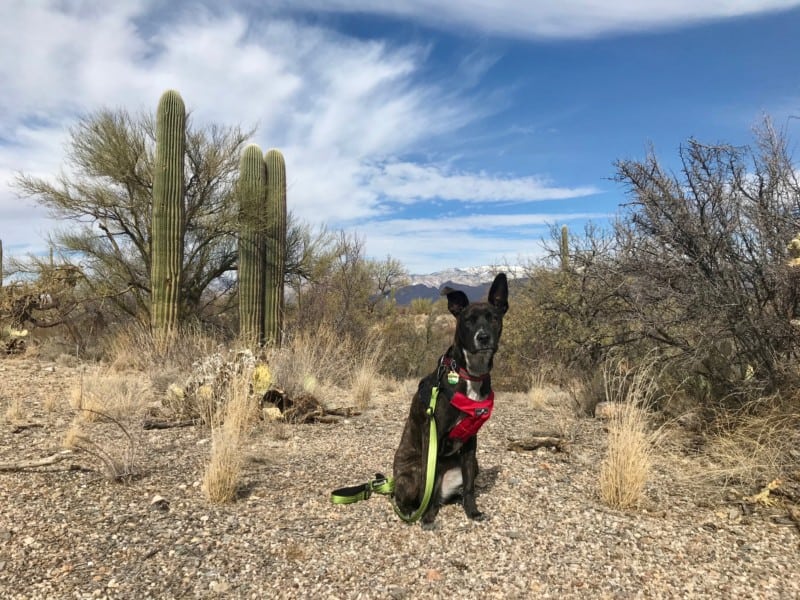 45 Minutes South of Tucson
Tubac is a historic village and destination for those who love the arts. Established in 1752 as a Spanish Presidio (fort), the village now hosts working artists whose studios surround the historic presidio grounds.
There is a state park in "old town," and pets are welcome on the grounds. However, the main attraction is the museum, where pets cannot join you. We passed and instead spent the afternoon wandering the streets, admiring the pottery, sculptures, and artwork.
Pets are welcome on the grounds at the Tubac Presidio State Historic Park, but not in the museum. Some businesses in Tubac welcome pets inside – just ask first! And several restaurants in the village have pet friendly patios.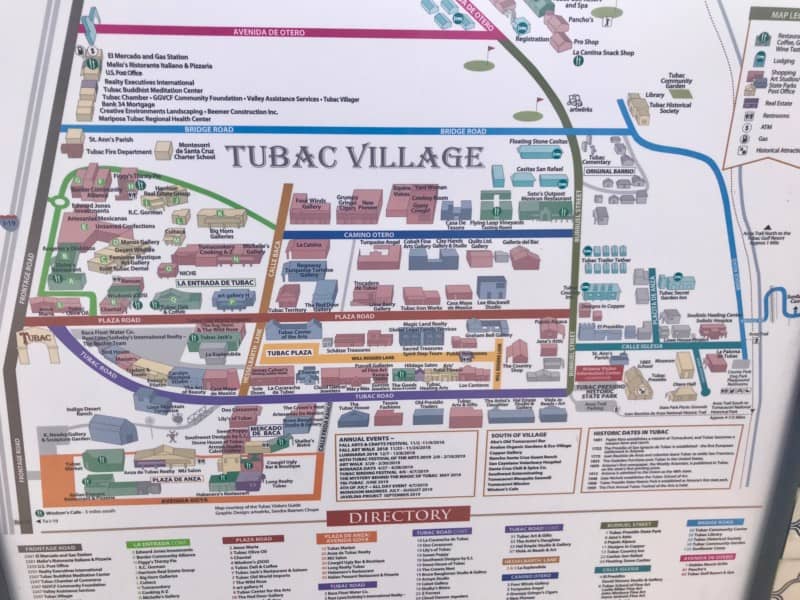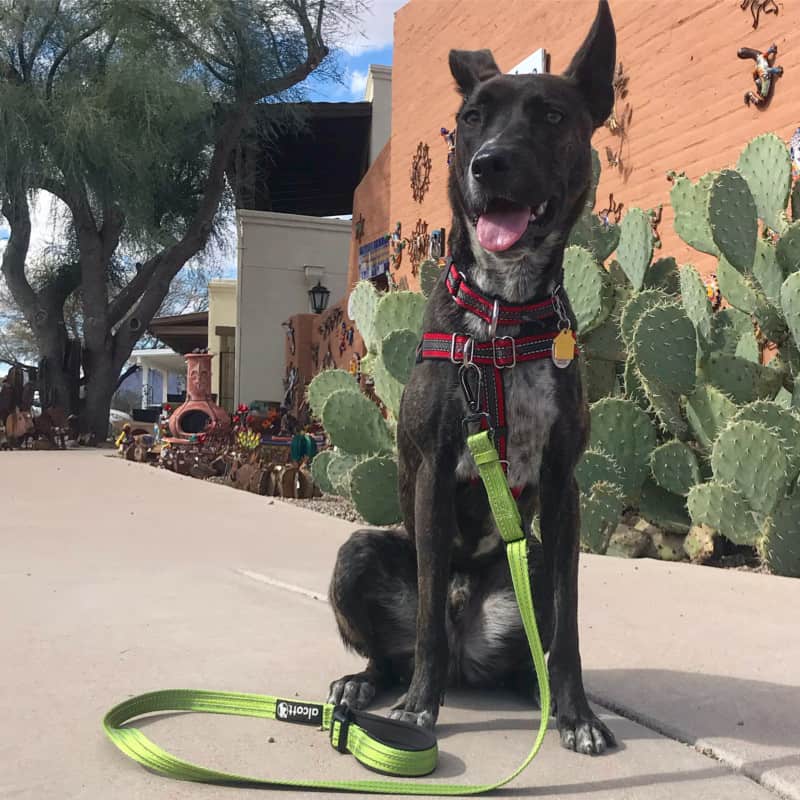 Pet Friendly Tip: The patio at Shelby's Bistro (19 Tubac Road) is pet friendly, and their burgers are incredible!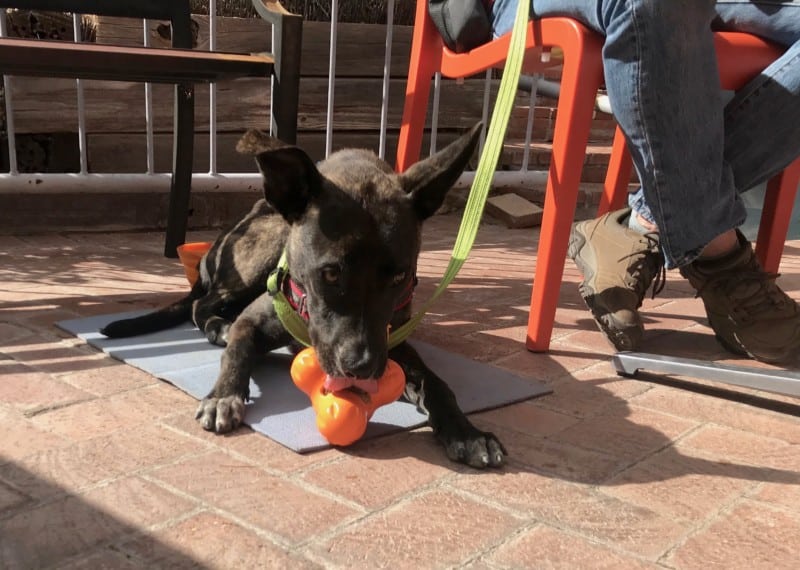 45 Minutes South of Tucson Near Green Valley
Best known as a bird watching location, Madera Canyon's elevation grants relief from the desert heat during the hot months and allows access to snow during the winter. It also boasts an extensive and gorgeous trail system, which is easily accessed from the Canyon's campground and picnic areas.
You must display a Coronado National Forest or Interagency (America the Beautiful) pass. You can purchase a day use pass at the site for $8.
Leashed pets are welcome on all the trails, at the picnic areas, and in the campground at Madera Canyon.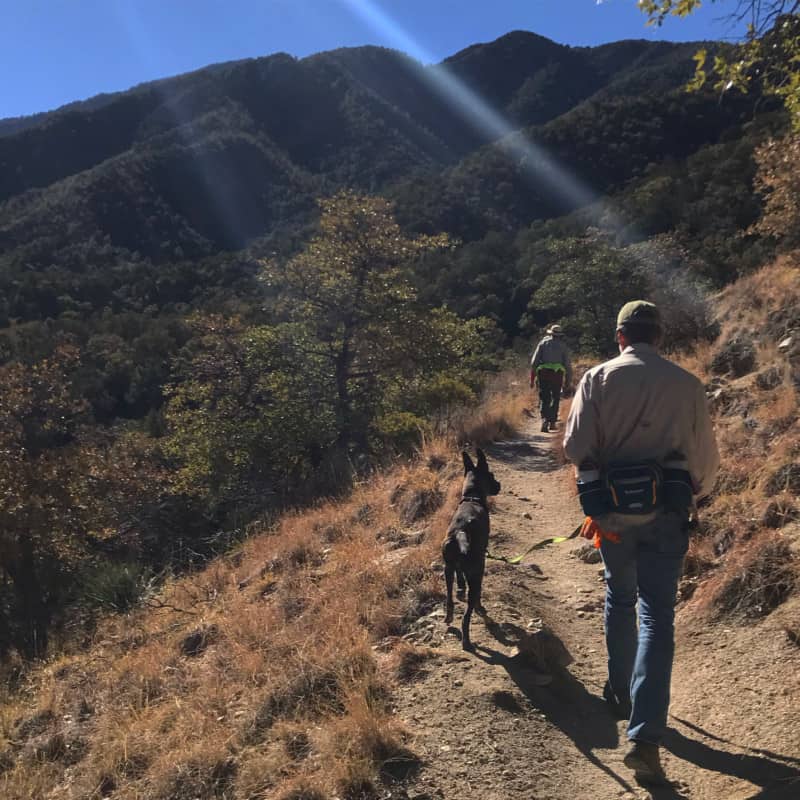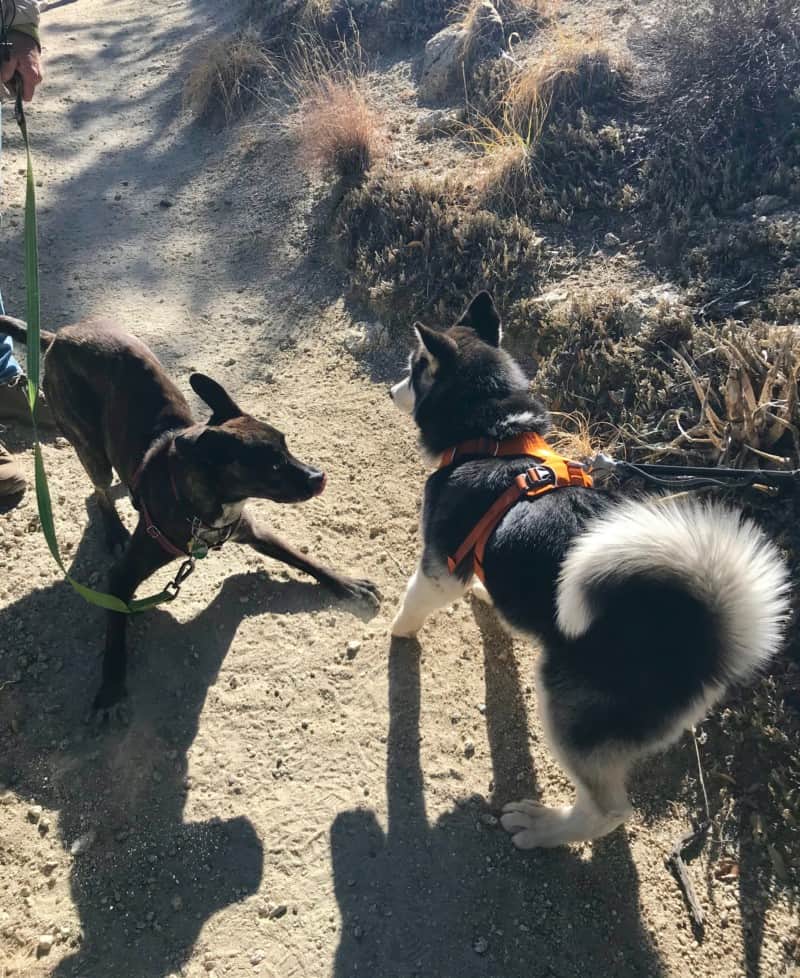 80 Minutes South of Tucson near Patagonia, AZ
Patagonia Lake is a 250-acre dog friendly oasis in the desert near Tucson. Popular for fishing, camping, picnicking, bird watching, and hiking, there's something here everyone will enjoy.
Pets can join you for a stroll on the creek trail, or hop aboard a rental boat or canoe for a paddle around the shore. For trails with less traffic, the Sonoita Creek State Natural Area borders the state park and offers ten additional pet friendly trails!
Pets on leashes up to six-feet in length can join you for hiking, picnicking, camping, and on the boat rentals at Patagonia Lake State Park.
Pet Friendly Tip: Rather than preparing your picnic, stop at one of the restaurants and cafés in the town of Patagonia and get your lunch to go. Just watch out for the coots – they obviously enjoy handouts!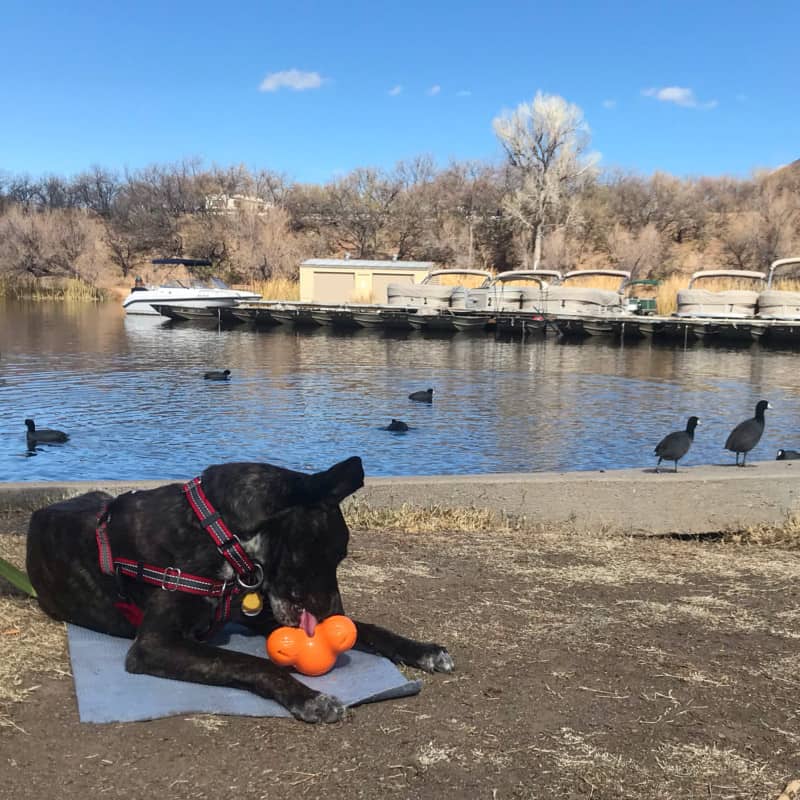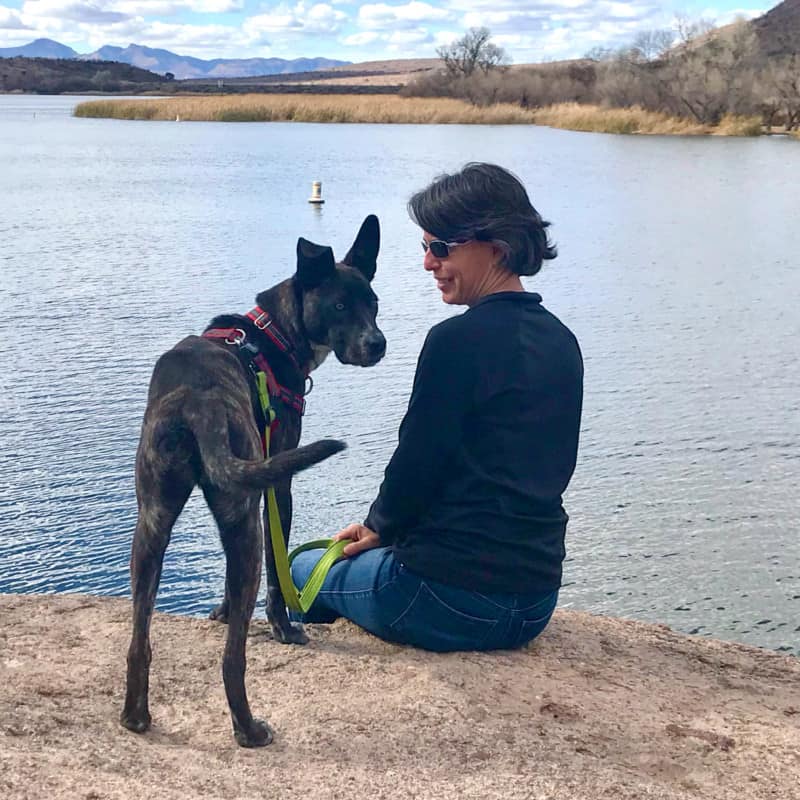 50 Minutes Southeast of Tucson
You'll find one of Arizona's finest and most beautiful wine growing regions in a high altitude basin (4500-5000 feet) surrounded by the Santa Rita, Huachuca, and Whetstone Mountains. Less than an hour's drive from Tucson, it's a great way to spend a dog friendly day!
Most, if not all, of the wineries and breweries have pet friendly outdoor seating. Some also serve food. Check the website for hours and links.
Each brewery and winery sets their own pet policy. We've verified that the following establishments are pet friendly:
Autumn Sage Vineyards
Charron Vineyards
Copper Hop Ranch Micro Brewery
Flying Leap Vineyards and Distillery
Rancho Rossa Vineyeards
Sonoita Vineyards
The Meading Room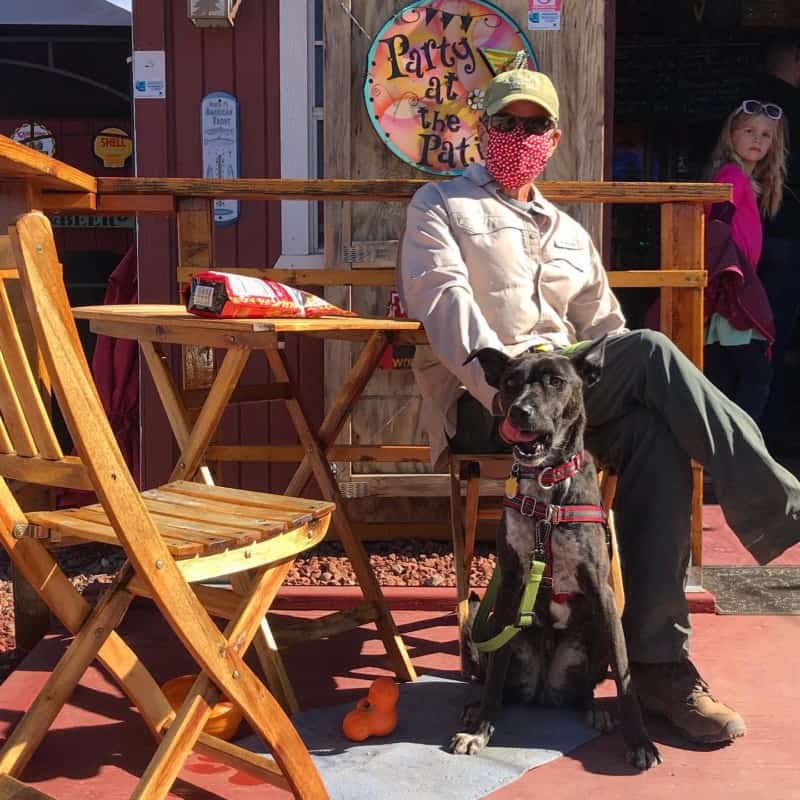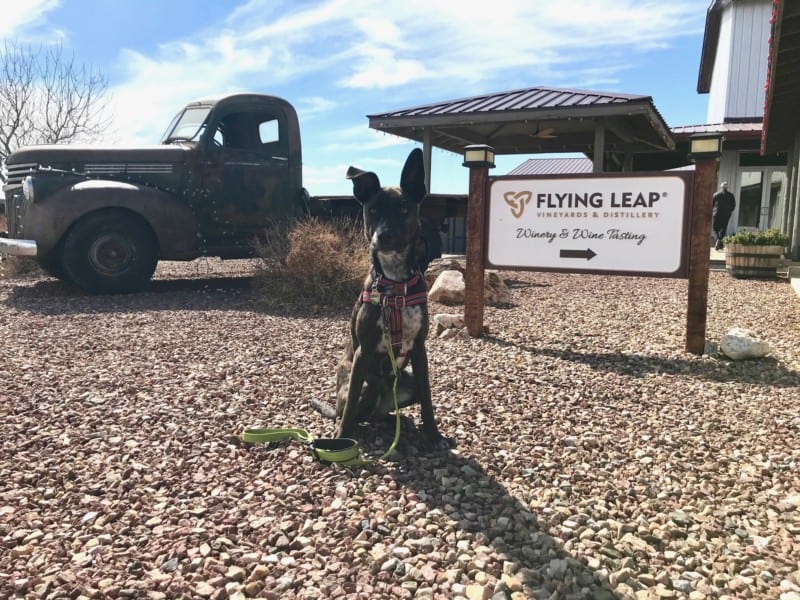 Pet Friendly Tip: Make the day more fun for your dog by starting off with a hike at Empire Ranch, six miles north of Sonoita on Hwy 83.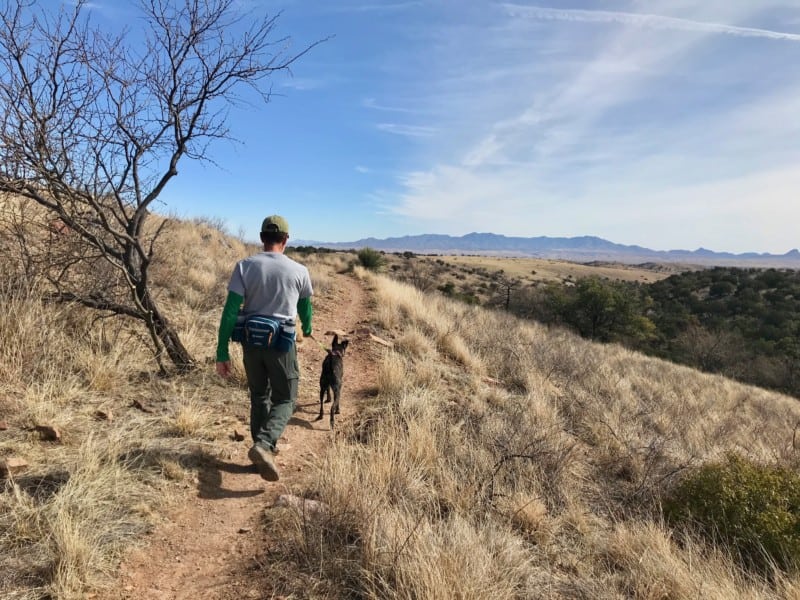 55 Minutes Southeast of Tucson Near Benson, AZ
Kartchner Caverns is obviously known for it's cave tours, but pets are not allowed in the caverns. It was the trails that drew us to this state park!
There are three trails that run in the state park. The 2.4-mile Foothills Loop (ask for a trail guide at the entrance booth), the 0.3-mile Mountain Viewpoint, and 1.7-mile Ocotillo Trail.
Pets on leashes up to six-feet in length can join you for hiking, picnicking, and camping. Pets are not allowed on the cave tours.
While the trails in the state park looked nice, on our first visit we opted for the 4.2-mile Guindani Trail, which is accessed from the state park but runs in the Coronado National Forest. Passing through two very distinct landscapes, we throughly enjoyed this hike.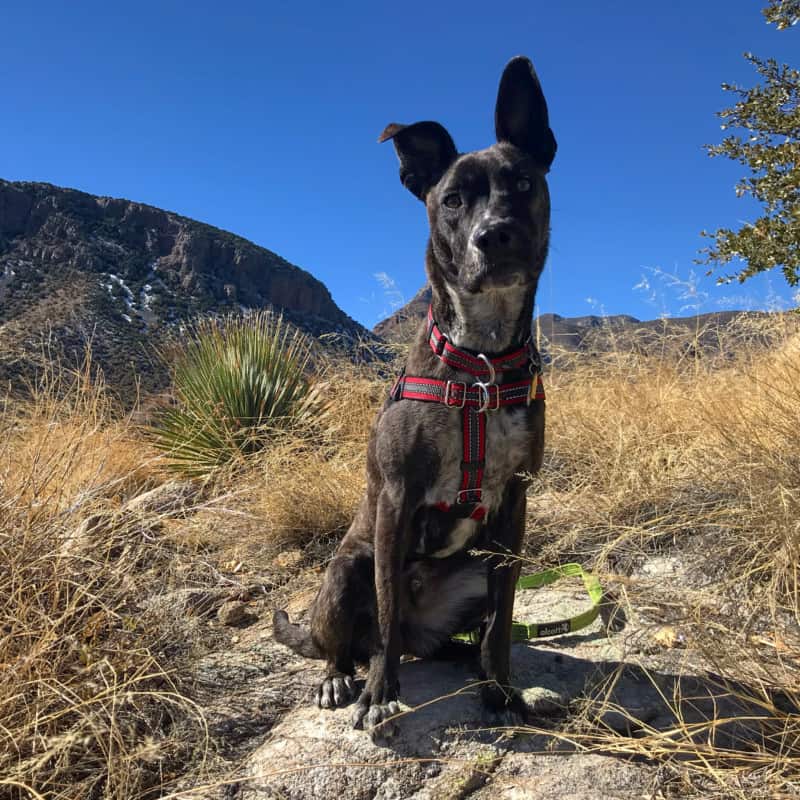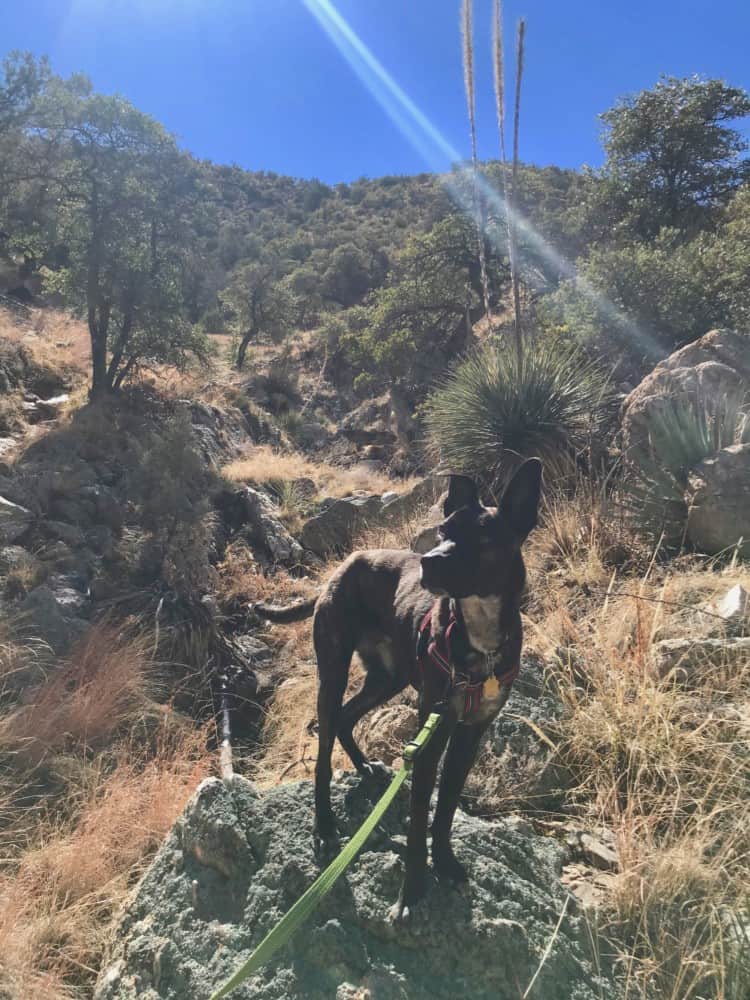 In fact, we had such a good time, we went back to try the Cottonwood Saddle Trail a few weeks later! This trail branches off the Guindani Trail and is also in the Coronado National Forest. Round-trip from the parking area, is was roughly a 10-mile hike. But the views at the end absolutely made it worth the effort.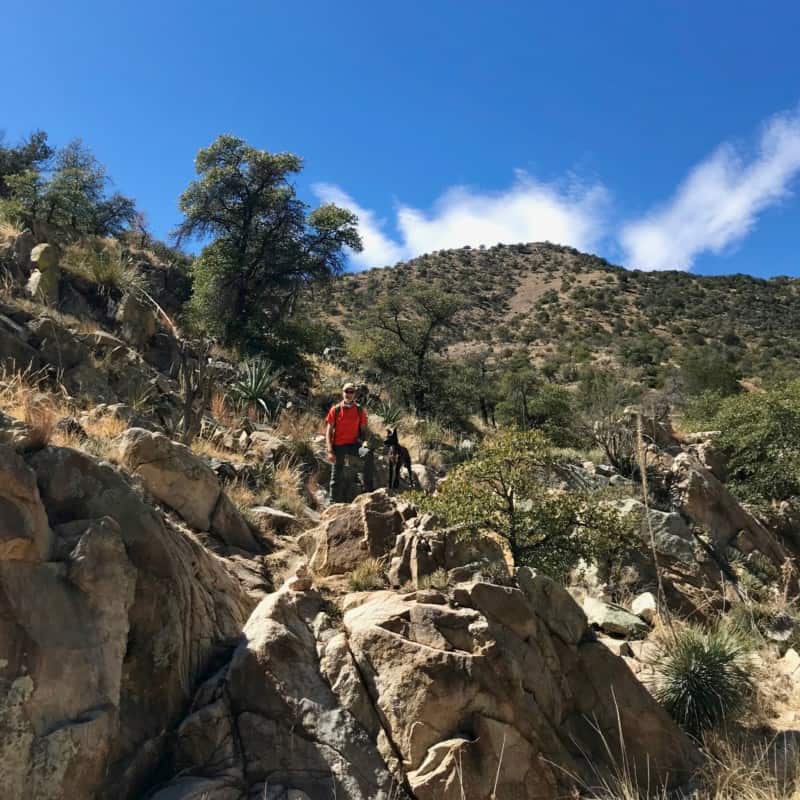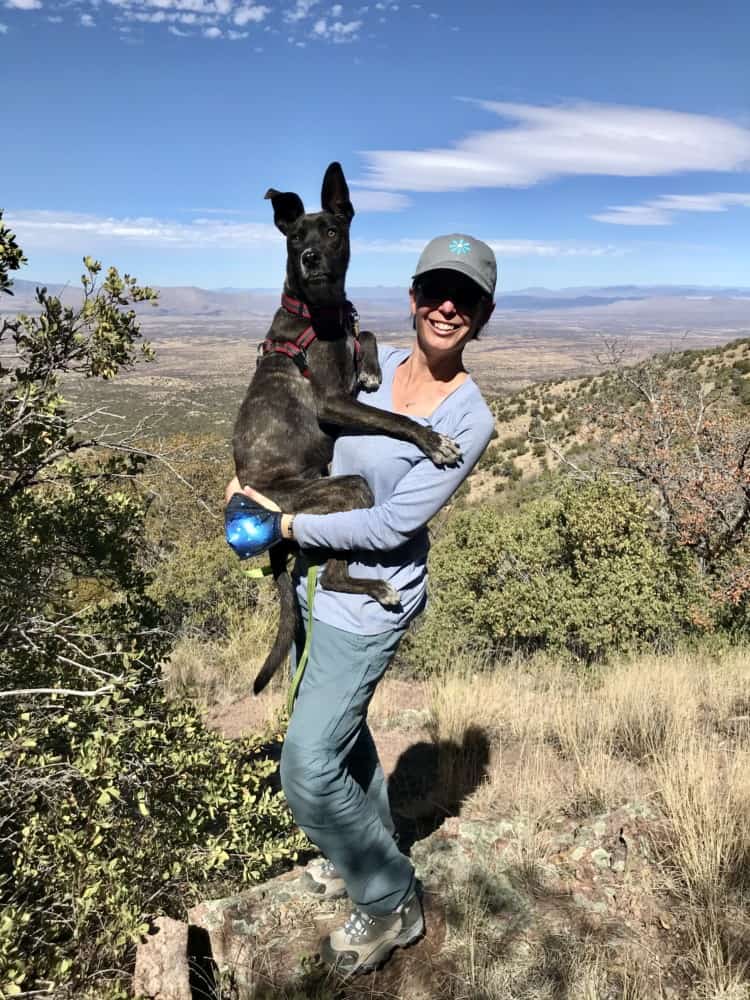 1 Hour 40 Minutes Southeast of Tucson Near Hereford, AZ
For a dog friendly history lesson near Tucson, visit the Coronado National Memorial. The exhibits here interpret Francisco Vásquez de Coronado's expedition from Compostela, Mexico to what is now Salina, Kansas.
The park also offers panoramic views of the US-Mexico border and San Pedro River Valley, which is considered Coronado's likely route.
Though there are a number of trails in the park, pets can only go on the Desert Nature Walk and Crest Trail. We took the Crest Trail, a 2-mile climb to the crest of the Hauchuca Mountains.
This was a tough hike, and the views from the top weren't that different than the overlook parking area. Rather than taking this hike, you might want to spend more time exploring this part of the Coronado National Forest, which borders the park to the north and west.
At Coronado National Memorial leashed pets can join you on the Crest Trail, the Nature Walk, along roads and road shoulders, at picnic areas, and parking lots. Pets must be cleaned up after and should not be left unattended in vehicles.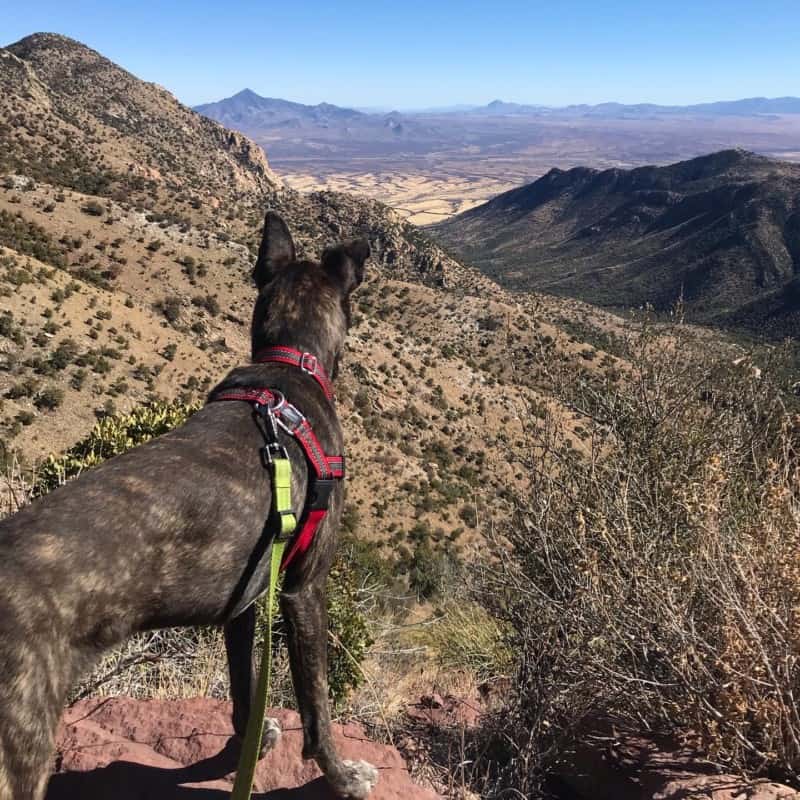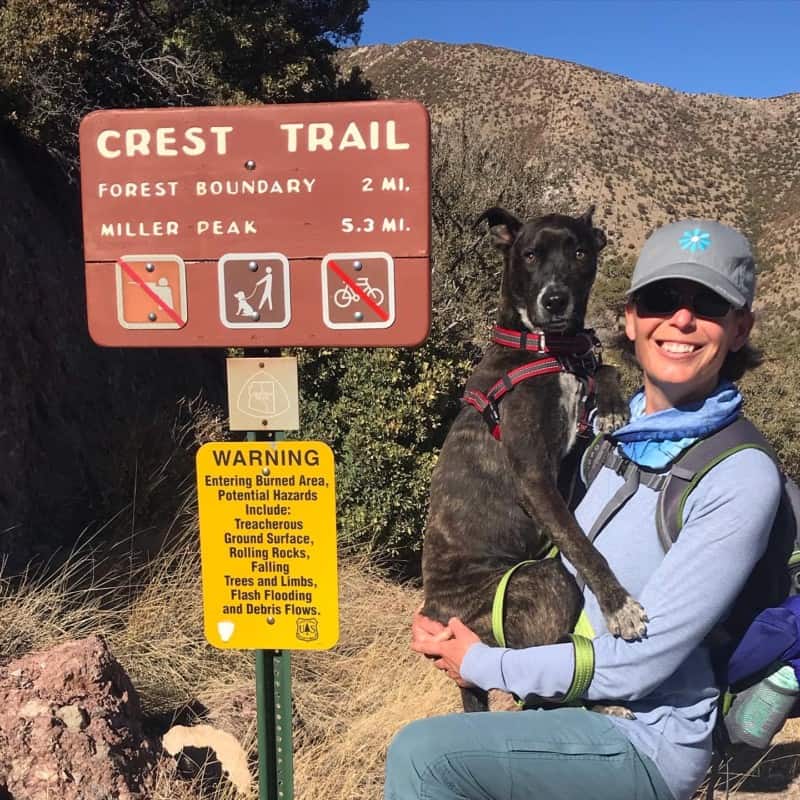 Pet Friendly Tip: Rather than driving back the way you came, take Forest Road 61, which will bring you out near Parker Canyon Lake. Traveling this gravel road takes a longer, but the scenery is gorgeous.
95 Minutes Southeast of Tucson
Nestled in the Mule Mountains, Bisbee was founded in 1880. It quickly grew into a booming mining town thanks to the area's rich reserves of copper and precious metals. Today, Bisbee's extraordinarily well-preserved "old town" draws visitors from around the world. If you appreciate historic architecture, a welcoming vibe, and creative spirit, Bisbee makes a perfect dog friendly day trip from Tucson!
This was our third time in Bisbee, and by far our best visit. Rather than contending with the crowds on the main drag, we decided to explore the town's many old stairways. The views, delightful encounters with locals and other visitors, and artsy surprises around every corner made our day!
We found Bisbee to be very pet friendly! There were many dogs exploring the town with their people, some shops welcome pets, and several eateries had pet friendly seating. It's an easy place to spend the day with your dog.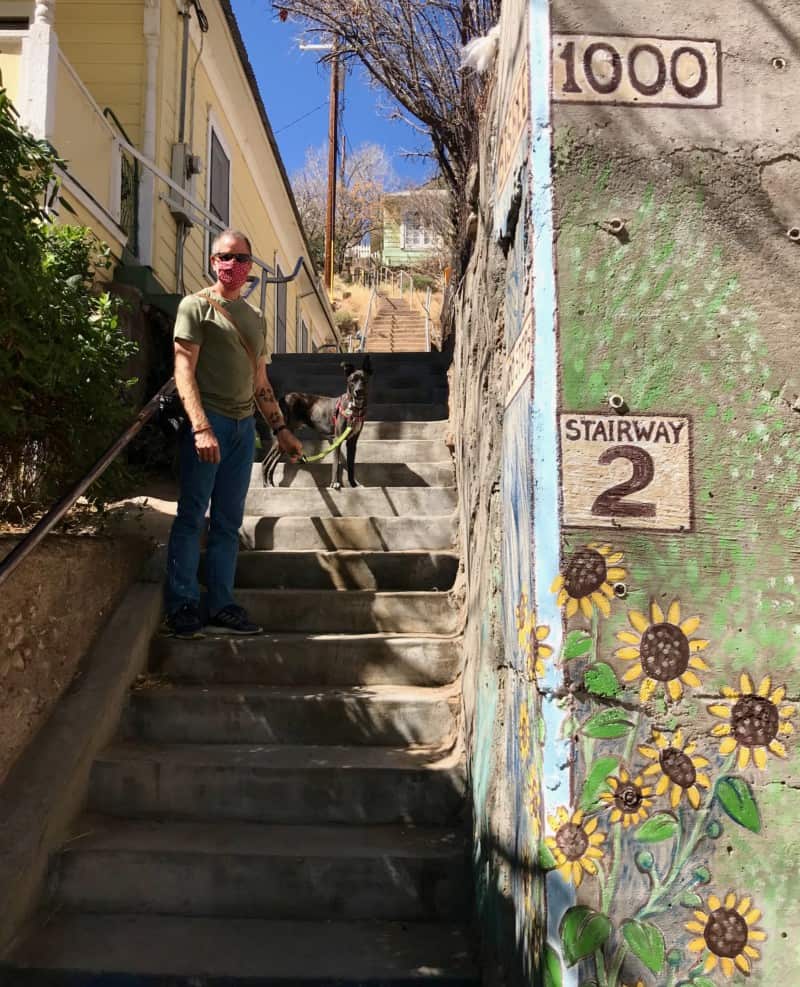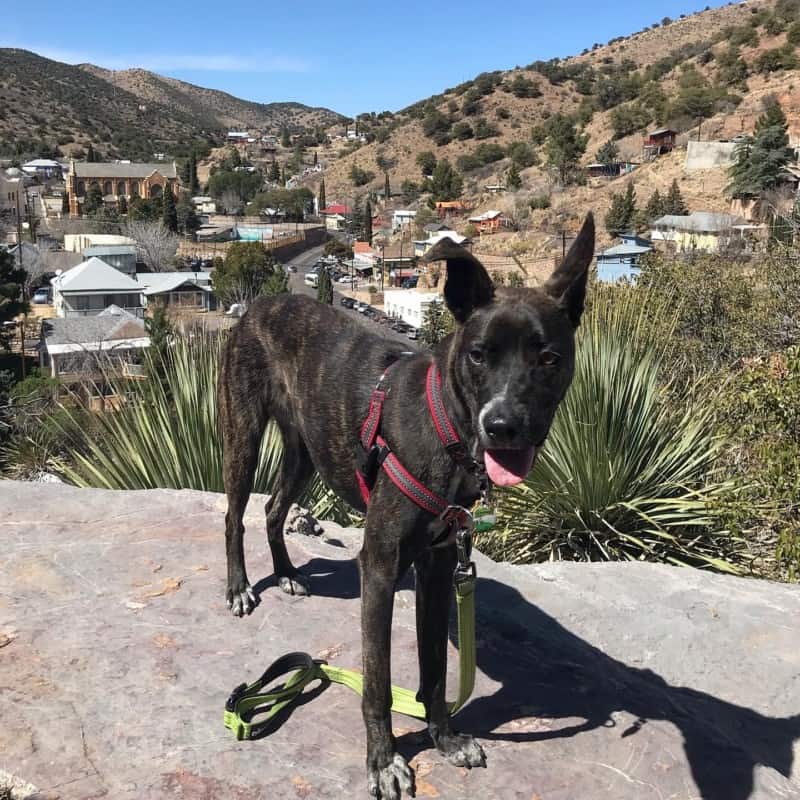 Pet Friendly Tip: Screaming Banshee Pizza has pet friendly seating out front and serves delicious wood-fired pizzas. If you get thirsty, the Old Bisbee Brewing Company has a pet friendly tasting room and courtyard.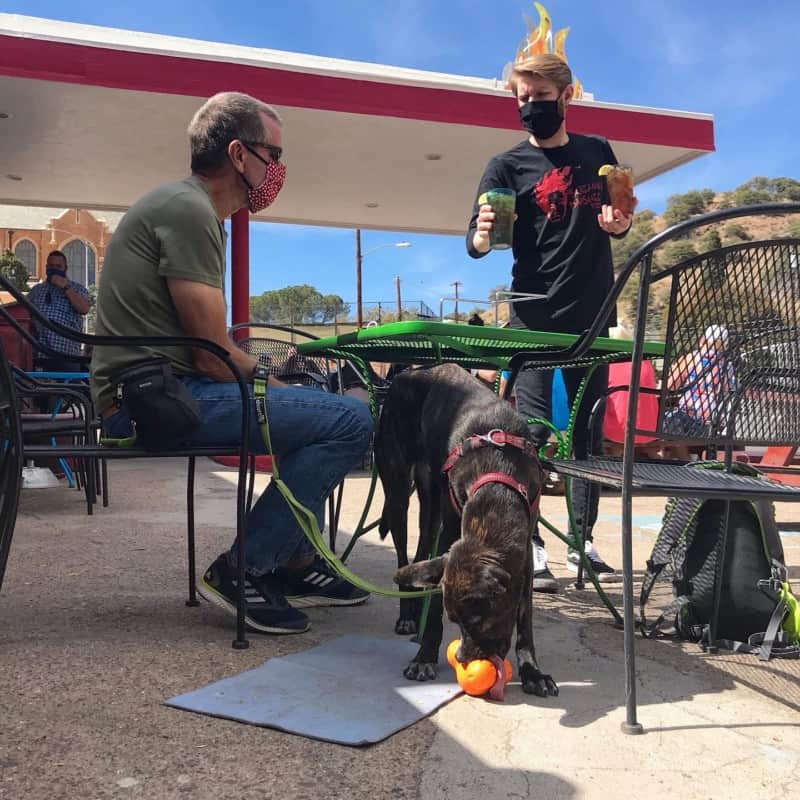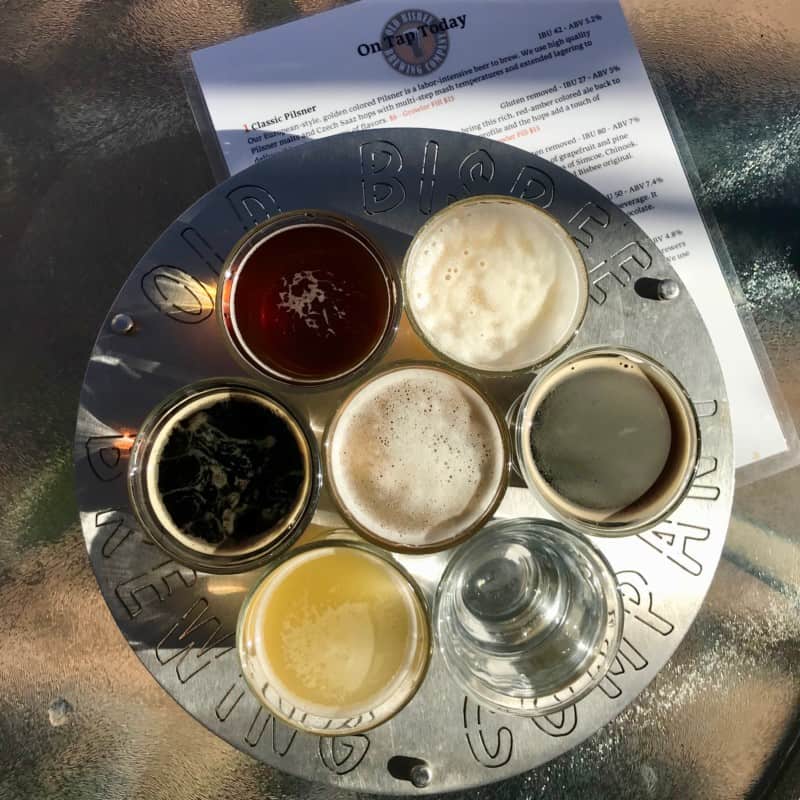 90 Minutes Southeast of Tucson
Tombstone is devoted to it's wild west past, and it's an easy dog friendly day trip from Tucson. If you dream of walking the very same streets where Wyatt Earp and Doc Holliday roamed, this is your chance!
Immerse yourself in the history with a guided tour – either on foot, by stagecoach, or trolly. Visit the museums, explore the underground mine, or see a show at the Bird Cage Theatre. You'll be amazed how much your pet is able to do with you.
Tombstone is very pet friendly! Your dog is welcome at the Bird Cage Theatre, stagecoach, trolley, and underground mine tours. If you get hungry, try the grub at Brenda's Chuckwagon.
READ MORE ⇒ A Pet Friendly Day in Tombstone, AZ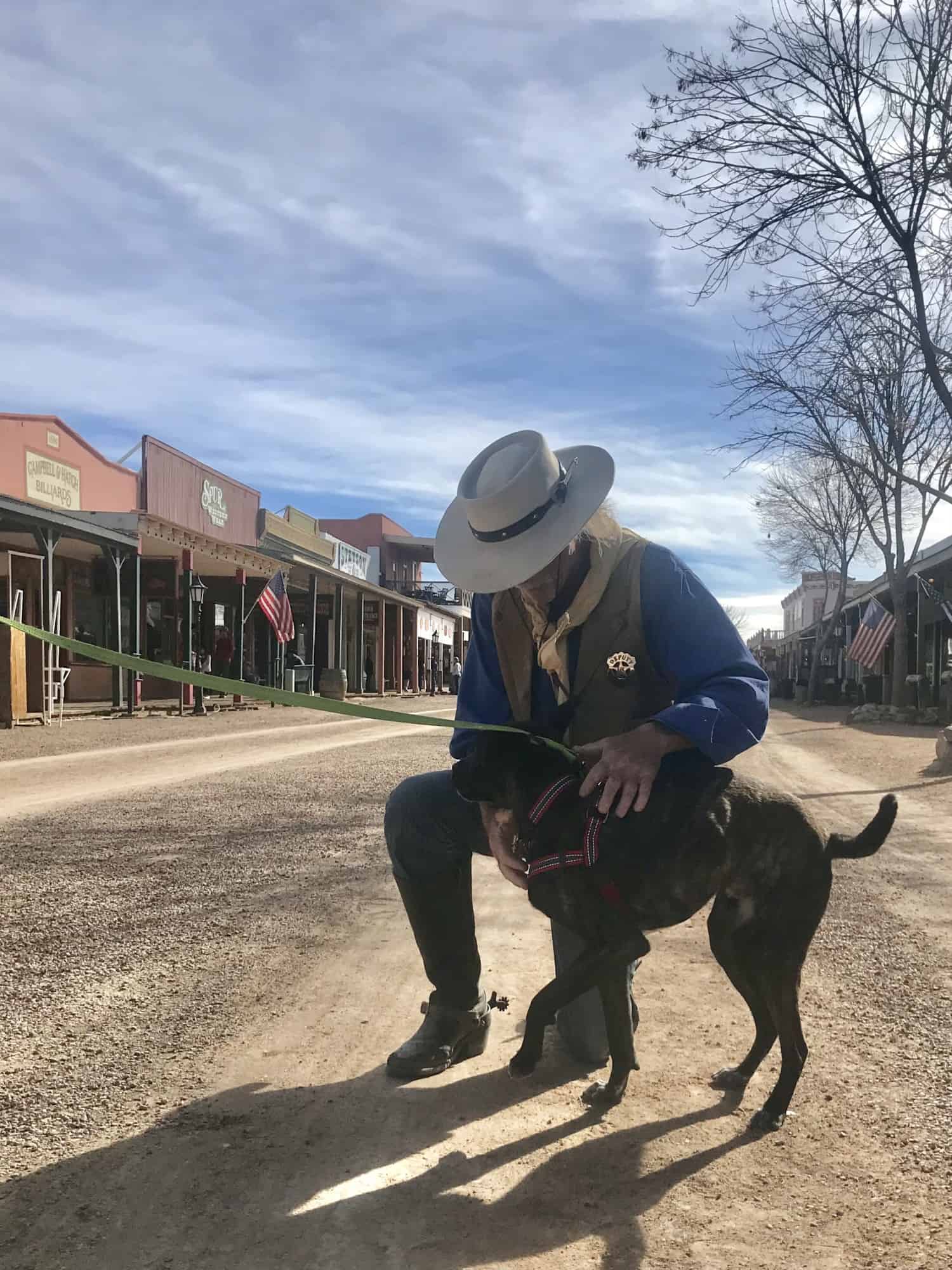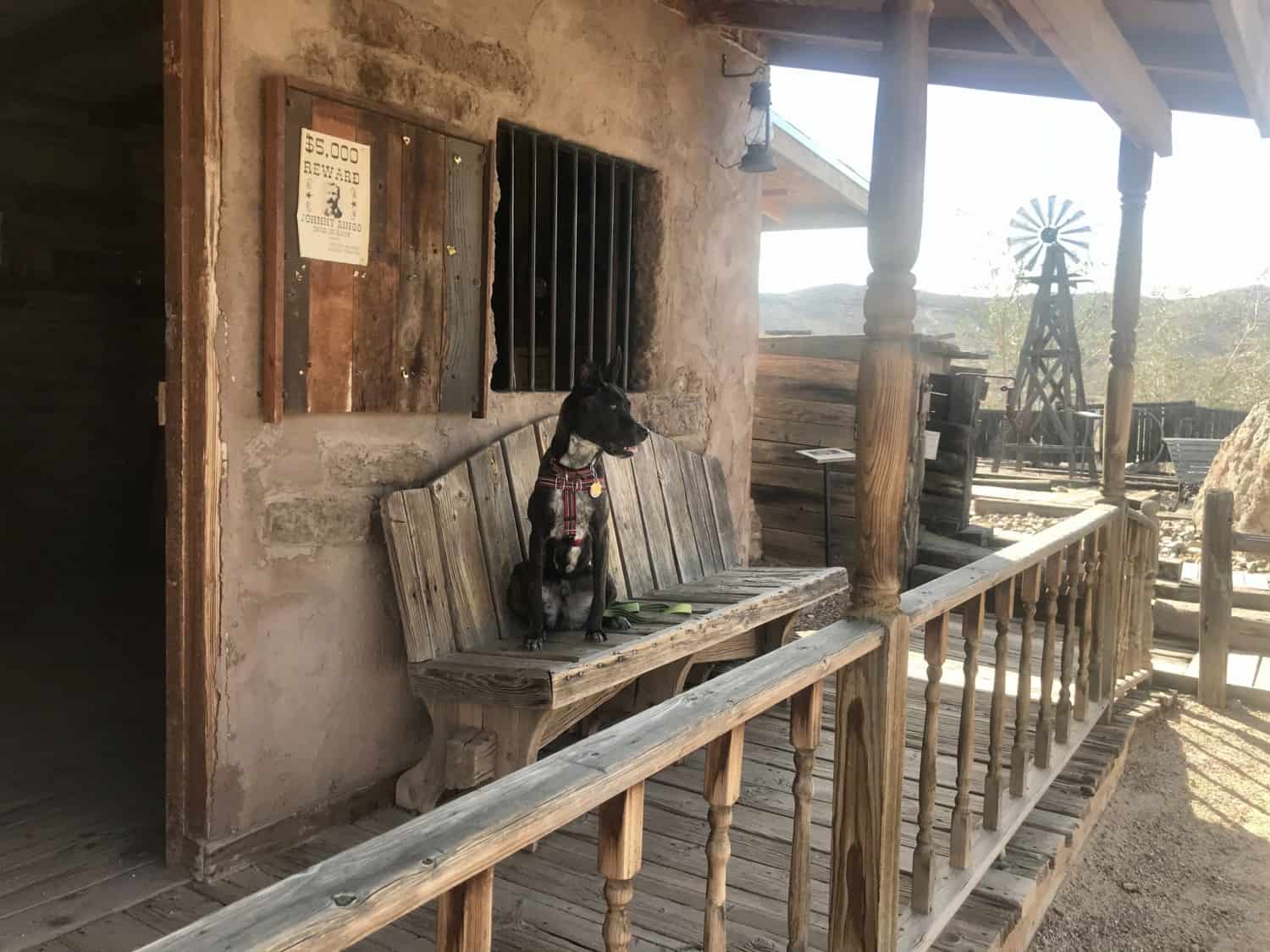 1 Hour 40 Minutes Southeast of Tucson near McNeal, AZ
If you happen to be visiting southern Arizona between early October and mid-March, you're in luck. During this time of the year, Whitewater Draw is home to 20,000 sandhill cranes.
The birds spend the night standing in the shallow waters to evade predators and fly out each morning to feed and socialize in the surrounding area. In the afternoon, they start returning to Whitewater Draw to settle in for the night. It's a sight to see and hear!
Pets at Whitewater Draw must remain leashed and owners must pick up after them.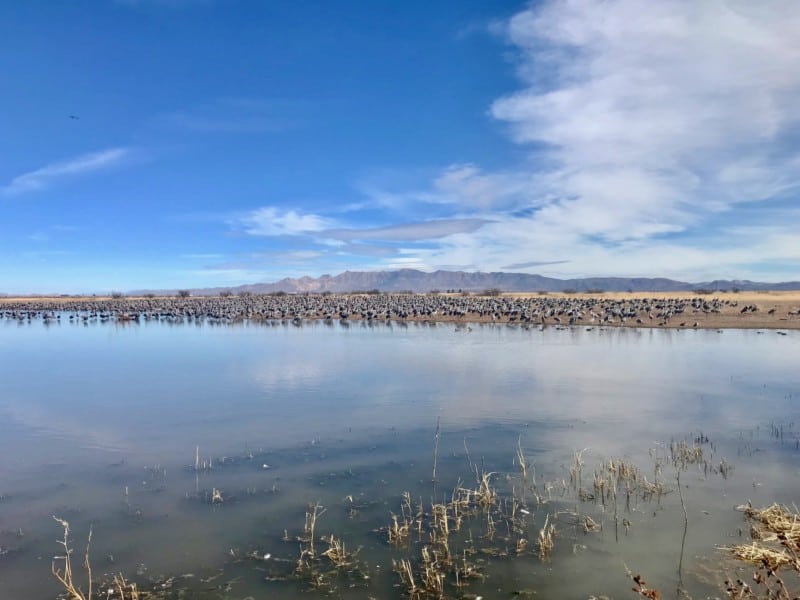 90 Minutes East of Tucson near Sunsites, AZ
This area was the home to the famed Chiricahua Apache Chief, Cochise and around 1,000 of his followers for about 15 years. And it's easy to see why Cochise chose this location. The granite domes and sheer cliffs form a natural fortress, and water runs in the creek most of the year.
The stronghold is now part of the Coronado National Forest, and pets can join you on the trails. We hiked part of the Cochise Indian Trail, which runs 5 miles from the East Cochise Stronghold Campground, over the "Stronghold Divide" and down into the West Stronghold Canyon. 
There is also a short Interpretive Loop Trail from the campground with informational plaques about the Stronghold, Cochise, and his descendants. The 0.4-mile Nature Trail also starts from the campground and provides information on the local vegetation as well as superb views of the canyon.
You must display a Coronado National Forest or Interagency (America the Beautiful) pass. You can purchase a day use pass at the site for $8.
Leashed pets are welcome on all the trails and in the campground at Cochise Stronghold.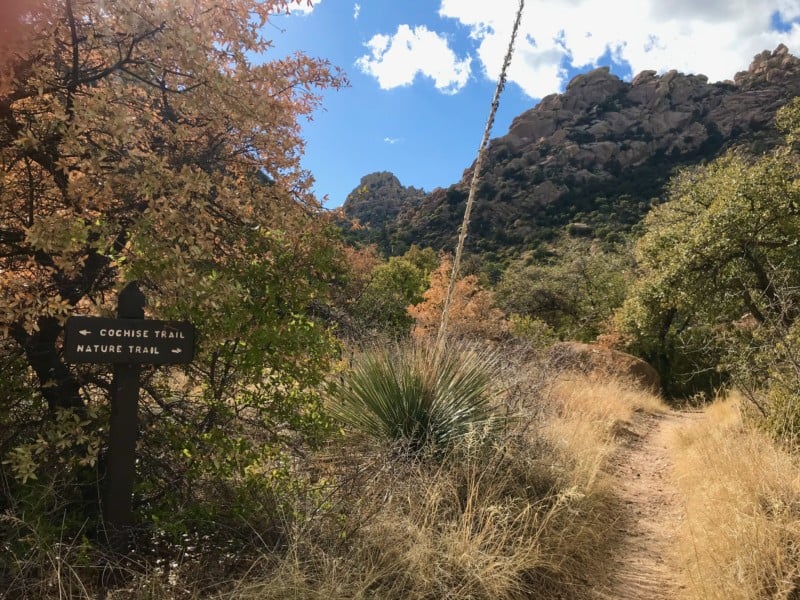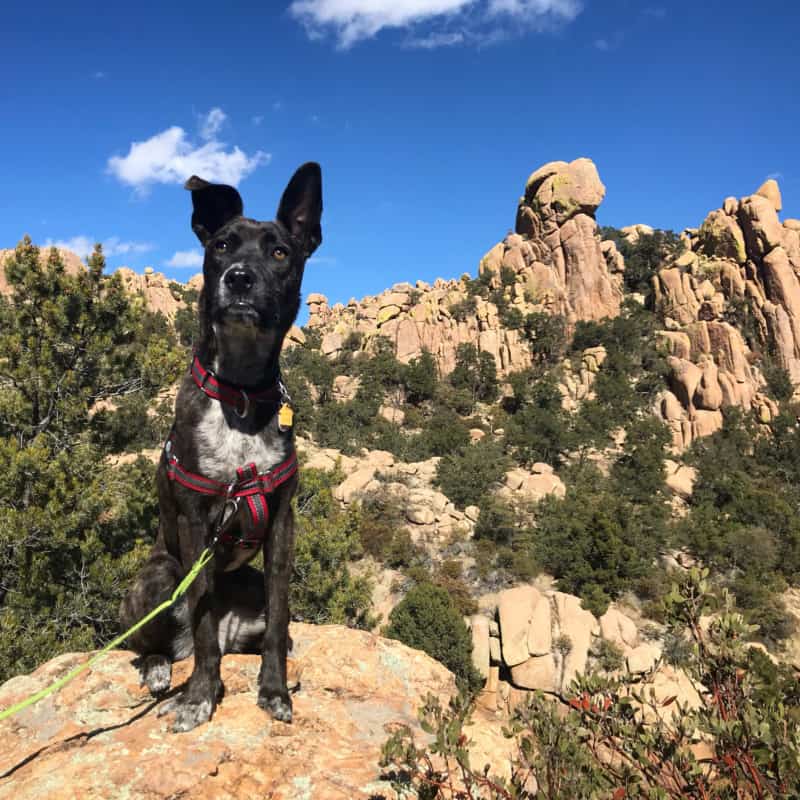 2 Hours East of Tucson Near Willcox, AZ
The eight-mile drive that winds through Chiricahua National Monument takes you past spires and pinnacles that the Chiricahua Apache called "standing up rocks." Formed from a grey stone called rhyolite, the formations reminded me a bit of those on Needles Drive in South Dakota's Custer State Park.
Chiricahua covers more than 12,000 acres, with 84% designated as wilderness. Pets can't go in wilderness areas, so you'll have limited pet friendly options here. Still, it has a few pet friendly trails where you can stretch your legs. And even if all you do is have a picnic at Massai Point, the views are worth the drive.
Pets must remain leashed and are allowed on the 0.5-mile Bonita Creek Trail, the 1.2-mile Silver Spur Meadow Trail, and the 0.4-mile trail between the visitor center and campground.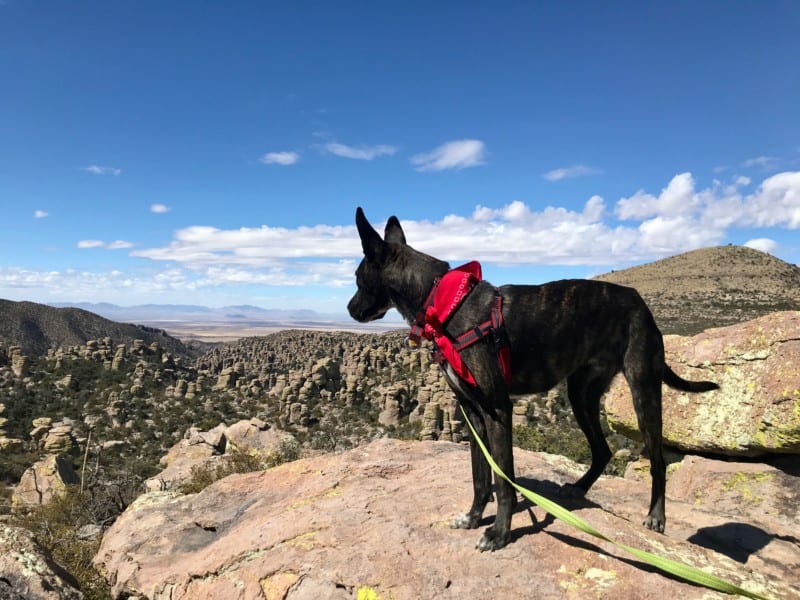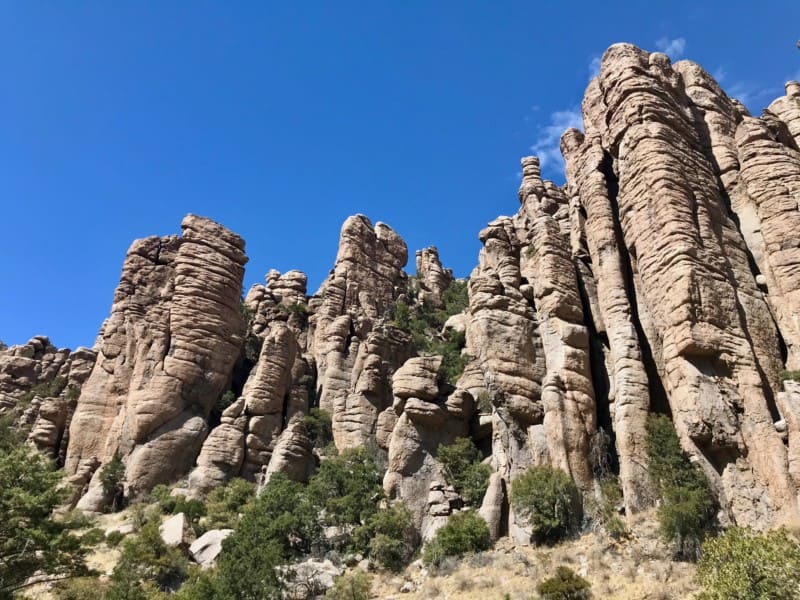 Pet Friendly Tip: For more pet friendly hiking options near Chiricahua, visit Fort Bowie National Historic Site. The trail here are pet friendly, and you can see the ruins of what was once impressive Fort Bowie.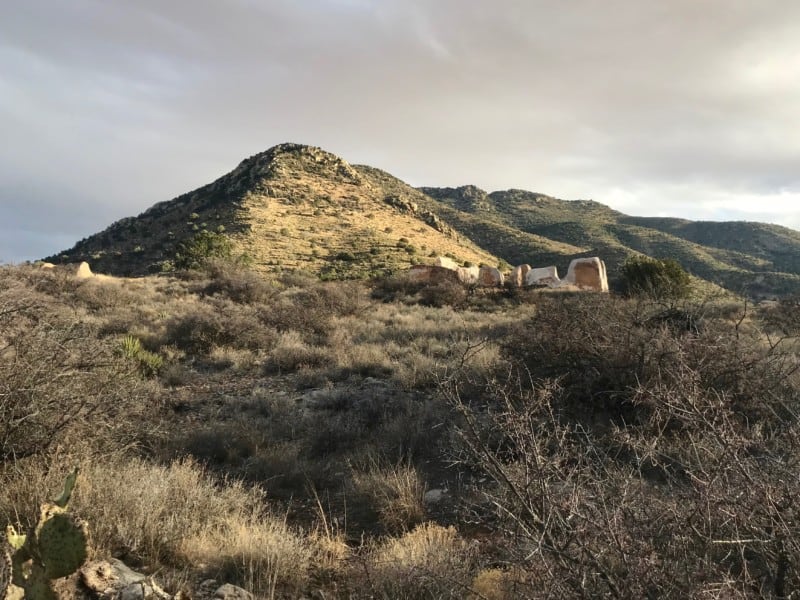 We hope these dog friendly activities and attractions near Tucson inspire you to visit southern Arizona! It's one of the easiest places we've found to do more with your pets.
If you know of other dog friendly things to do near Tucson, please share them in the comments below.
Amazon Affiliate Disclosure: GoPetFriendly.com LLC is a participant in the Amazon Services LLC Associates Program, an affiliate advertising program designed to provide
a means for website owners to earn advertising fees by advertising and linking to amazon.com, audible.com, and any other website that may be affiliated with Amazon
Service LLC Associates Program. As an Amazon Associate, the owner of this site earns a commission from qualifying purchases.
(Visited 7,127 times, 1 visits today)