SECAUCUS, N.J. — Freshpet, Inc. is looking to build resilience in 2022, following a year of supply chain, capacity and input cost volatility.
In sharing its fourth quarter and full-year results from fiscal 2021, Billy Cyr, chief executive officer of Freshpet, said the company has "learned some hard yet valuable lessons over the past two years," including navigating the COVID-19 pandemic, labor shortages, inflation and supply chain disruptions.
"Our operations wobbled numerous times along the way, and we are keenly aware of the impact those have had on our many stakeholders, most notably our customers and consumers," Cyr added. "We learned that in order to deliver a long-term sustainable growth Freshpet is capable of, we need to do a better job preparing for and insulating ourselves from those issues."
For its fourth quarter results, the fresh pet food company reported a net loss of $9.3 million, up 181.8% from $3.3 million in the fourth quarter of fiscal 2020. Net sales totaled $115.9 million, up 37.1% from $84.5 million in the fourth quarter of fiscal 2020. Adjusted EBITDA was $9.7 million, down 24.8% from the fourth quarter of fiscal 2020.
For the full year 2021, Freshpet reported a net loss of $29.7 million, up 828.1% from $3.2 million in 2020. Net sales totaled $425.5 million, up 33.5% from $318.8 million in 2020, and adjusted EBITDA was $43 million, down 8.3% from 2020.
The company prefaced these results in its preliminary fourth-quarter and full-year report in January.
"We finally have the capacity needed to support Freshpet's significant topline growth potential – while also improving the reliability of our operations," Cyr stated. "Over the past two years, we have invested in significant new capacity and the talent to support it. We plan to use that capacity wisely – budgeting conservatively to ensure the reliability of our operations in an uncertain environment but also planning aggressively to maximize our growth potential. We believe our plan for 2022 delivers the right balance – keeping us on track to achieve our 2025 goals and enable us to change the way people nourish their pets forever."
Freshpet attributed higher net loss to increased selling, general and administrative expenses (SG&A), which totaled $48.9 million in the fourth quarter, up 45% from the fourth quarter of 2020, and made up roughly 42.2% of the company's net sales over the quarter. For the full year, SG&A expenses came to $186.8 million, up 38.5% from 2020. Increased SG&A expenses were attributed to increased costs for freight and other logistics, increased operating costs, share-based compensation  and increased media expense.
Gross profit was up for the fourth quarter, totaling $41.2 million and 35.6% of net sales. Adjusted gross profit totaled $48.4 million, or 41.7% of net sales, compared to $38.7 million, or 45.8% of net sales, in the fourth quarter of 2020. The company attributed this decrease in gross profit as a percentage of net sales to increased production costs at its Kitchens South location, its wage increase plan for employees, capacity investments and ingredient inflation.
These costs also affected gross profit for Freshpet's full-year earnings in 2021, which totaled $162.1 million, or 38.1% of net sales, up from $132.9 million, or 41.7% of net sales, in 2020. Adjusted gross profit for the full year totaled $189.5 million, or 44.5% of net sales, compared to $154.1 million, or 48.3% of net sales, in 2020.
The company has been working to refill a gap in trade inventory incurred in 2020 and carried through to early 2021. To avoid this in the future, the company is increasing capacity, producing in excess of demand, and buffering its manufacturing capacity against its 2022 guidance expectations.
"It took a long time to refill that hole," Cyr said. "And to do it, we had to both delay our growth and increase our production to a level well in excess of demand. For perspective, in February, we produced at an annualized run rate of approximately $600 million in net sales. while our consumption run rate was approximately $490 million in net sales."
Freshpet is also expecting to bring additional capacity online in 2022, specifically at its Kitchens South and its upcoming facility in Ennis, Texas. However, startup of the Ennis facility has been pushed back, and supply chain disruptions and labor shortages are expected to remain as obstacles for the company and others in the pet food processing industry.
"We are heavily dependent on the completion of the construction of our Ennis, Texas facility and a successful startup, now delayed to early Q3 due to construction material shortages," Cyr said. "…Up and down the supply chain, we are seeing interruptions brought on by everything from labor shortages to port blockages to material shortages and even mandate and lockdown protests and now avian flu. Reliability of supply and transportation, something we used to take for granted, can no longer be assumed, and many of the shortages are unpredictable."
Cyr also shared the company will be starting up several new production lines in 2022, including additional capacity for its rolls and Fresh From The Kitchen products.
Freshpet announced two price increases in November 2021 and late February 2022 to adjust for inflated raw material costs the company had previously absorbed. Heather Pomerantz, chief financial officer at Freshpet, cautioned volatile costs could lead to a third price increase on Freshpet products down the road.
"We have taken the most significant price increase we've ever taken, and we are budgeting for a reasonable level of price sensitivity," Cyr said. "However, if we have less price sensitivity than we have modeled, we do not want to get ourselves in a position where we cannot supply our customers and consumers reliably.
With these price increases, Freshpet remains optimistic that household penetration and buying rate will continue to rise, especially as it plans a "more heavily front-loaded" advertising plan for 2022, which will account for roughly 12% of net sales.
"We are watching the impact that the higher pricing will have on our household penetration and buying rate," Cyr said. "We believe that we will have a short-term setback on household penetration when the higher pricing first appears on the shelf, but it will quickly turn positive as we have full distribution, a heavier media plan and increased fridge placements. The buying rate will likely benefit from the higher pricing, even if a small number of consumers choose to use less Freshpet and make our long-term target more achievable."
Household penetration for Freshpet's entire portfolio was up 6% in 2021 compared to 2020, totaling 4.18 million households. From 2018 to 2020, the company saw household penetration grow at a double-digit rate year over year, and attributed the smaller increase from 2020 to 2021 to "massive out-of-stocks and delayed marketing." However, the company stated it is still on track to reach its goal of being in 11 million households by 2025.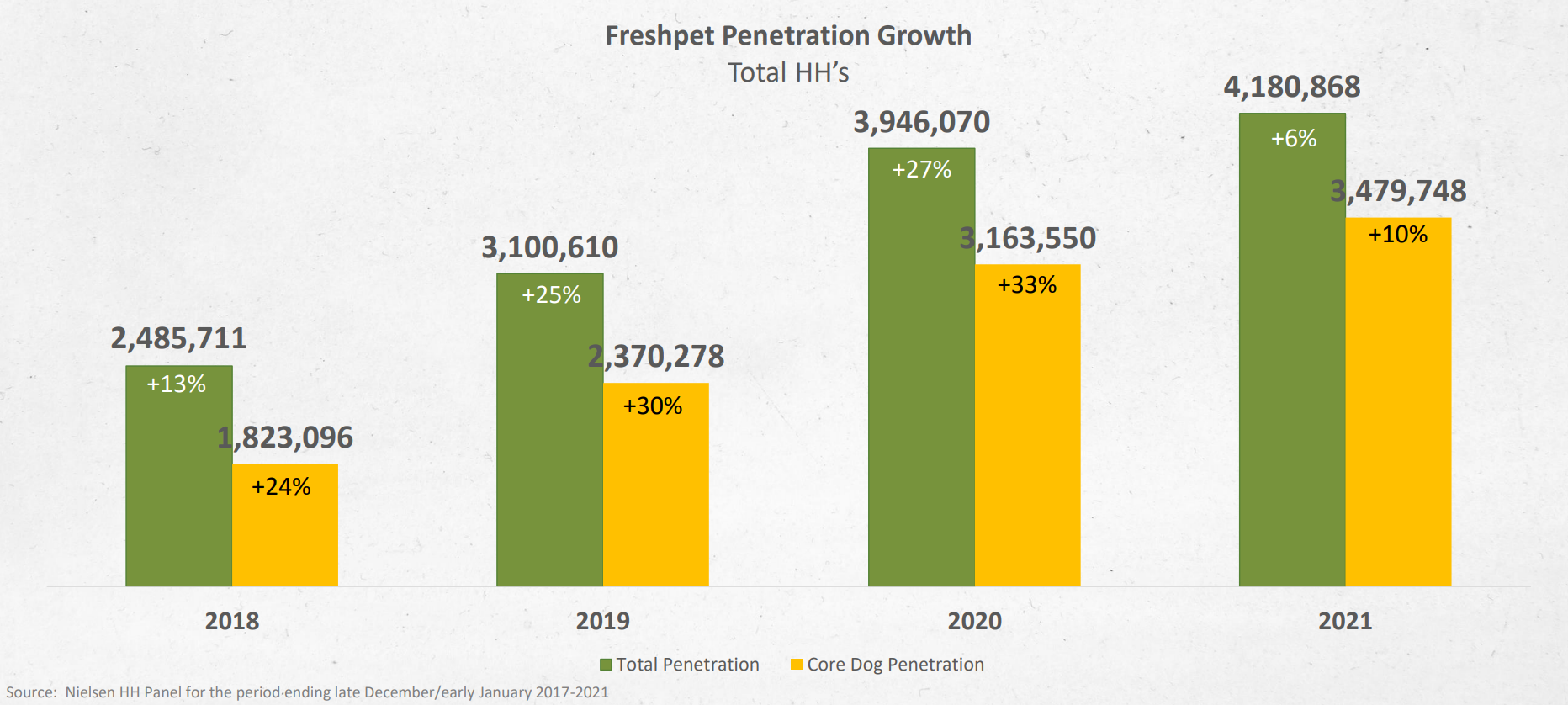 Freshpet's distribution expansion will continue in 2022, as it expects to add 1,300 new stores and upgrade or add second fridges to 1,775 existing stores. This should bring the company's total store count to 24,931 by the end of the year. The company grew its total store count to 23,631 locations in 2021, up from 22,716 stores at the end of 2020.
E-commerce sales for Freshpet grew 73% in 2021 compared to 2020, accounting for approximately 6.4% of the company's total sales. These e-commerce gains were led by click and collect services provided by mass merchandise and big box pet retailers, supported also by last-mile delivery services and online fresh delivery platforms. A majority (87%) of Freshpet sales still come from brick-and-mortar purchases.
The company is also supporting increased media investments in international markets, including the United Kingdom, Canada, and its first foray into the French pet food market.
"We've been testing in about a dozen grocery stores in France for much of the past year and are ready to move to the next step there, expanding into a larger number of stores and beginning a media investment in several markets," Cyr said.
Also in 2022, Cyr teased the launch of "a variety of new products," many of which will be launched in the back half of the year.
Freshpet expects more than $575 million in net sales for its full-year 2022, which would represent an approximate 35% increase from its full-year 2021. Adjusted EBITDA is projected at greater than $55 million, which would be up roughly 28% from 2021, with the expectation that Freshpet would sustain $13 million to $17 million in "unabsorbed expenses," including capacity maintenance and expansion.
Read more about corporate strategy, financial performance, mergers and acquisitions on our Business page.