All featured products are chosen at the discretion of the Vetstreet editorial team and do not reflect a direct endorsement by the author. However, Vetstreet may make a small affiliate commission if you click through and make a purchase.
Choosing the right food for your cat is one of the most important decisions you'll make as a pet parent. For many of us, that means looking for a recipe with quality ingredients, balanced nutrition, reasonable price, and (perhaps most important of all) great taste cats will love. 
For over 45 years, Meow Mix has been the brand countless cat moms and dads have chosen and trusted to help keep their cats happy, healthy, and excited about mealtime. Meow Mix has earned a reputation for providing delicious food for cats of all ages, from growing kittens to active adult cats and senior felines. 
Best of all, Meow Mix offers a variety of wet and dry food options so yummy, your cat is sure to find a favorite. Let's dig into this beloved brand and the different recipes Meow Mix offers so that you can find a Meow Mix cat food formula that best suits your cat's needs. 
What is Meow Mix?
The Meow Mix brand was first introduced in 1974 by Ralston Purina and quickly became a hit in both pet and pop culture. Cat parents loved the new kibble's convenience, quality, and affordability, not to mention the brand's obvious appeal to cat palates. 
But it was the catchy Meow Mix jingle that kept the cat food brand on the minds (and lips) of millions of Americans…even those who weren't in the market for kitty kibble. The commercial's iconic jingle and oh-so-catchy "Meow meow meow meow" lyrics racked up the highest audience impact score of any TV commercial on the airwaves at the time, making the brand a household name.
Now, almost half a century later, the jingle and its accompanying slogan — "The only brand cats ask for by name" — remain as recognizable as ever. And Meow Mix remains as popular among cats and their parents, too. According to reports from J.M. Smuckers, the company that now owns the brand, sales of Meow Mix cat food have increased for the past five years, with consumer demand outpacing production in the most recent quarter.
Is Meow Mix Good for Cats?
Catchy jingle aside, what most pet parents want to know is whether Meow Mix provides what cats need to thrive. According to the brand, the answer is yes. All Meow Mix formulas offer complete and balanced nutrition appropriate for cats of various ages who are in generally good health. 
Cats are obligate carnivores, which means they require a diet made up mostly of proteins, essential amino acids, fatty acids, and vitamins found in meat and animal products. However, according to veterinarian and co-host of The Pet Buzz. Dr. Michael Fleck, DVM, not all protein-rich formulas fit the bill. 
"Unfortunately, food labels may be deceiving," warns Fleck. Some show that protein makes up a high percentage of the food, but that protein may not be easy for a cat to digest. And if they can't digest it, they could be missing out on vital nutrients.   
"Meow Mix guarantees easily digestible protein with high palatability that meets the feline daily requirements," Fleck says. He notes that Meow Mix cat food also fortifies its formulas with essential ingredients like taurine to meet cats' dietary needs.
For felines that need to watch their weight, Meow Mix offers options that are low in calories, but packed with flavor. 
Types of Meow Mix Cat Food
Meow Mix offers a variety of dining options designed to tempt the tastebuds of kittens to senior cats, and every feline in between. With a variety of flavor profiles and textures, there is something for even the finickiest of eaters in the Meow Mix cat food line. 
Here is a quick overview of the options you have to choose from.
Meow Mix Dry Cat Food: Meow Mix features a variety of tasty dry cat food options designed to appeal to cats who like to crunch, as well as those who prefer morsels they can really sink their teeth into. These include:
Meow Mix Wet Cat Food: Meow Mix offers a smorgasbord of wet cat food formulas, each one carefully formulated to be absolutely irresistible, no matter what flavors or textures tickle your feline's fancy. 
Meow Mix Cat Food Formulas to Consider
To help you decide which Meow Mix formula is right for your cat, here's a deeper dive into some of the brand's signature recipes and the benefits of each: 
Meow Mix Dry Cat Food Options
Meow Mix Original Choice Dry Cat Food: This crunchy cat kibble is packed with the wholesome ingredients and flavors cats love, like chicken, turkey, salmon, and fish. Plus, the of-so-muchable texture makes every morsel impossible to resist. Your cat is sure to come running, whether you choose the Original Choice recipe or one of the other options designed with particular cats in mind. For example, Meow Mix Indoor Health Dry Cat Food is specifically tailored to help indoor cats who may not be as active maintain a healthy weight.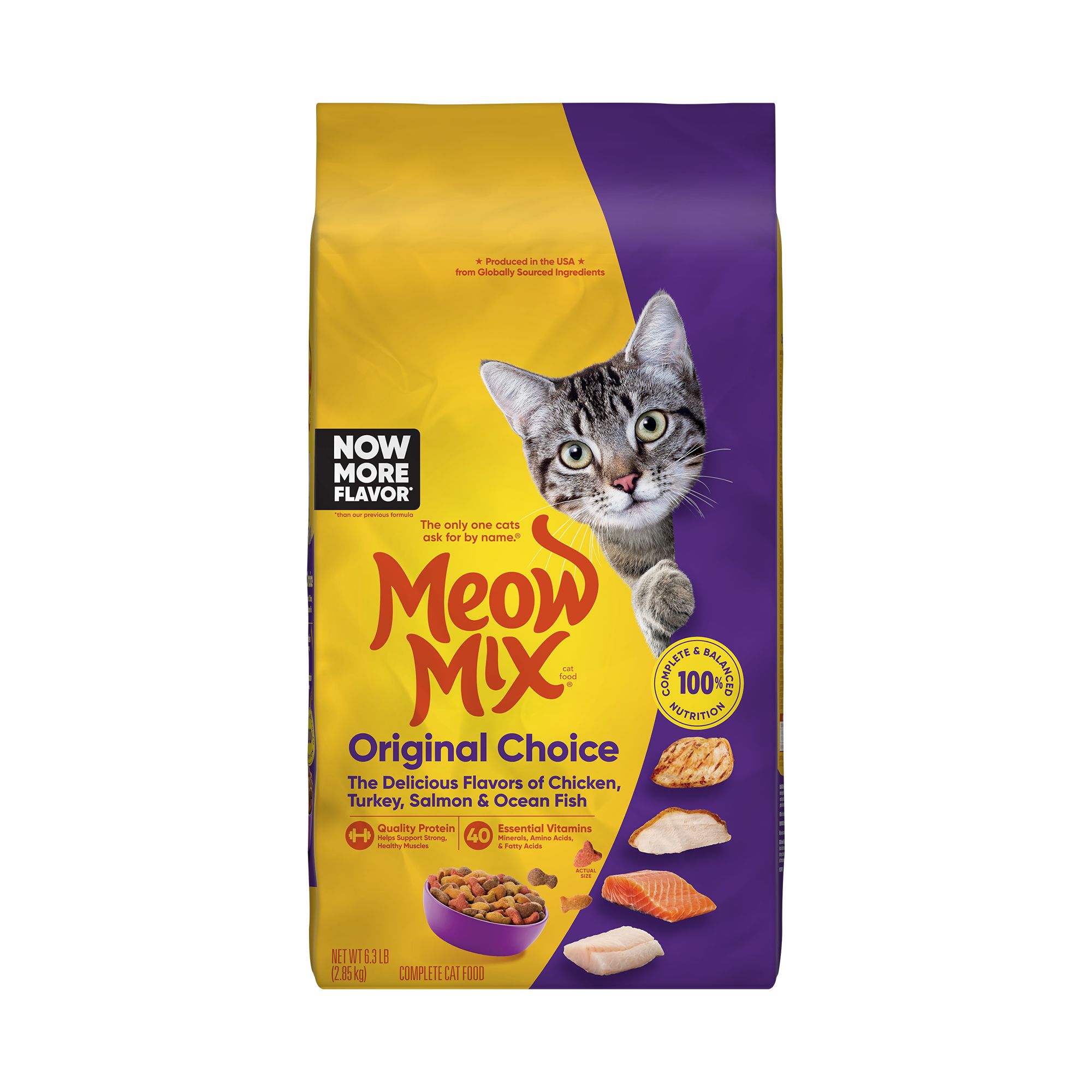 Key Benefits:
Made with high-quality protein to help support strong, healthy muscles
Provides 100% complete and balanced nutrition suitable for all life stages
Packed with essential vitamins and minerals cats need to thrive 
Contains fatty acids to help promote a healthy coat
Available in 3.15 lb bags or 30 lb bags
Choose from Meow Mix Original Choice featuring the flavors of chicken, turkey, salmon, and ocean fish, or Seafood Medley featuring the flavors of tuna, shrimp, crab, and trout
Also available in specialty formulas for Hairball Control, Indoor Health, Kitten Li'l Nibbles 
Meow Mix Tender Centers Dry Cat Food: These toothsome dry cat food morsels are crunchy on the outside with a tender, meaty center, so your cat gets the best of both worlds! This formula is appropriate for cats of all ages, but we especially love it as a choice for picky cats or those going through a spell of food boredom. If you're looking to add even more pizzaz to your cat's food bowl, try formulas enhanced with Basted Bites for an extra burst of irresistible flavor. Or choose from options enhanced with Vitality Bursts, which contain a special blend of antioxidants, vitamins, and minerals to help support your cat's health.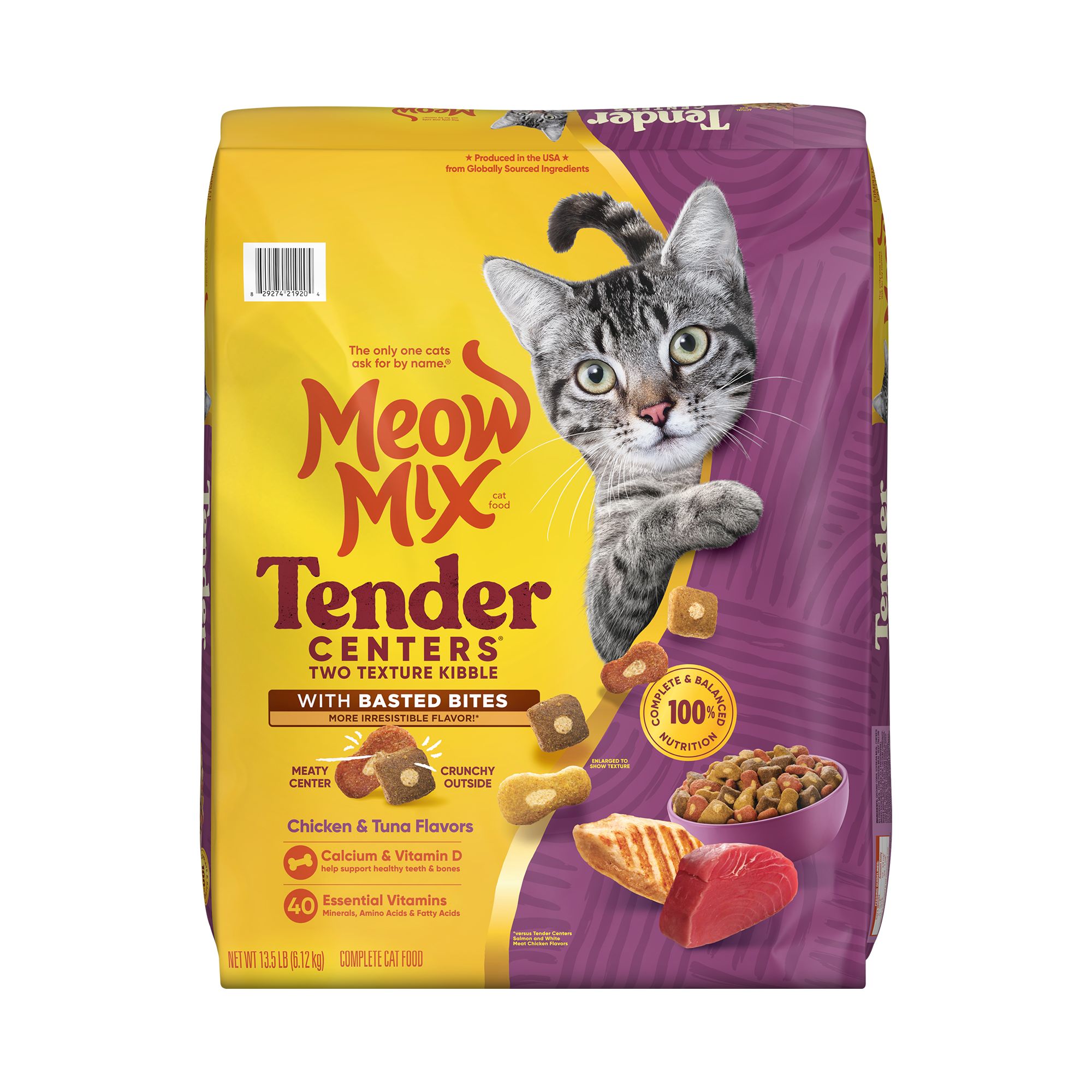 Key Benefits:
Crunchy on the outside, tender and meaty on the inside 
Provides 100% complete and balanced nutrition suitable for all life stages
Every recipe contains both meat and fish flavors to keep cats engaged at mealtime
Choose from Meow Mix Tender Centers featuring Salmon & Chicken flavors or Tender Centers Basted Bites formulas with Beef & Salmon flavors or Chicken & Tuna flavors for even more deliciousness  
Also available in a Tender Centers with Vitality Bursts option that contains a special blend of nutrients to help support a healthy immune system, healthy skin and coat, and strong teeth and bones  
Meow Mix Wet Cat Food Options
Meow Mix Tenders in Sauce Wet Cat Food: Formerly known as Meow Mix Tender Favorites, this delicious Meow Mix wet cat food contains pieces of real meat, poultry, or seafood in a velvety fish broth-based sauce the brand describes as absolutely "lick-able."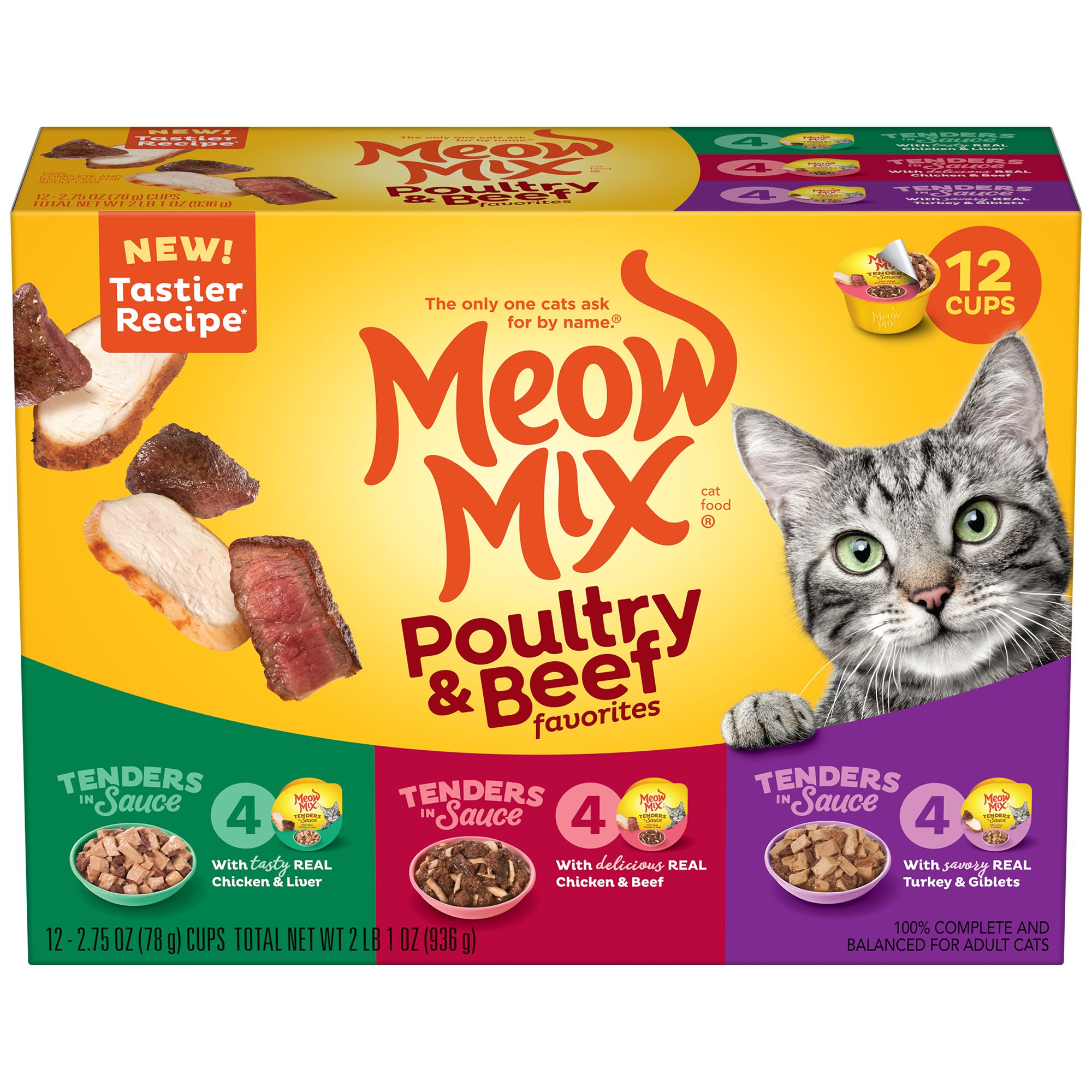 Key Benefits:
A variety of flavors to choose from to cater to your cat's unique preferences and palate
Comes in individual containers with a peel-off lid for easy feeding
Provides 100% complete and balanced nutrition suitable for adult cats 
Packed with high-quality animal proteins, including chicken, beef, liver, and fish
Choose from Meow Mix Tenders in Sauce formulas with real Chicken & Beef, real Chicken & Liver, real Salmon & Crab, real Tuna & Whole Shrimp, real Turkey & Giblets
Also available in a variety pack featuring Poultry & Beef favorites or a Tuna & Whole Shrimp multipack
Meow Mix Chunks in Gravy Wet Cat Food: Formerly known as Meow Mix Savory Morsels, Meow Mix Chunks in Gravy is sure to hit the spot for cats who prefer a heartier texture in their dinner bowl. As the name promises, this wet cat food option features juicy chunks of seafood or poultry covered in a delicious savory gravy.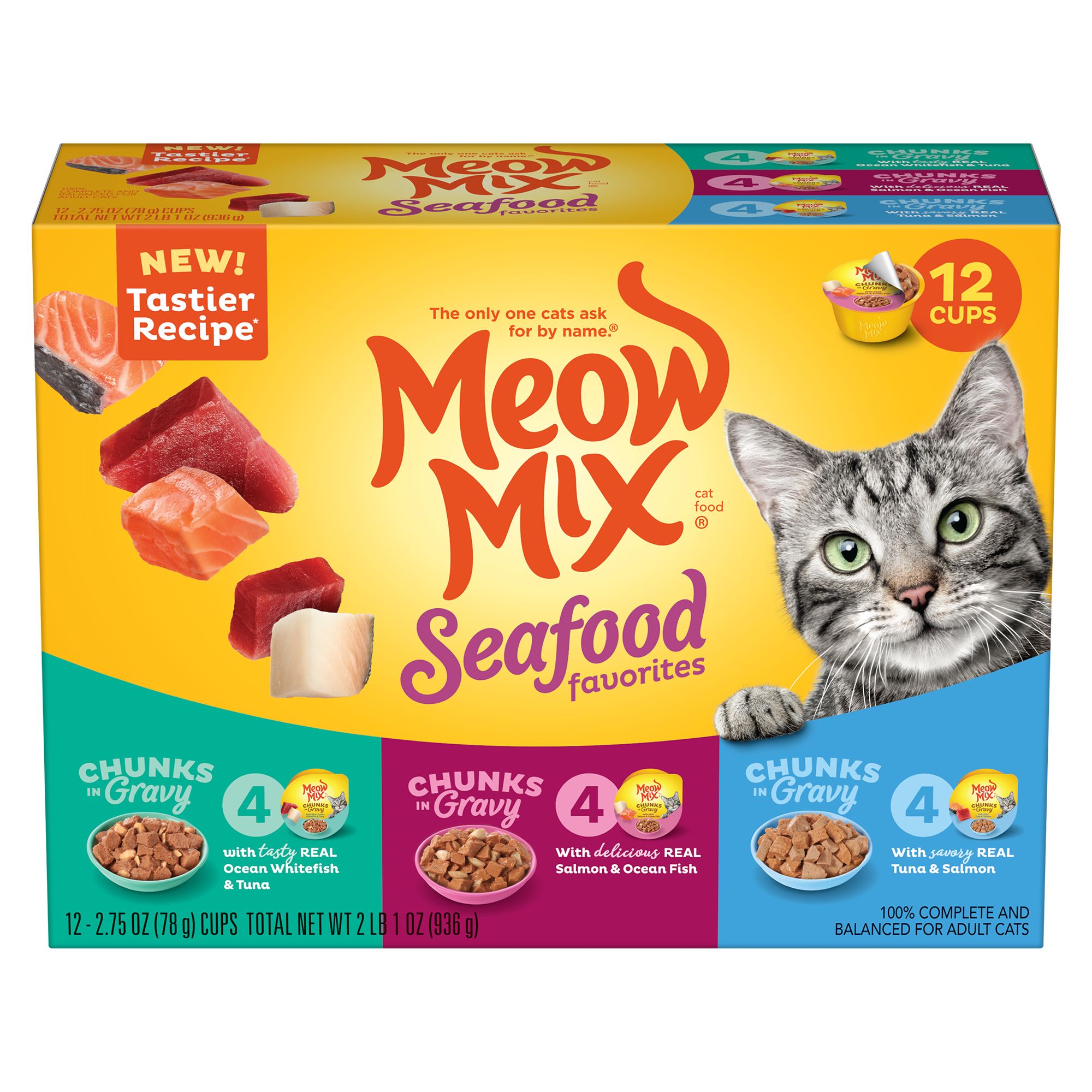 Key Benefits:
Provides 100% complete and balanced nutrition for adult cats
Whether you're feeding at home or on-the-go, simply peel off the lid and serve
Packed with real animal proteins and a meaty or fishy flavor profile cats will love
Fortified with essential nutrients to give your cat a dietary boost
Choose from Meow Mix Chunks in Gravy with real Chicken Breast or serve up a seafood buffet with a variety pack of Meow Mix Chunks in Gravy Seafood Favorites, featuring real Ocean Whitefish & Tuna, real Tuna & Salmon, and real Salmon & Ocean Fish 
Meow Mix Tasty Layers Swirled Paté Wet Cat Food: This uber-indulgent Meow Mix wet cat food is a great choice for cats who crave variety. Each recipe offers an enticing combo of flavors and textures cats love. The outer layer features a swirl of two silky smooth patés in a duo of delicious flavors around a center stuffed with shreds of real chicken or seafood. Kick every meal up a notch with this decadent kitty cuisine option.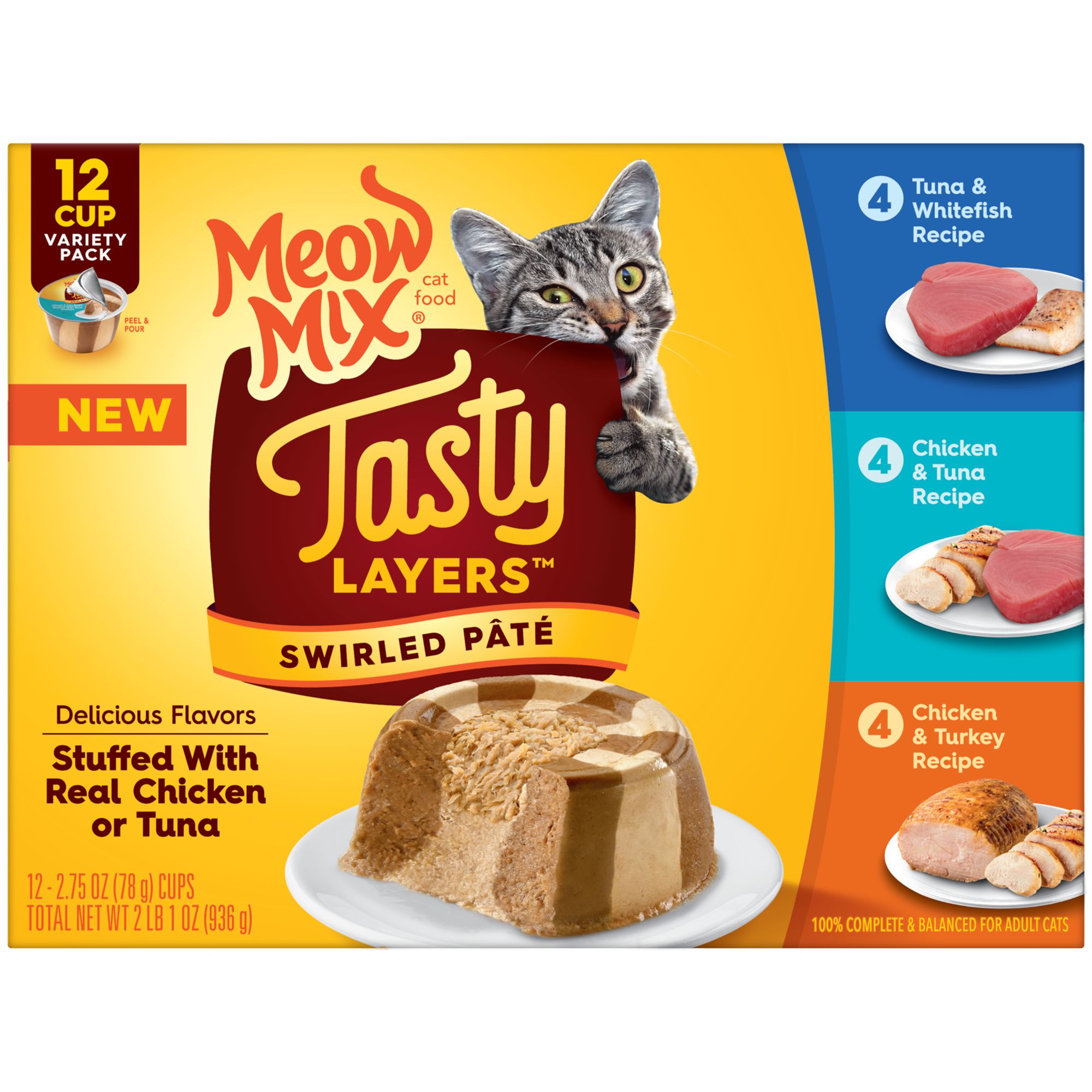 Key Benefits:
Which Meow Mix Cat Food Formula Fits Your Feline? 
With all the great recipe choices Meow Mix has to offer, it can be challenging to know which one is best for your cat. There's often a lot riding on that decision. Not only are pet parents looking for the recipe that will be best for their cat's overall health and wellness, but — as we all know — most cats will let you know if the meal doesn't meet their lofty taste standards.   
With Meow Mix formulas, you can rest easier on that last front, as all formulas are developed around the flavors and textures that most appeal to feline palates. And, with nearly 50 years of success under its belt, the brand knows a thing or two about what it takes to keep cats excited and content in the meal department. 
With that out of the way, we talked to some veterinary experts about other considerations that could impact your decision. Here are two things they recommend you keep in mind.
Trust your instincts. Some pet parents can drive themselves crazy wondering: Is wet or dry food better for cats? Or: Does my cat need a special diet? There's no shortage of opinions on these topics. But, ultimately, there are only three that count: Your vet's, your cat's, and your own.
"Some cats prefer dry food vs. canned food, while others prefer fish over other meat flavors," says Dr. Dwight Alleyne, DVM, a veterinarian in Sandy Springs, Georgia. As long as your cat is in good health, the best food for them is one that hat meets AAFCO's nutritional standards and one your cat will happily eat. And no one knows your cat's preferences better than you. (Especially if your cat is vocal about them.)
According to Alleyne, active healthy cats should do fine with a formula like Meow Mix Original Choice dry cat food. However, it's always a good idea to make sure your vet is on board before switching your cat's food. 
Re-evaluate your choices as needed. A cat's dietary needs may change due to a variety of factors ranging from age, to health, to preferences. So it's important to check in with your veterinarian regularly to ensure your cat's food still meets their needs. 
"Dietary discussions begin with your first kitty visit to the veterinarian," Fleck says. A cat's dietary needs may change throughout their life, and your veterinarian is the best resource for recommendations that will fit each stage. 
The author received compensation from Vetstreet for their services in writing this article.