The number of people fleeing the war in Ukraine who have decided to remain on Bulgarian territory is now in excess of 30,000, and growing, and they bring with them the stories of their suffering, but also of the power of the spirit, humanism and compassion in the darkest hour. We shall now try to take a look at the unfolding tragedy, but not through the eyes of reporters, analysts or politicians, but through the eyes of… pets. There are thousands of pictures from the horrific Russian invasion of Ukraine focusing on the faces of the people, forced to seek refuge outside their country, and on the gestures of love for the pets they have brought with them.
"Russians and Ukrainians are really very fond of their pets. Practically every household has a dog or a cat and they regard them as members of the family, and if there is any danger, they rush to save them together with the children and their relations," Ina Hadzhieva, dog coach and behavior specialist says in an interview with Radio Bulgaria. Providing temporary or long-term shelter does not mean the end of the perilous journey and the anxiety, even for the pet owners who plan on staying in Bulgaria for a longer period. They need to register as refugees or asylum seekers, but they also need to register their pets.
"This country has put in place a simplified border crossing procedure for the pets accompanying refugees coming from Ukraine. However, the pet owners must submit a notification to the Bulgarian Food Safety Agency, after which they have 72 hours for a full veterinary medical examination of the animal. After the anti-rabies vaccine is administered the animal has to remain in isolation for 21 days," Dr. Margarita Chankova of the Four Paws foundation explained for the BNR.  She added that the foundation's clinic, which is in Bankya in the outskirts of Sofia, is ready to render medical assistance, free of charge, to pets arriving from Ukraine.

At the clinic the animals will undergo a checkup, they will be vaccinated against rabies – which is mandatory for travelling within the EU – they will be dewormed and will have a pet passport issued.
Though it is necessary, a single visit to a vet may not be enough to establish how the stress the animal has been through has affected its health.
"Dogs do not have the sense of danger that we, humans have. Adults are afraid of concrete things, and these things make us question our ability to cope, and raise questions like: are we going to survive, where are we going to go, are we going to have enough to eat? That is not so with children and animals," Ina Hadzhieva explains. "That is why it is important to prepare children and dogs for stressful situations so they can recognize them as such and cope with them. For dogs this preparation means whether they are capable of taking various abrupt noises in their stride – like fireworks, sirens, movement or commotion of large numbers of people, how the animal will behave while it is on a leash with its owner. What is most important to dogs in a situation of this kind is their robust emotional bond with their owners," the specialist says.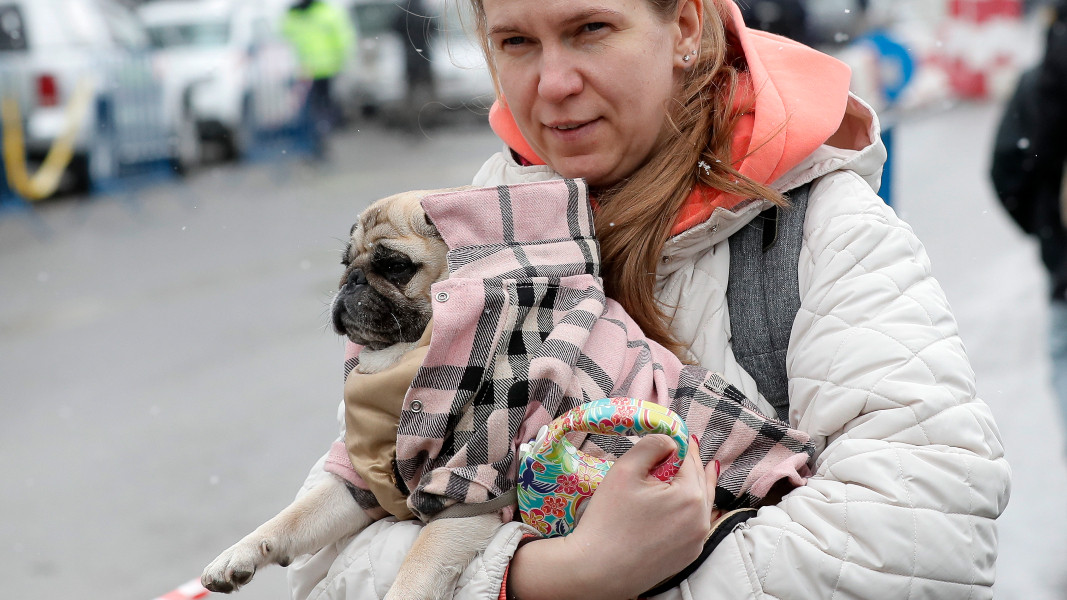 Dogs are very social animals, and caring for a dog means more than providing water, food and walks, their behavioral and mental health also needs to be taken care of. That is why dog training should not be limited to learning certain commands, Ina says. She has graduated from a special academy for dog trainers in the UK in her desire to help her own pet overcome the stress of having lived in the streets.
Photos: EPA/BGNES