There will be silks, trophies, a racetrack and fashions on the field.
But there will be no horses – or whips – in sight at the second  Melbourne Pup tiny dog race to be held in Melbourne's inner north on Sunday.
Billed as a dogs' day out at the Edinburgh Castle on Sydney Road in Brunswick, the pub's large beer garden will be converted to a racetrack for two races on Sunday.
The first race, running at 1.45pm, will be the under-five kilogram category, meant for chihuahuas and puppies, and the second, the Pawfield Cup, at 2pm, will be for under-eight kilogram dogs, aimed at dachshunds.
Melbourne Pup lead organiser Kelly Armati, of Coburg, attempted her first tiny dog race in 2019, at a local dog park. To her surprise, dozens of pets and their owners turned up.
"It was a bit of a joke, but people just kept coming," she said.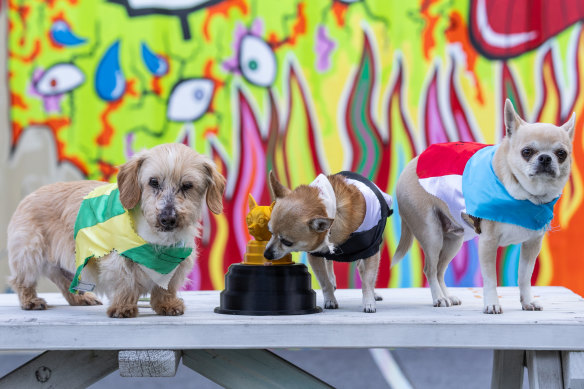 For the first time since the COVID-19 lockdowns, the Pup is back, and this time the carnival will feature a dog stylist doing "doggy hairstyles", with feathers for competitors, showbags, stalls, a dog-kissing booth and a "pawtune teller" doing palm and paw readings.
Pups will receive a racing silk or ribbon with their $10 entry fee, all of which will go toward the chihuahua rescue organisation, Tiny Tails Rescue.