Traverse City, Michigan is a popular destination all year round for local Michiganders and tourists alike. And it also happens to be extremely pet friendly!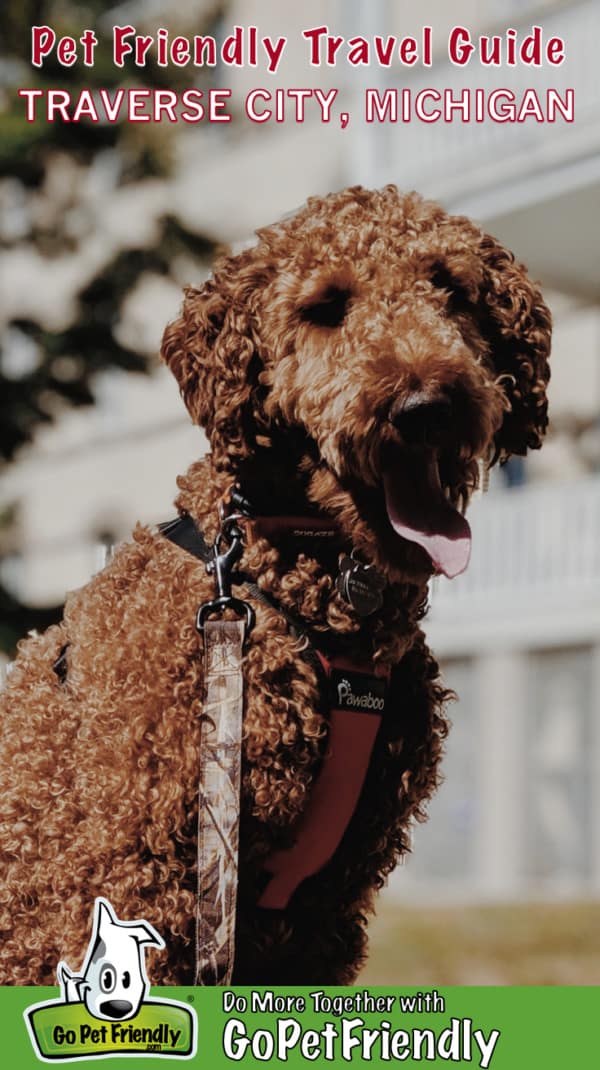 If you've never spent a weekend in Northern Michigan you are in for a treat. Our dog loves all the attention he gets strolling downtown, at the beach, or walking on the trails. In this post, I'm sharing everything you need to know to enjoy a pet friendly Traverse City vacation!
About Traverse City
Traverse City, Michigan is known as the Cherry Capital of the World since the city and the surrounding 5 counties produce about two hundred fifty million pounds of tart cherries every year. The city hosts the popular National Cherry Festival over the 4th of July weekend and it is well worth experiencing if you don't mind crowds.
All in all, "TC" is filled with small-town charm, exquisite restaurants, shops, beaches, and wineries. The city is also extremely welcoming to dogs.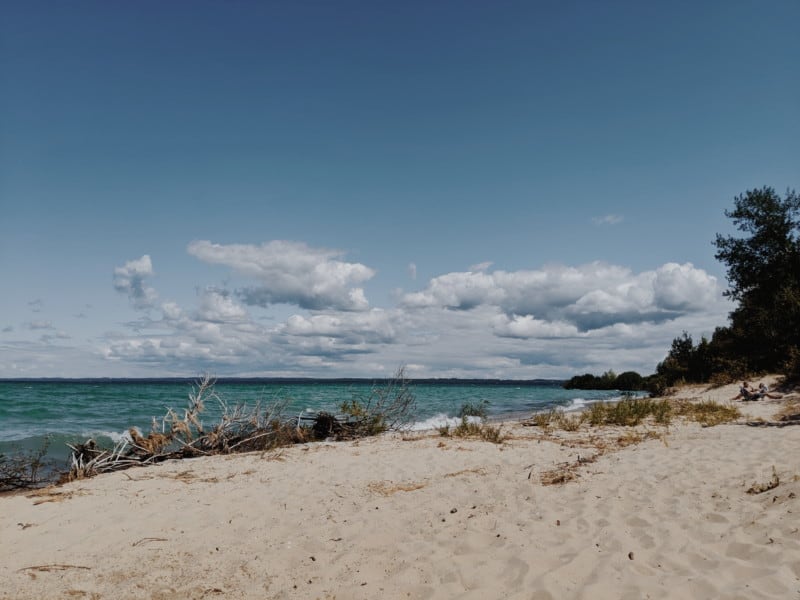 Where To Stay In Traverse City
There are several pet friendly lodging options to choose from in Traverse City.  If you'd like to stay downtown, the Park Place Hotel is your best option.
Other hotels that offer pet friendly accommodations include:
Comfort Inn 
Best Western Plus
Quality Inn
If you enjoy camping, I'd recommend the Traverse City State Park Campground, just outside of downtown, where dogs stay with you for free.
You'll also find that Traverse City has pet friendly vacation rentals to choose from on sites like Airbnb and Vrbo.
Keep in mind that if you are traveling in the summer or for the Cherry Festival, accommodations book fast and can be very expensive. The campground prices do not fluctuate with the seasons, so if you want to go to the Cherry Festival and not pay a premium price, camping is the way to go!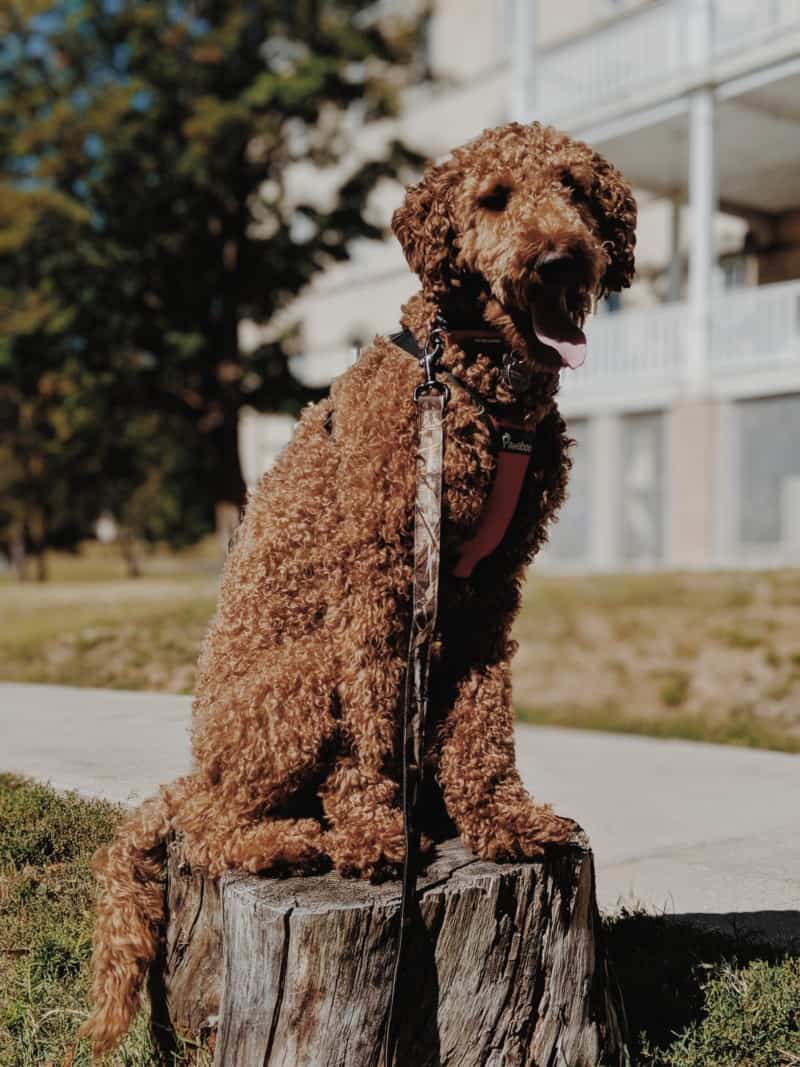 Pet Friendly Traverse City Activities
Finding things to do with your dog while you are traveling can be challenging. However, you'll find plenty of outdoor activities in Traverse city like trails, parks, and beaches!
Trails and Parks
Traverse City has an impressive number of trails and parks to enjoy year-round! However, if you are overwhelmed with the selection to choose from, start with these three:
T.A.R.T Trail  –  Taking your dog on the TART trail is the best way to experience the city by trail. Running through downtown and around the city, it offers multiple points to access restaurants and shops. Because of this, it is popular with bikers looking to get to their destination without being on the main roads.
The complete trail is 10.5 miles long, stretching from Acme Township, through Traverse City, and connecting to the Leelanau Trail.
Boardman Lake Trail –  A great trail that takes you around the north and east portion of Boardman Lake, totaling 4 miles. 
Village Commons Trails – The Village Commons has 140 acres of unpaved trails nestled in the woods with streams and views of the surrounding area.
If you are looking for a dog park, Wags West Dog Park is highly rated and well-maintained, and it is close to the dog friendly beach downtown, West End Beach.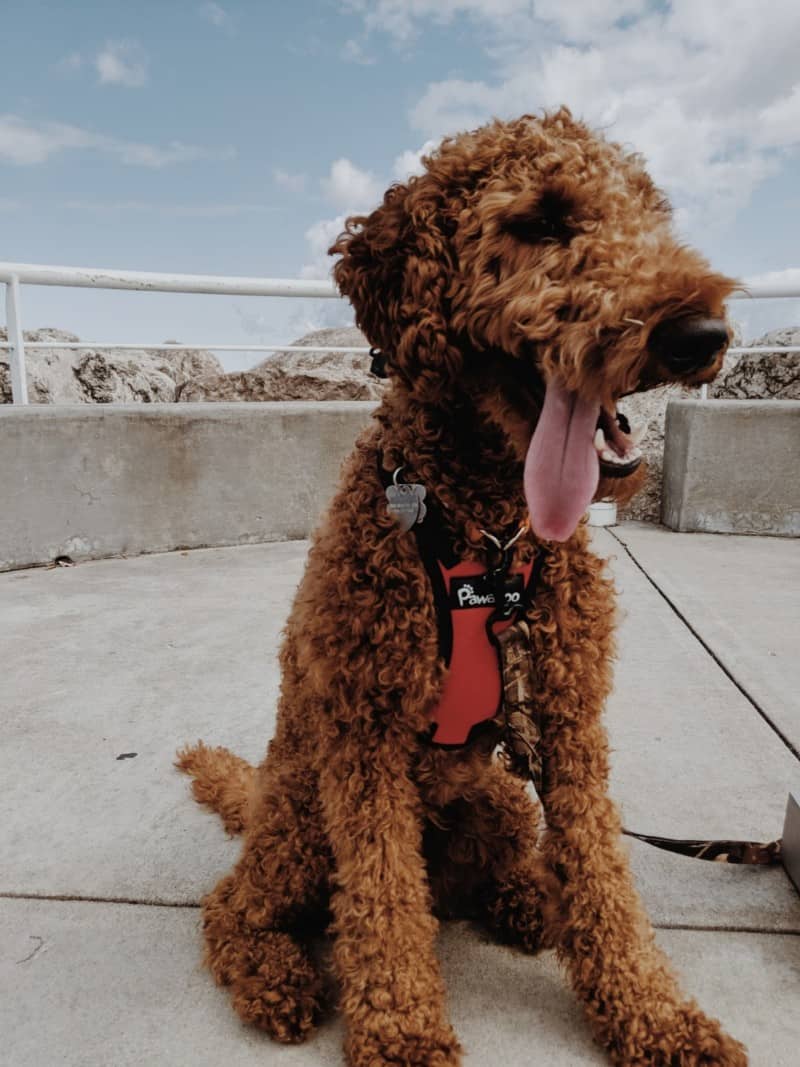 Beaches
Traverse City is very much a beach town. Unfortunately, you'll only find two dog friendly beaches:
West End Beach – The only dog friendly beach downtown with picnic areas, plenty of parking, and restrooms. The far west end of the beach is dog friendly and dogs must be leashed. 
Mission Point Lighthouse Park – This is our favorite beach because it is off-leash friendly, secluded, and less crowded than the beaches downtown. Our dog always has a blast splashing around and running in the sand!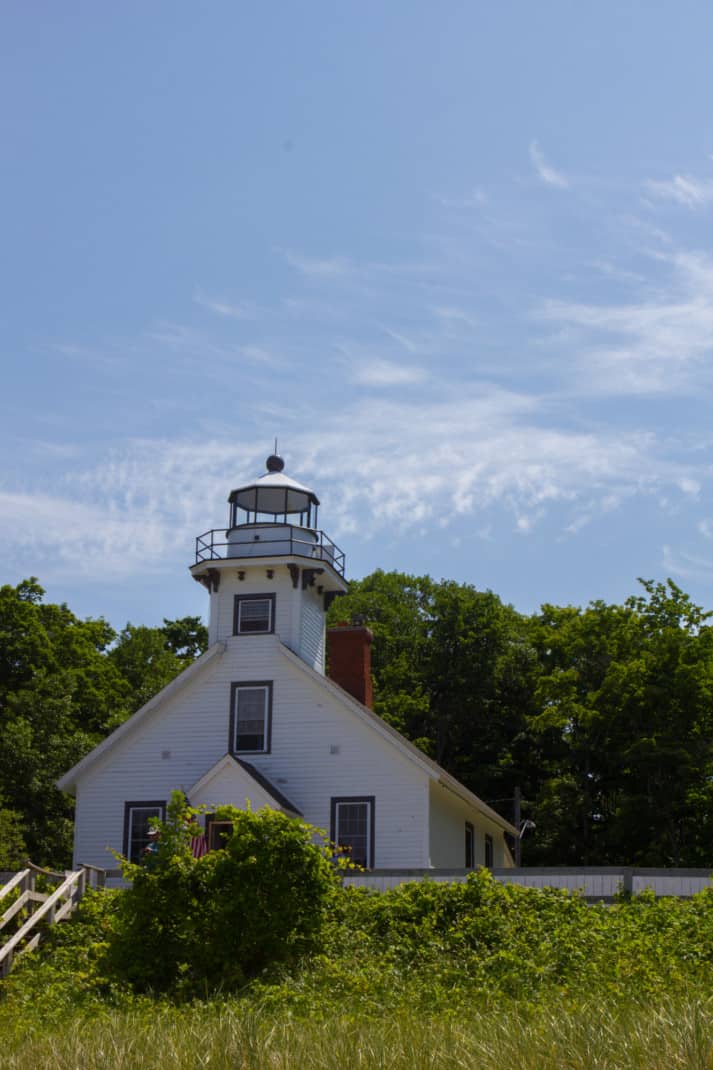 Wineries
Gorgeous wineries and vineyards fill the surrounding landscape outside of Traverse City. Dogs are allowed on the lawns or patios at plenty of the wineries on both the Leelanau Wine Trail and the Old Mission Wine Trail.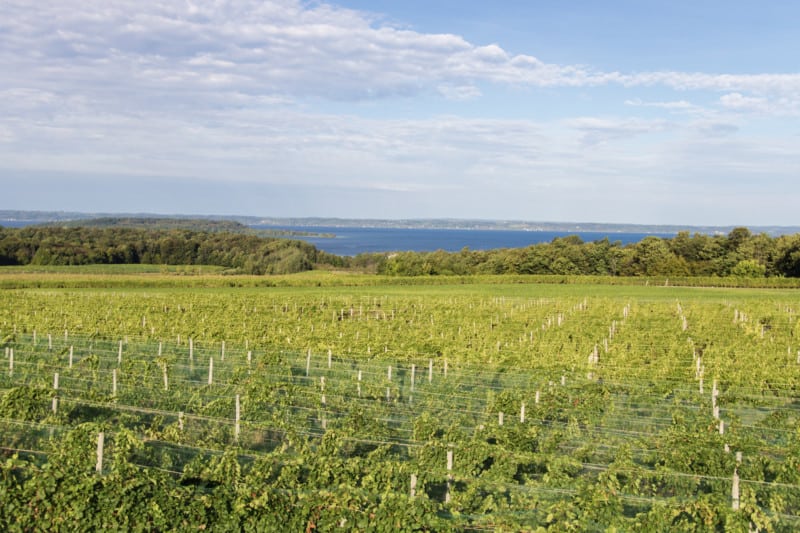 Here are a few of our favorites to try:
Bowers Harbor Vineyards (Old Mission Peninsula Wine Trail)
Chateau Grand Traverse (Old Mission Peninsula Wine Trail)
Bry's Estate  (Old Mission Peninsula Wine Trail)
45 North Vineyard & Winery (Leelanau Wine Trail)
Black Star Farms (Leelanau Wine Trail)
Mawby Sparkling Wines (Leelanau Wine Trail)
Shopping
The Mercato at Grand Traverse Commons is an indoor shopping center in a renovated historic complex with an interesting history as a hospital and asylum. The Mercato is dog friendly, but not all stores are so make sure to ask before entering an individual store. This is a great backup plan if it's raining since dogs are allowed inside!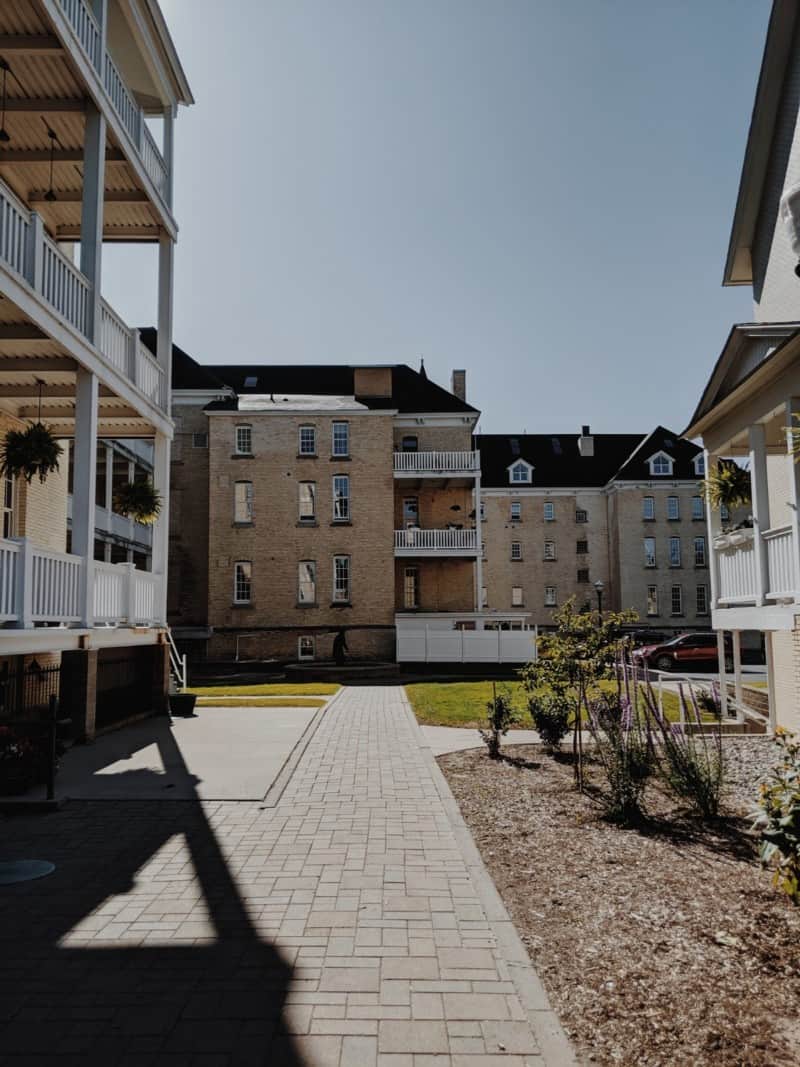 Pet Friendly Traverse City Restaurants
Because Traverse City is a summer destination, you'll find that a lot of the restaurants downtown have outdoor seating, which increases your chances of finding a dog-friendly restaurant. However, Traverse City is very popular so I would advise you to call ahead and ask their wait time and if you can reserve an outdoor table. Be prepared to wait!
Breakfast 
The Omelette Shoppe – A great spot downtown for breakfast with very few outdoor tables, so I would call before going.
Frenchies Famous – Known as a hidden gem on the east side of town with eclectic food, housemade pastrami, and a few outdoor tables.
Red Spire Brunch House – Located inside the Village at Grand Traverse Commons. They have a few dog friendly tables in the hallway of the Mercato. This place gets busy, so I would call ahead and try and reserve one of their dog friendly tables.
Lunch / Dinner
The Filling Station – Great pizza and beer with a ton of outdoor seating in a renovated train depot. Also very dog friendly! 
The Shed Beer Garden – Our dog felt like a king at the Shed! They have a doggy menu and really good human BBQ.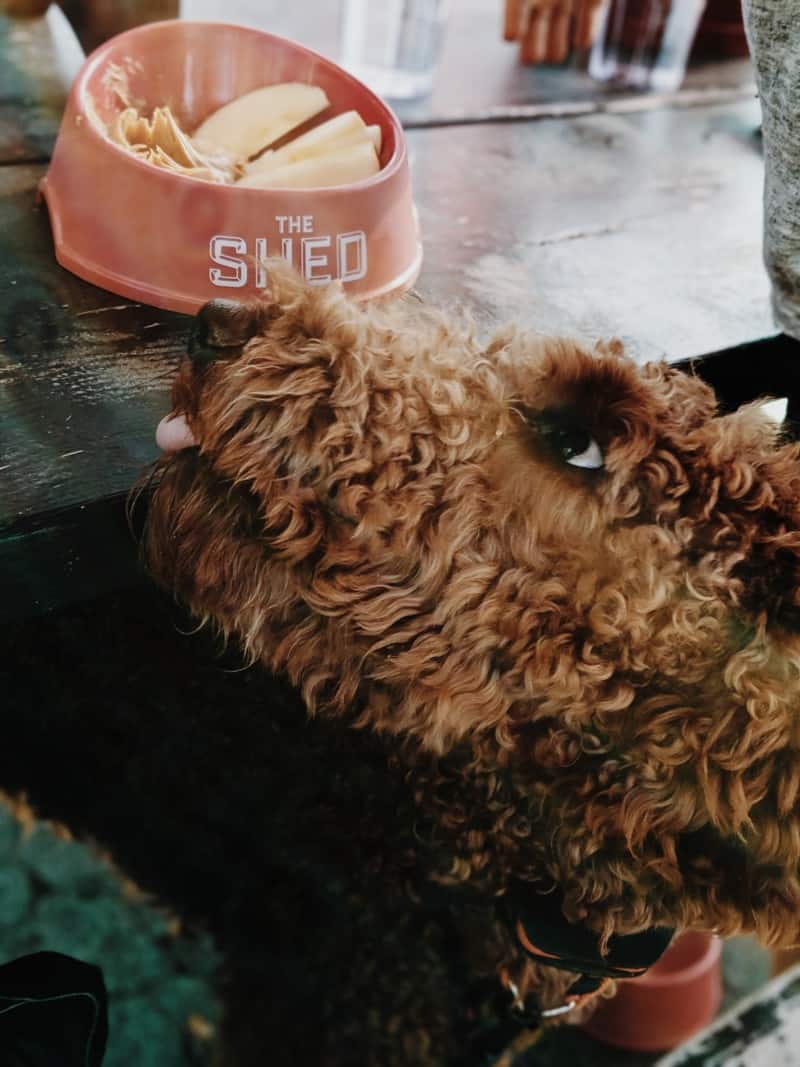 The Little Fleet – Seasonal food truck park with picnic-style seating giving you a lot of different options to choose from. 
Red Mesa Grill Restaurant – Mexican restaurant with a dog friendly covered patio and live music. 
Jolly Pumpkin – A local chain restaurant with great food, beer, and views of the bay. Their outdoor patio is dog friendly.
The Dish Cafe – One of my favorite places for a sandwich in TC. There are a couple of outdoor tables.
Coffee / Dessert 
Moomers Homemade Ice Cream – a local dairy farm and ice cream shop that has outdoor seating for you to enjoy your ice cream with your dog. You'll have to order inside though, so it's easier to do if someone else is with you.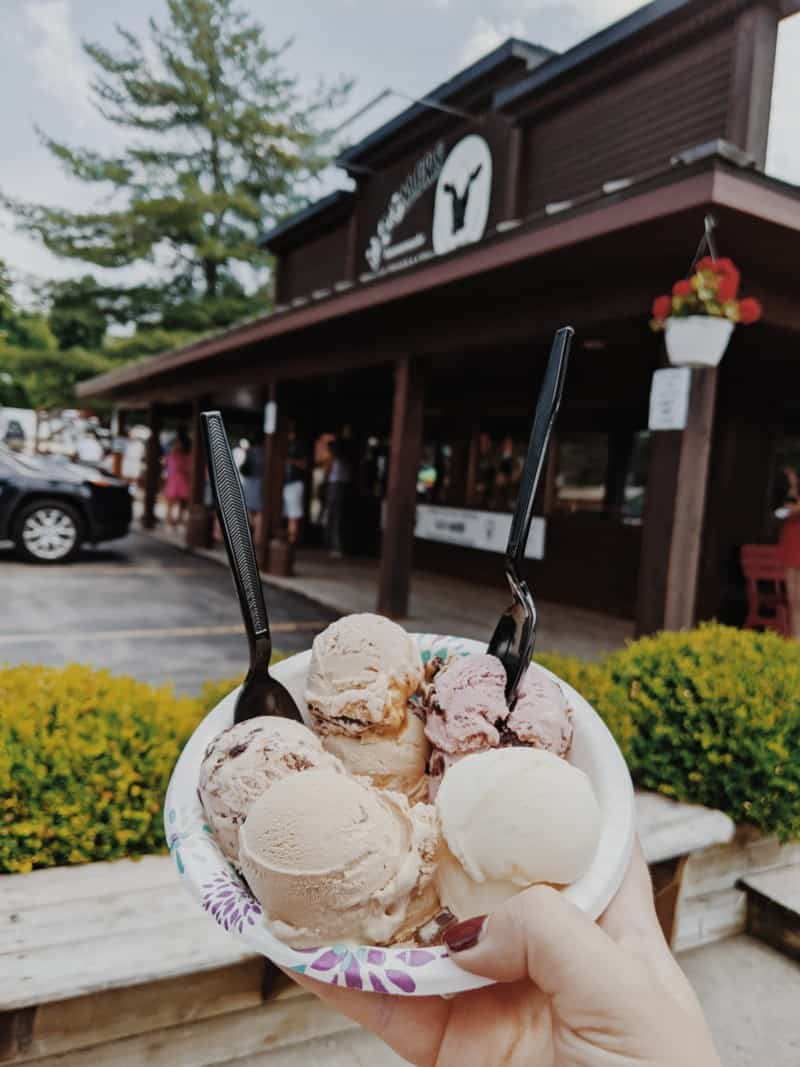 Brew – Really good coffee shop downtown with an amazing Iced Mocha and a few outdoor tables.
Higher Grounds Coffee – At the Village at Grand Traverse Commons with a nice outdoor area to enjoy your coffee. 
Growing up in Michigan, Traverse City was one of my favorite places to spend a long weekend. Whether we hit the beach in the summer, enjoyed cherries at the cherry festival, or took a scenic drive on M-22 in the fall, we always had fun. It was also the first city where our dog traveled. So, I really hope this guide helps you plan your own trip to the very pet friendly Traverse City, Michigan!
About the Author: Alia Rose is the blogger behind Alia Rose Writes which focuses on dog friendly travel in Michigan and the Midwest. She is passionate about finding ways to bring along her mini-goldendoodle, Kirby, on every adventure and helping others do the same.
Amazon Affiliate Disclosure: GoPetFriendly.com LLC is a participant in the Amazon Services LLC Associates Program, an affiliate advertising program designed to provide
a means for website owners to earn advertising fees by advertising and linking to amazon.com, audible.com, and any other website that may be affiliated with Amazon
Service LLC Associates Program. As an Amazon Associate, the owner of this site earns a commission from qualifying purchases.
(Visited 164 times, 1 visits today)