There is no disputing the natural beauty of Glacier National Park. But for people traveling with pets, Glacier can be a challenge. We're sharing how to make the most of your pet friendly visit.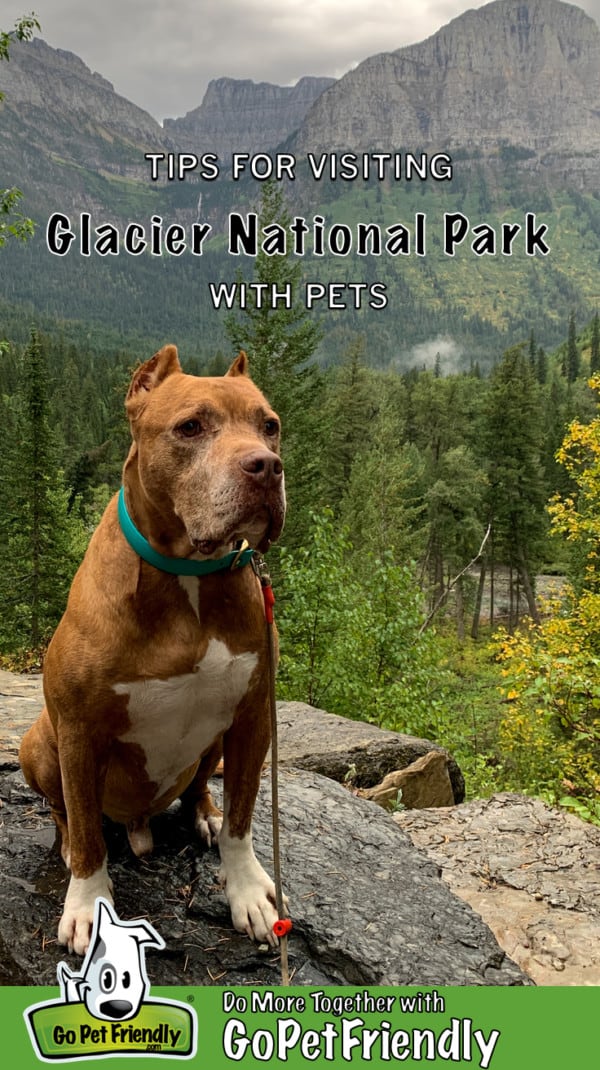 Glacier is an absolutely stunning place where the wilderness has remained untouched and the mountains reach to the sky. But for people traveling with dogs, Glacier National Park isn't the easiest of our national parks to visit.
Glacier is one of the few places in North America where all of our native carnivores still survive. Grizzly and black bears, wolves, and cougars roam the steep slopes and lush, green valleys. And protecting the national park and its inhabitants means severe restrictions on where pets are allowed to go.
Glacier National Park With Dogs
There are only a handful of roads in Glacier. One runs north and south along the western edge of the park. Highway 2 runs from East Glacier Park Villiage to West Glacier. And the most famous, Going-to-the-Sun Road, cuts east and west across the heart of the park for 50 miles.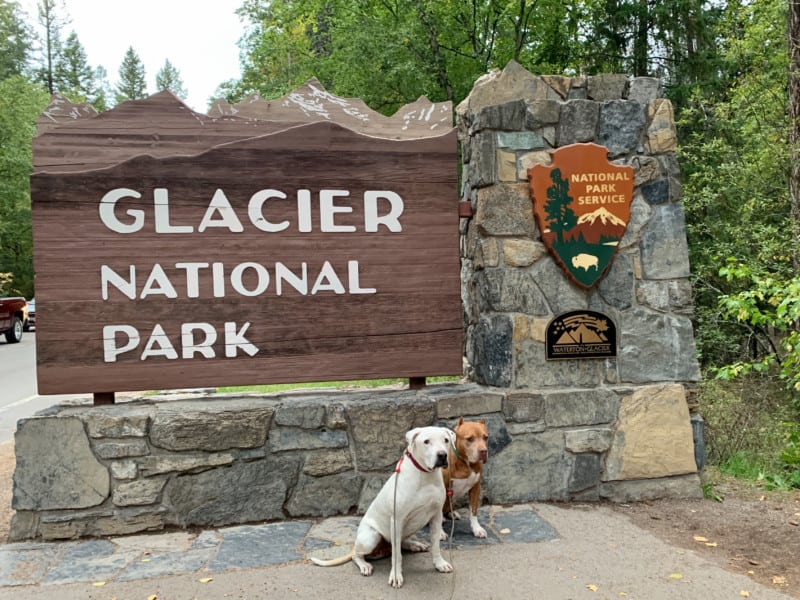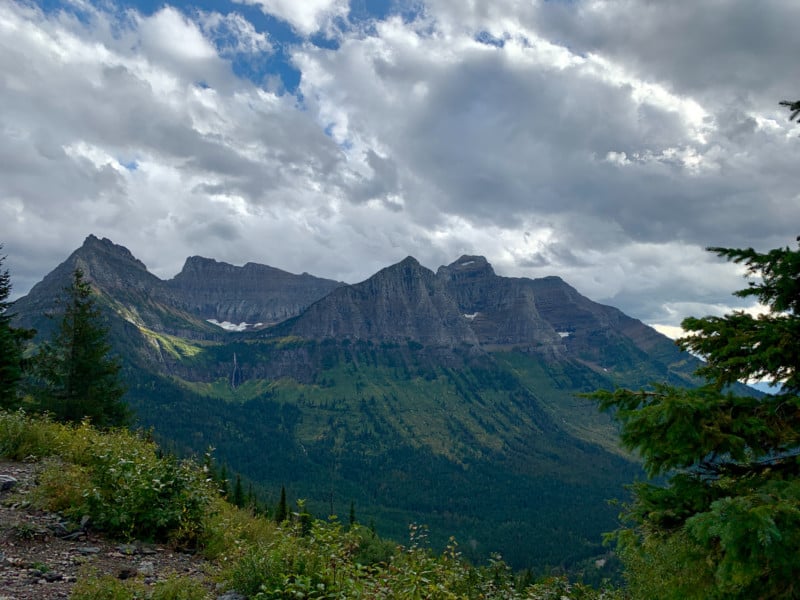 Going-to-the-Sun Road is, by far, the most popular route for seeing the park. Driving it takes about 3 hours – each direction – if you stop for a few pictures along the way. And why wouldn't you want to stop for pictures?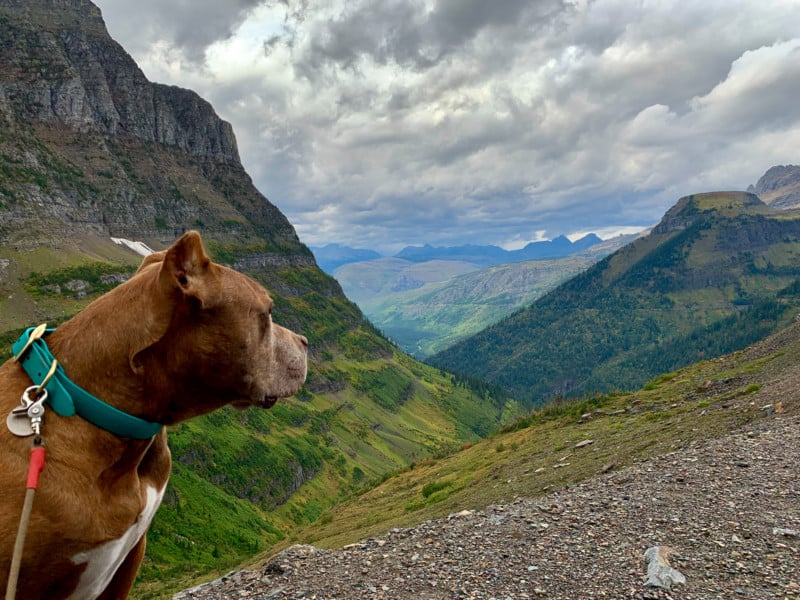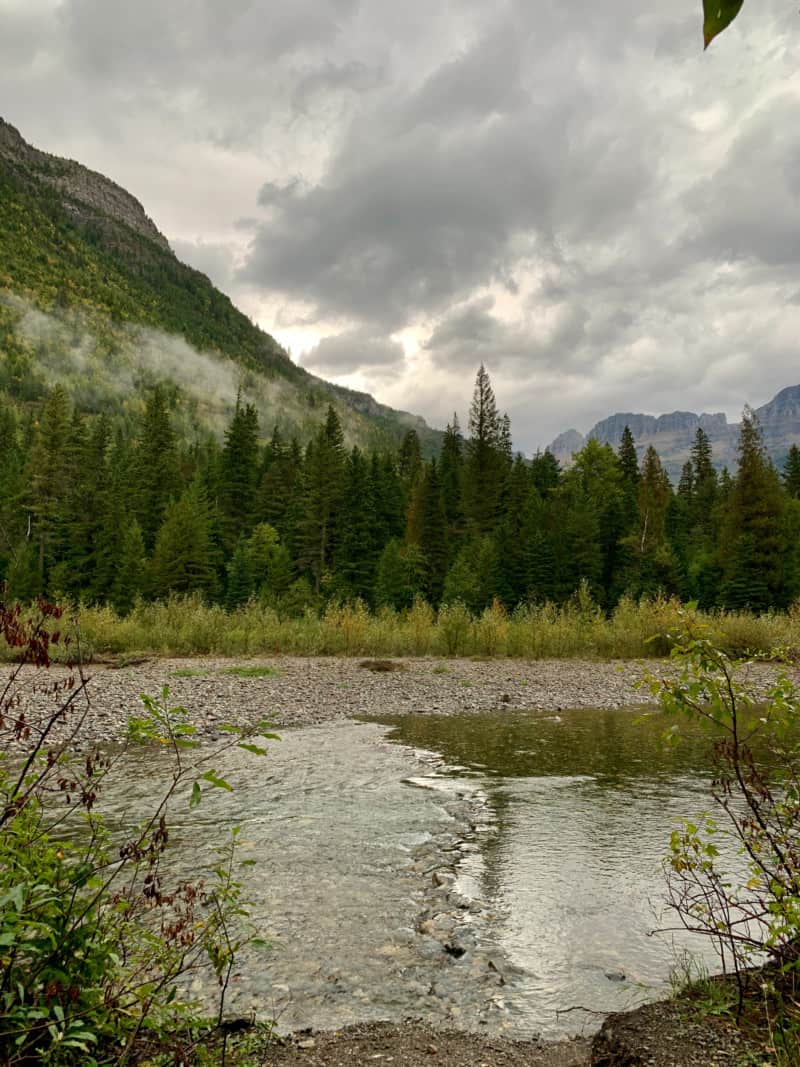 Are Pets Allowed Along Going-to-the-Sun Road?
Along Going-to-the-Sun Road, pets are allowed in developed areas. That means picnic areas, parking areas, and within 100 feet of roads. Basically, it's going to be a long day in the car for your dog.
If you're driving Going-to-the-Sun Road (and you should!), plan to make several short stops along the way so your pups can get out and stretch their legs.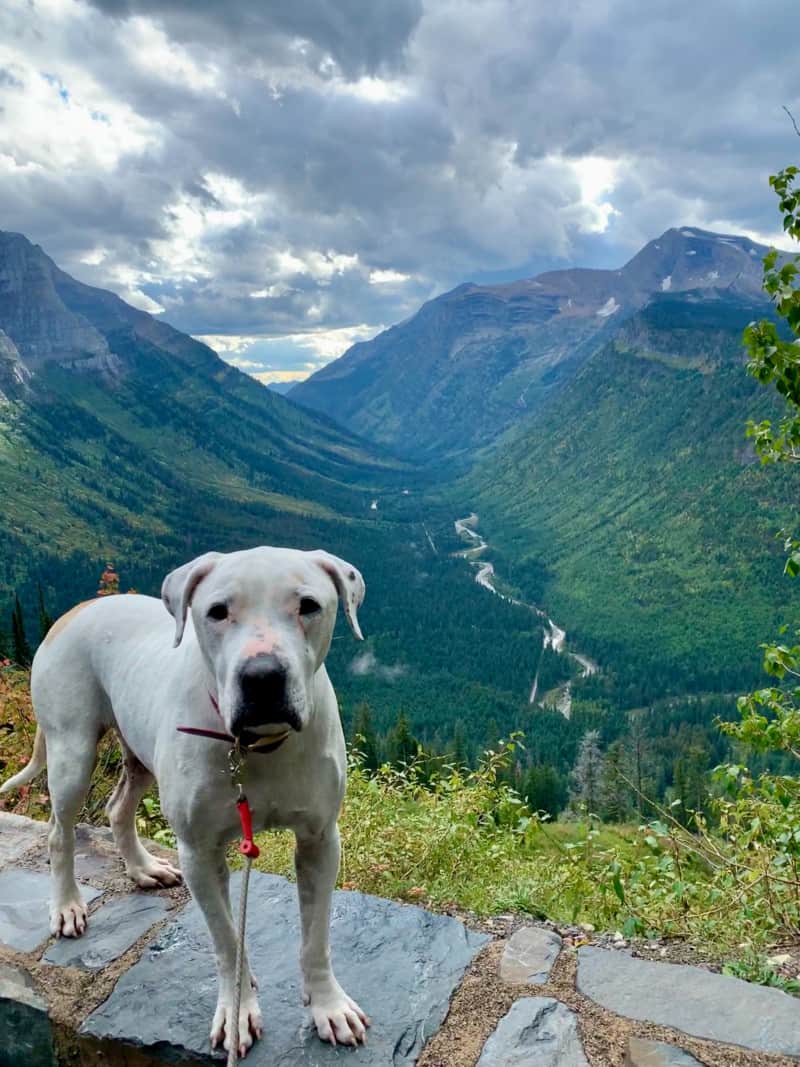 Hiking With Dogs In Glacier National Park
There is only one trail in Glacier National Park that is dog friendly, and only when it's not covered in snow. McDonald Creek Bike Path is a paved trail that runs for 2.5 miles between West Glacier and Apgar Village.
We suggest picking up the trail in West Glacier, grabbing an ice cream at Eddie's when you get to Apgar, taking a rest by Lake McDonald, and then making your way back to the trail head.
Remember when hiking in Glacier National Park with dogs it's possible you could meet wildlife on the trails, so take precautions. Bears have been known to pursue dogs, which could be dangerous for both you and your pup.
READ MORE ⇒  Tips for Hiking Safely With Pets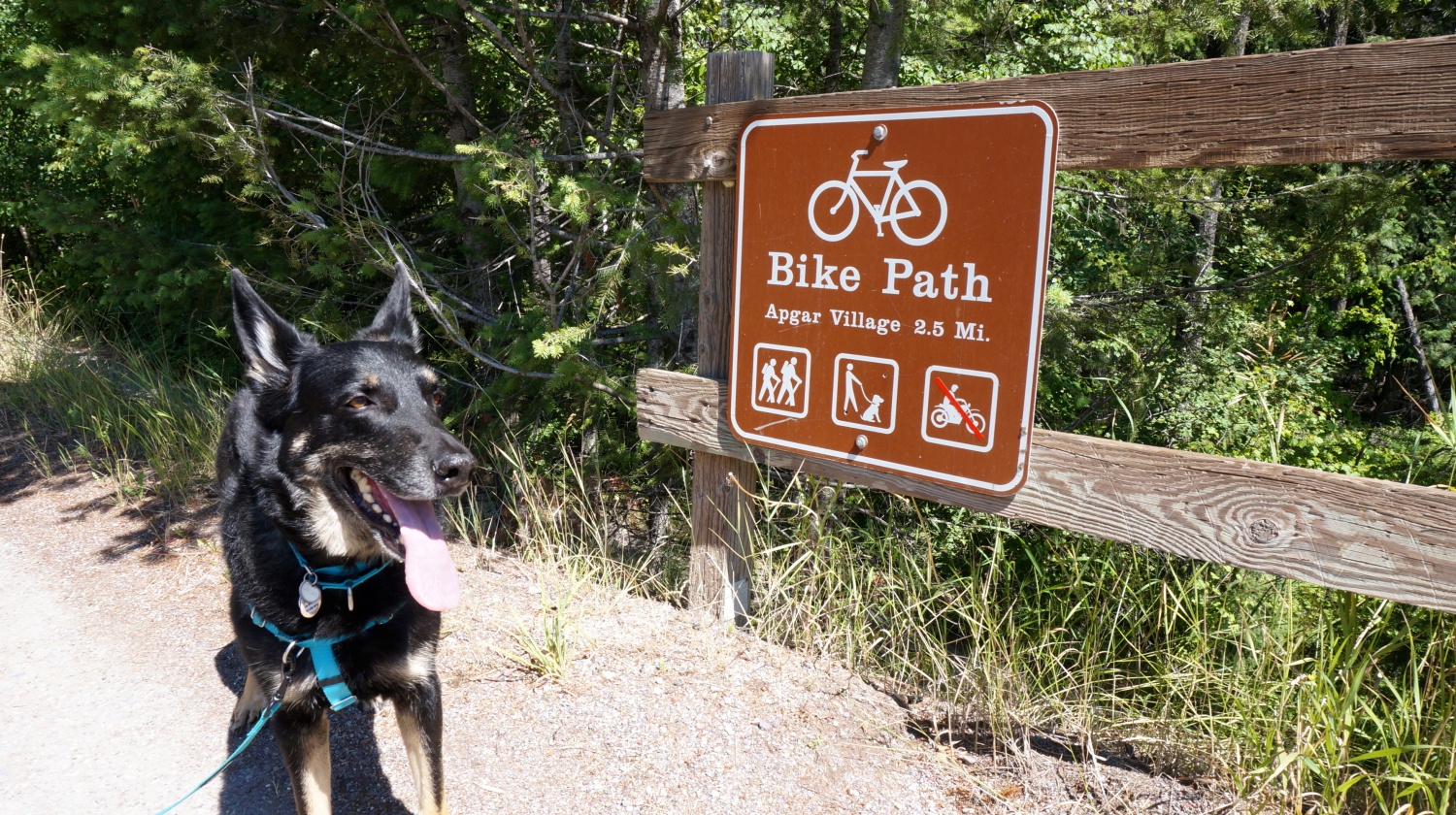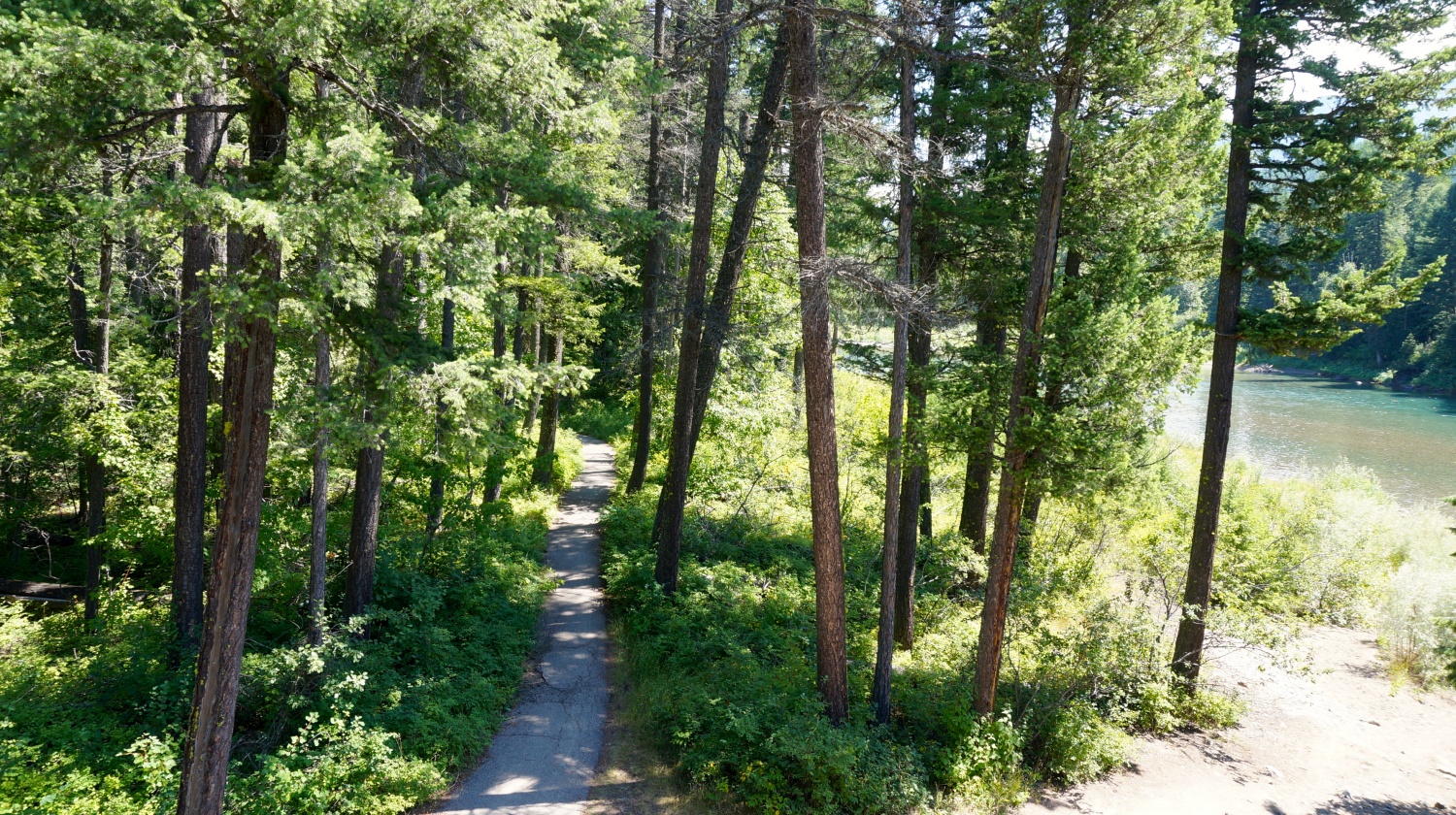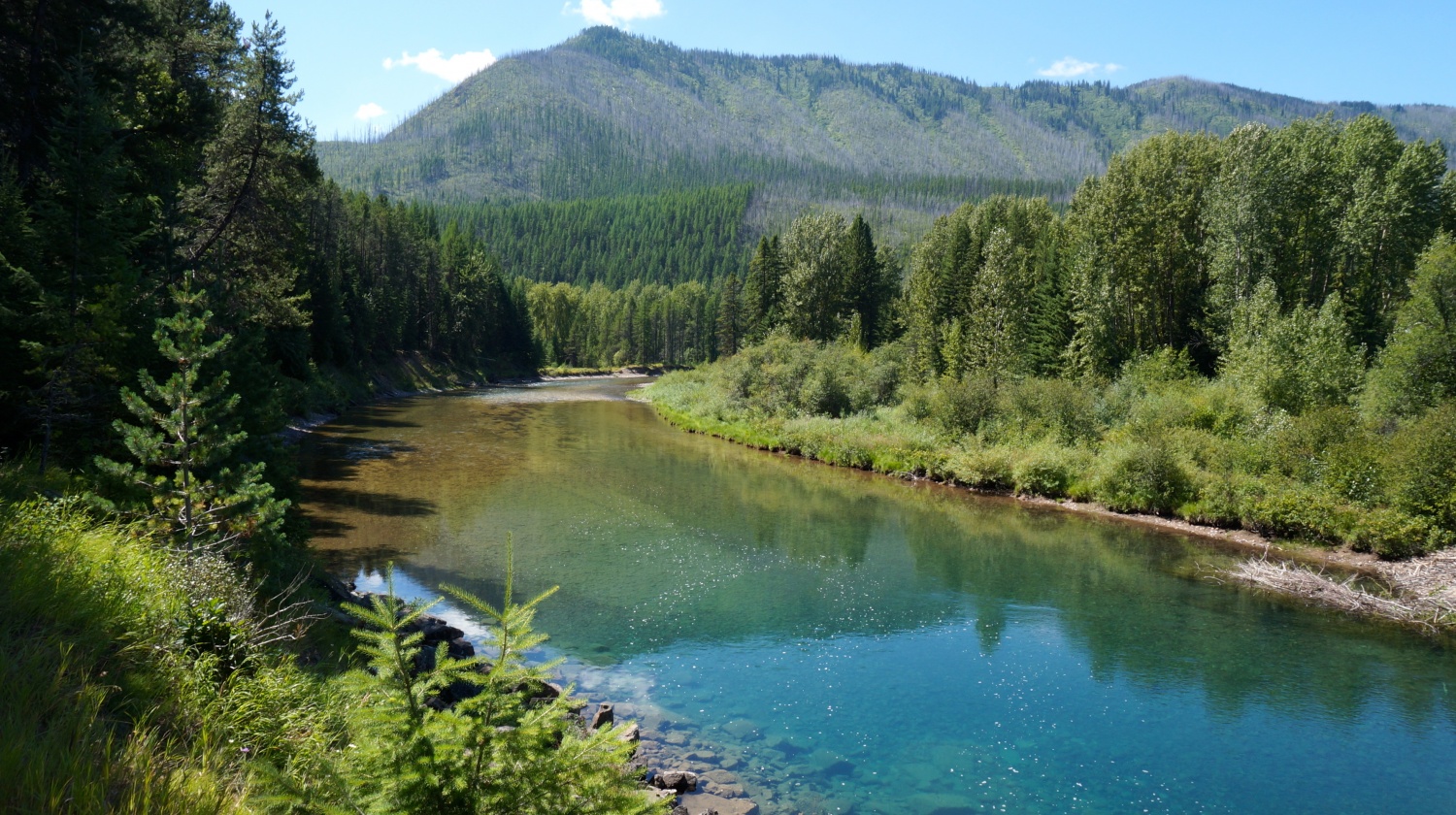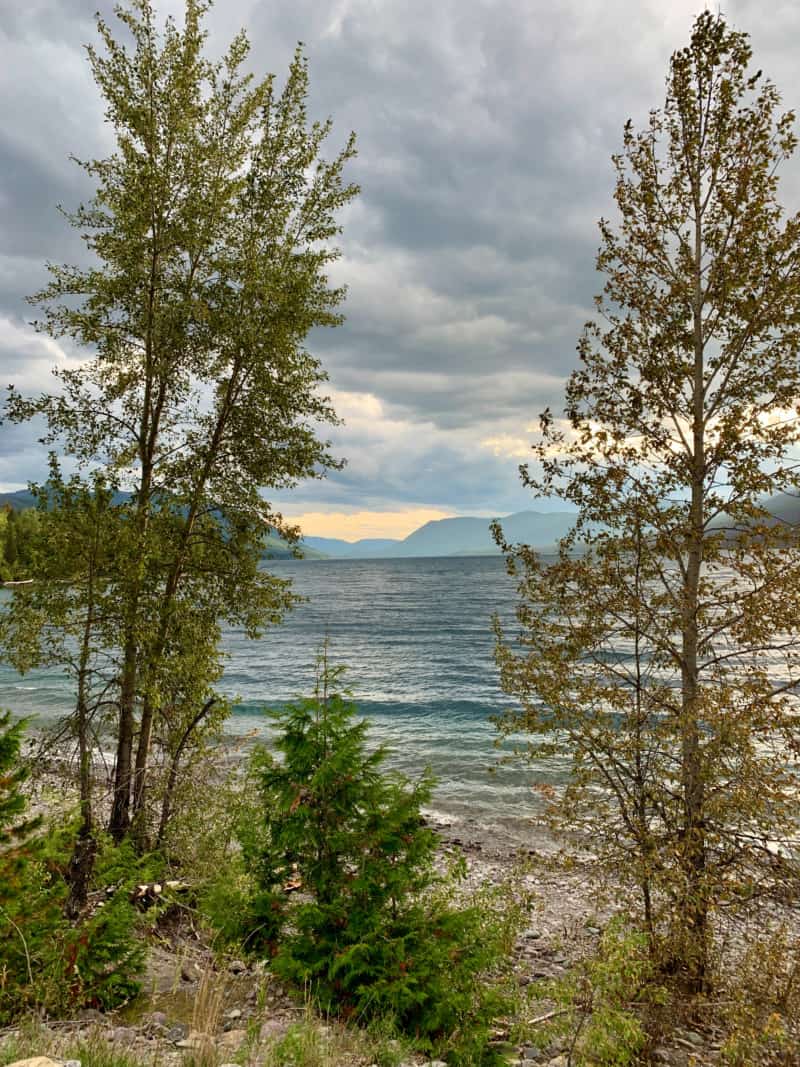 Beyond Glacier – Pet Friendly Activities In The Area
Once you've done Going-to-the-Sun Road and the McDonald Creek Bike Trail, there's not much entertainment left in Glacier National Park for dogs.
You could find a pet sitter or daycare to keep your dog company while you hike the park trails. Or you could explore the surrounding area for more activities to enjoy together!
Glacier National Park may not be the most dog friendly spot to visit, but the surrounding area is! From big national forests to small friendly towns, western Montana has a lot to offer travelers with pets.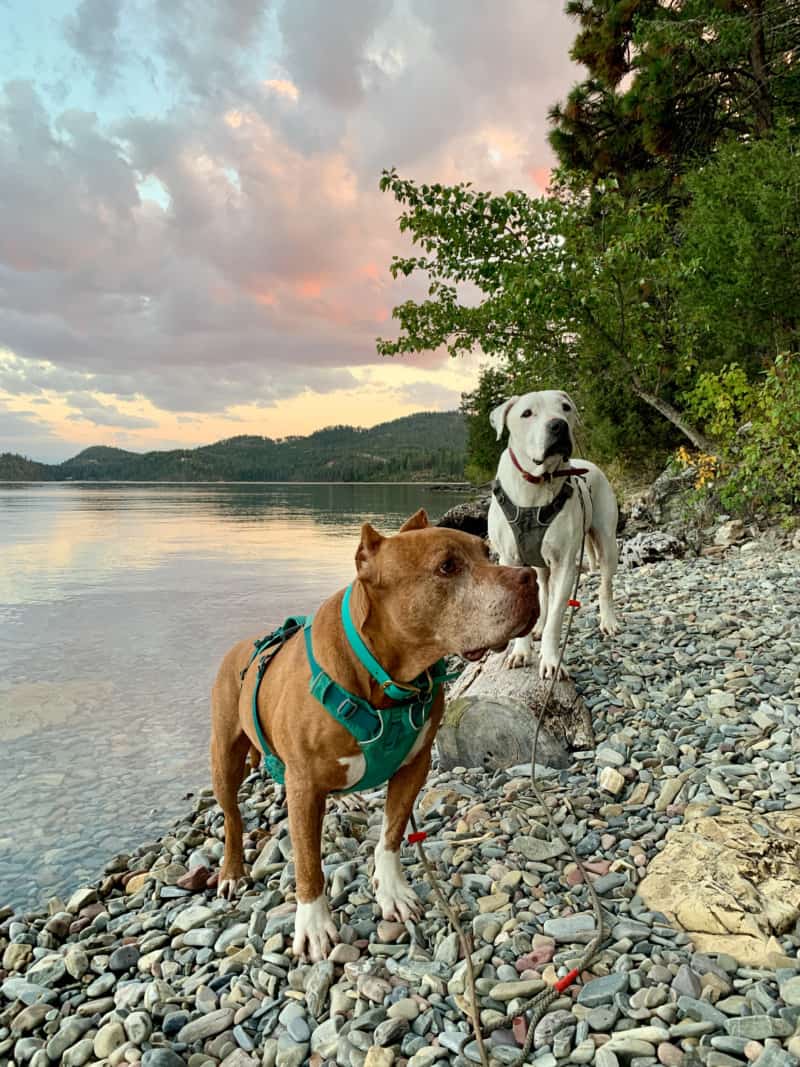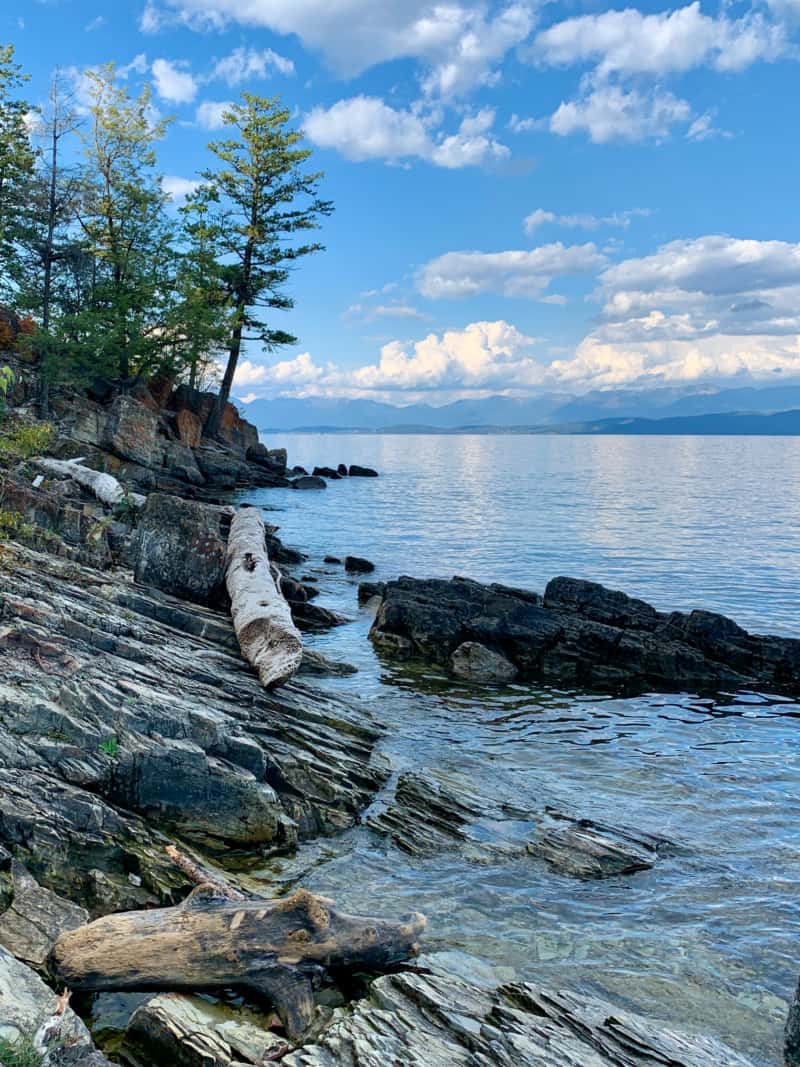 Explore The National Forests
For great hiking, head south to one of the national forests with your pup. Flathead, Kootenai, and Lewis and Clark National Forests are all within easy striking distance. And all the trails in all the national forests are pet friendly!
In fact, dogs are allowed to be off-leash in most areas of the national forests. But because of the local wildlife, it's not a good idea if they don't have a super-reliable recall.
Hungry Horse Reservoir in Flathead National Forest is especially beautiful and it feels like you have the trails to yourselves.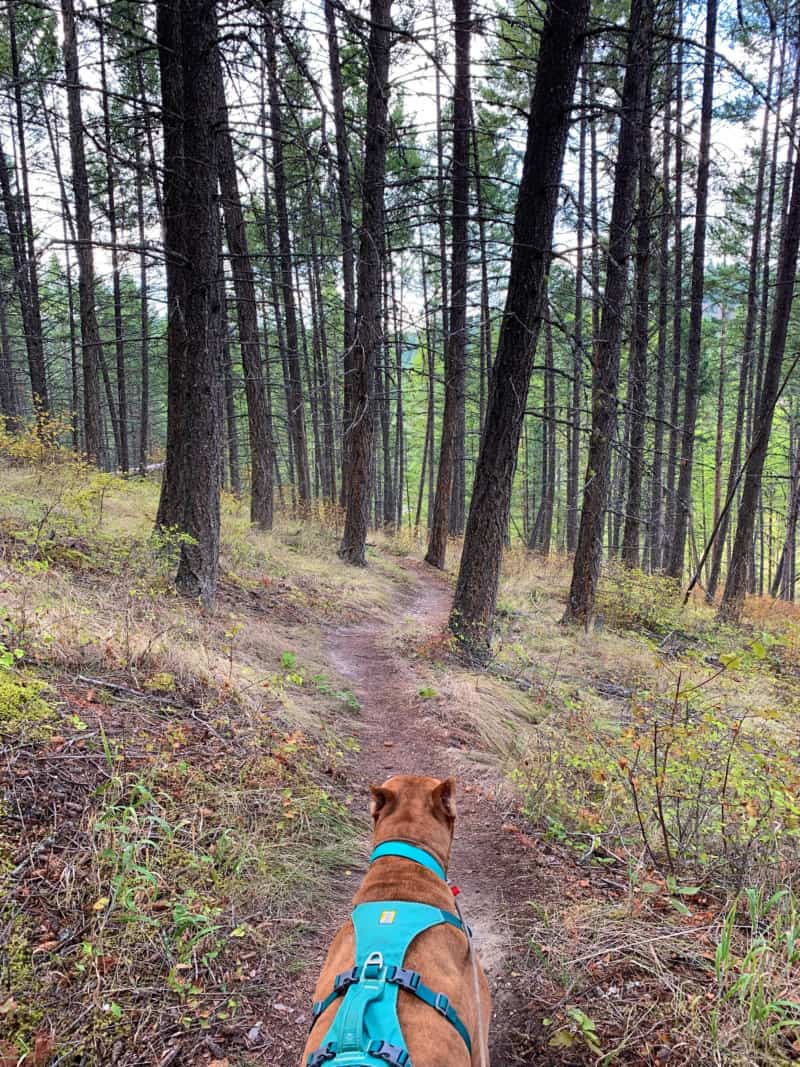 Flathead Lake
Flathead Lake is stunning. We spent a week visiting here and give it five stars for dog friendly adventures near Glacier National Park. It's an absolute must-see if you're visiting western Montana. You'll find hiking, camping, outdoor festivals, canoeing, swimming, and more.
The lake is approximately one hour from the west entrance of Glacier National Park. And it is the largest freshwater lake west of the Mississippi River — approximately 30 miles long and 16 miles wide. So, your travel time could vary a bit depending on what side of the lake you're visiting.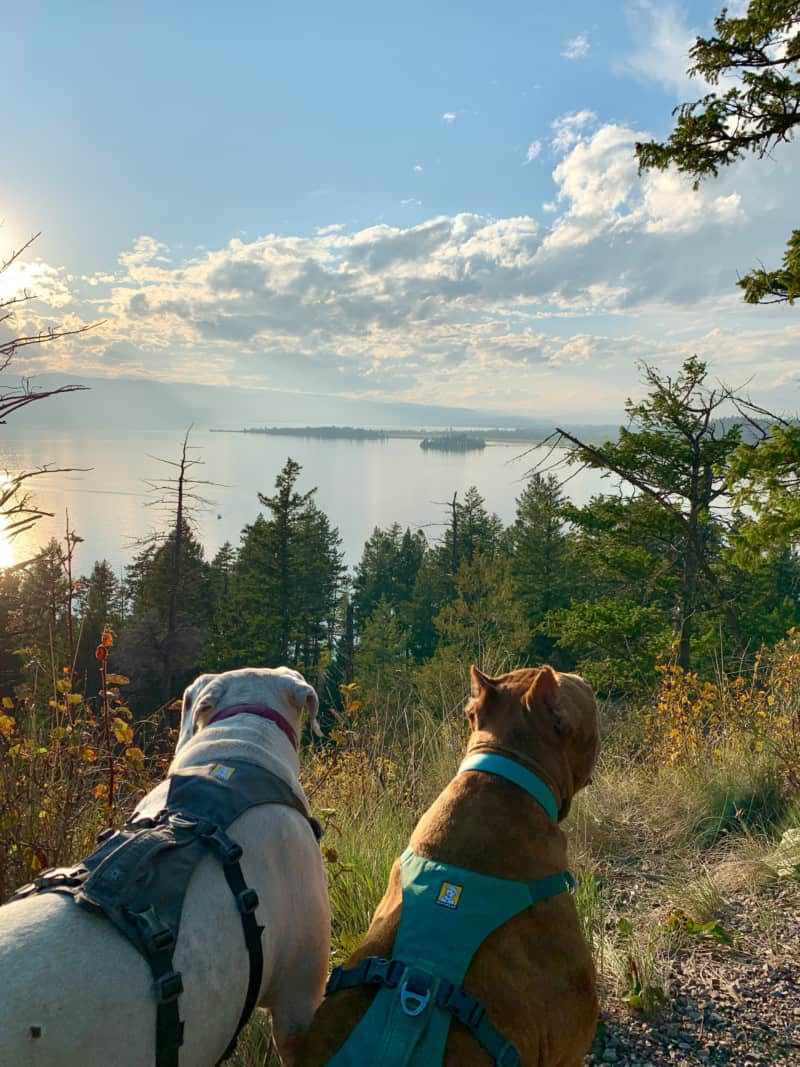 Much of the area around Flathead Lake is part of the Flathead Indian Reservation, established in 1855 by the Treaty of Hellgate. This area is home to three tribes: Bitterroot Salish, Upper Pend d'Oreille, and Kootenai.
Along with tribal land, six Montana state park units polka-dot the Flathead Lake shoreline. Together these units make up Flathead Lake State Park. Five of the state park units are pet friendly and allow dogs on a leash:
Wayfarers
Yallow Bay
Finley Point
West Shore
Big Arm
Yellow Bay only offers tent camping sites (first-come, first-served), but the other dog friendly campgrounds offer both tent and RV sites. Some even have hike, bike, or boat-in campsites! Cool Whip, Hercules, and I camped in our van at Wayfarers, Big Arm, and West Shore. Each one provides a slightly different experience, so it was a lot of fun park-hopping around the lake.
Two of my favorite features in these parks are the numerous pet waste bins and the trailhead stations with free slip leads. They make it really easy to clean up after your dog and enjoy safe, pet friendly adventures!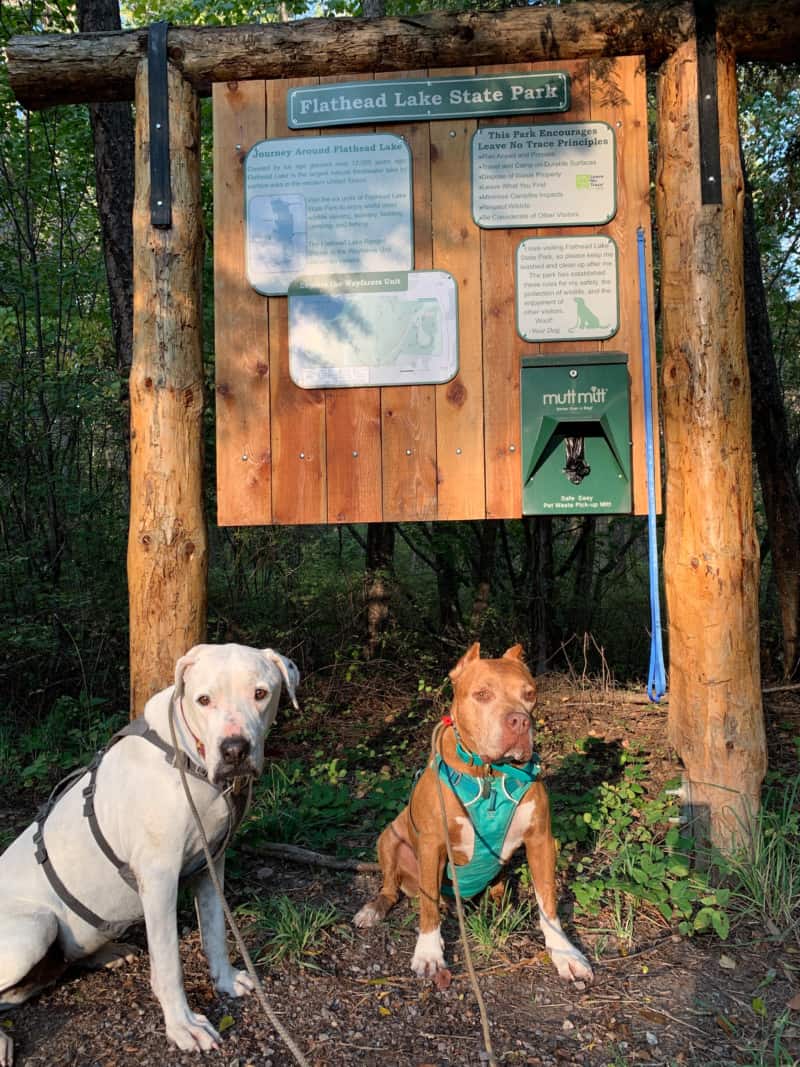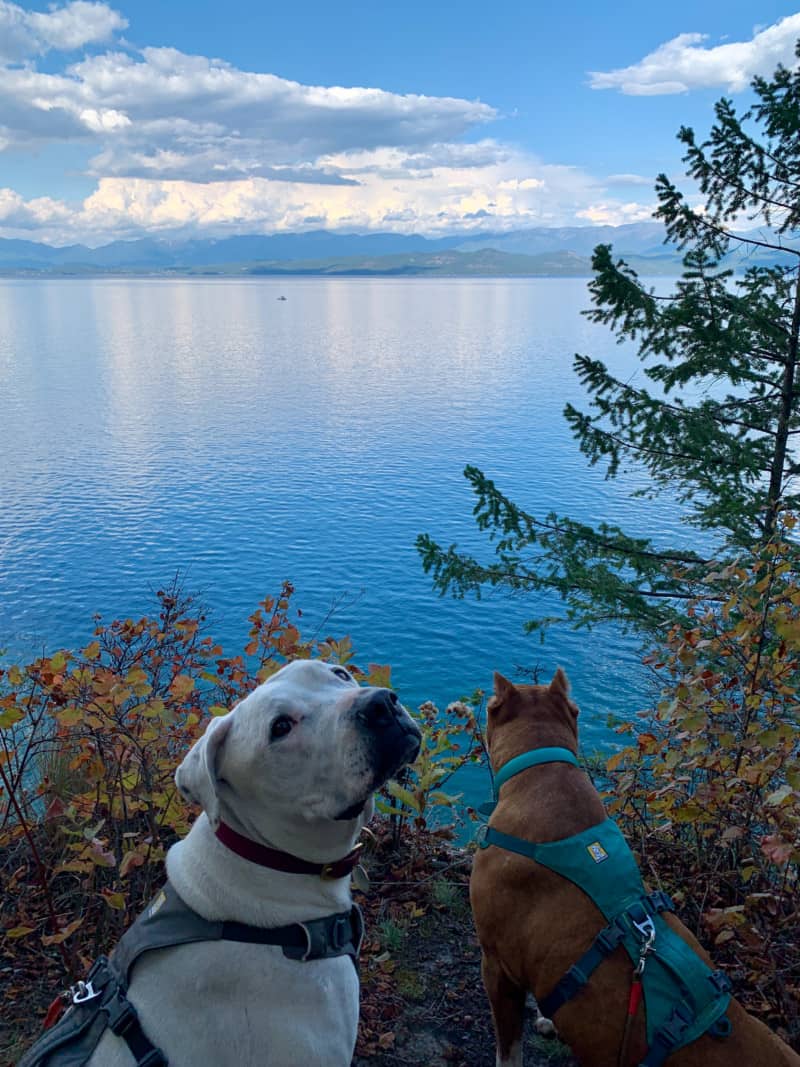 Wayfarers – Flathead Lake State Park
Wayfarers is 67 acres of forested beauty tucked right into the town of Bigfork, Montana. We got major North Shore (Minnesota) vibes with the pine trees clinging to the rocky shoreline. And it offers the perfect vantage point to enjoy the sunset after a full day of adventures.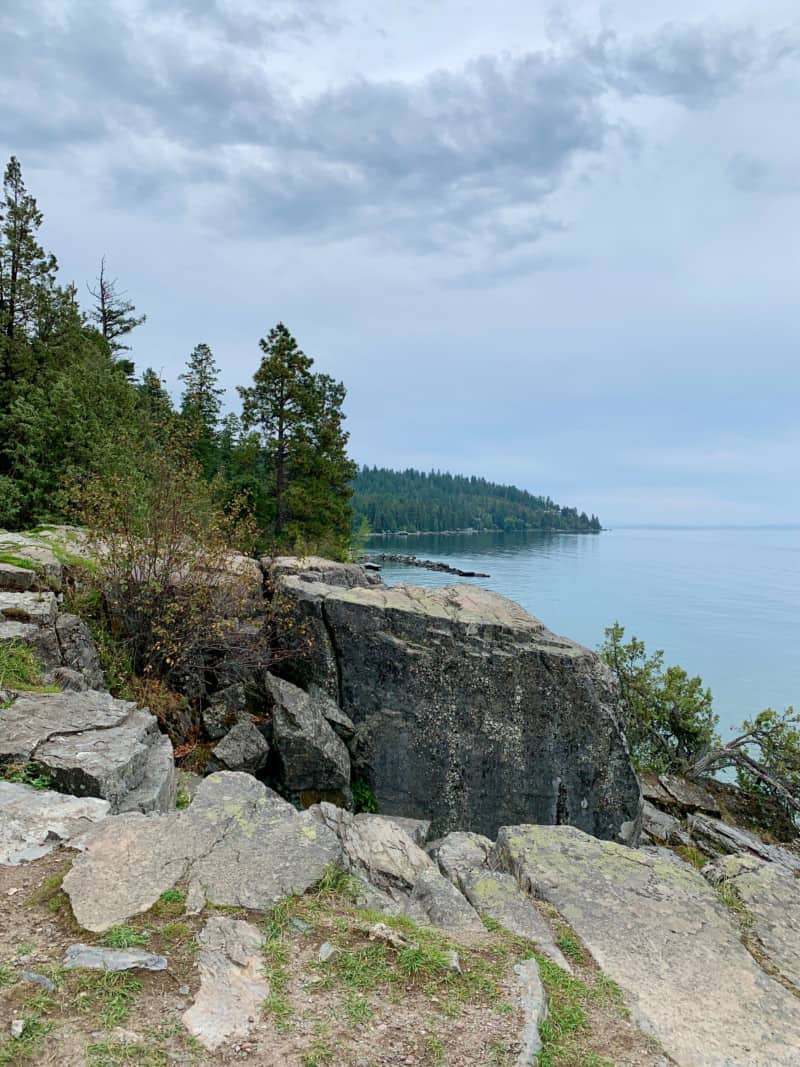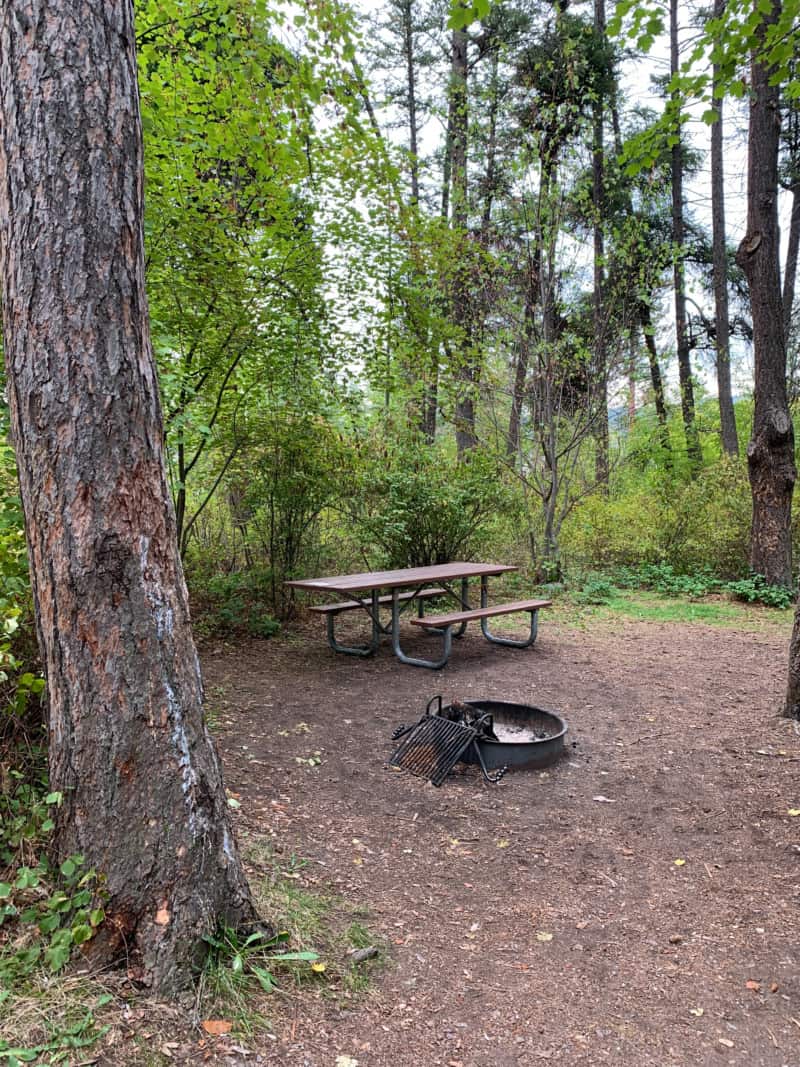 If you prefer urban trails with less likelihood of wildlife encounters, check out the Swan River Trail in Bigfork. This is an easy 3-mile walk with nice views of the Swan River.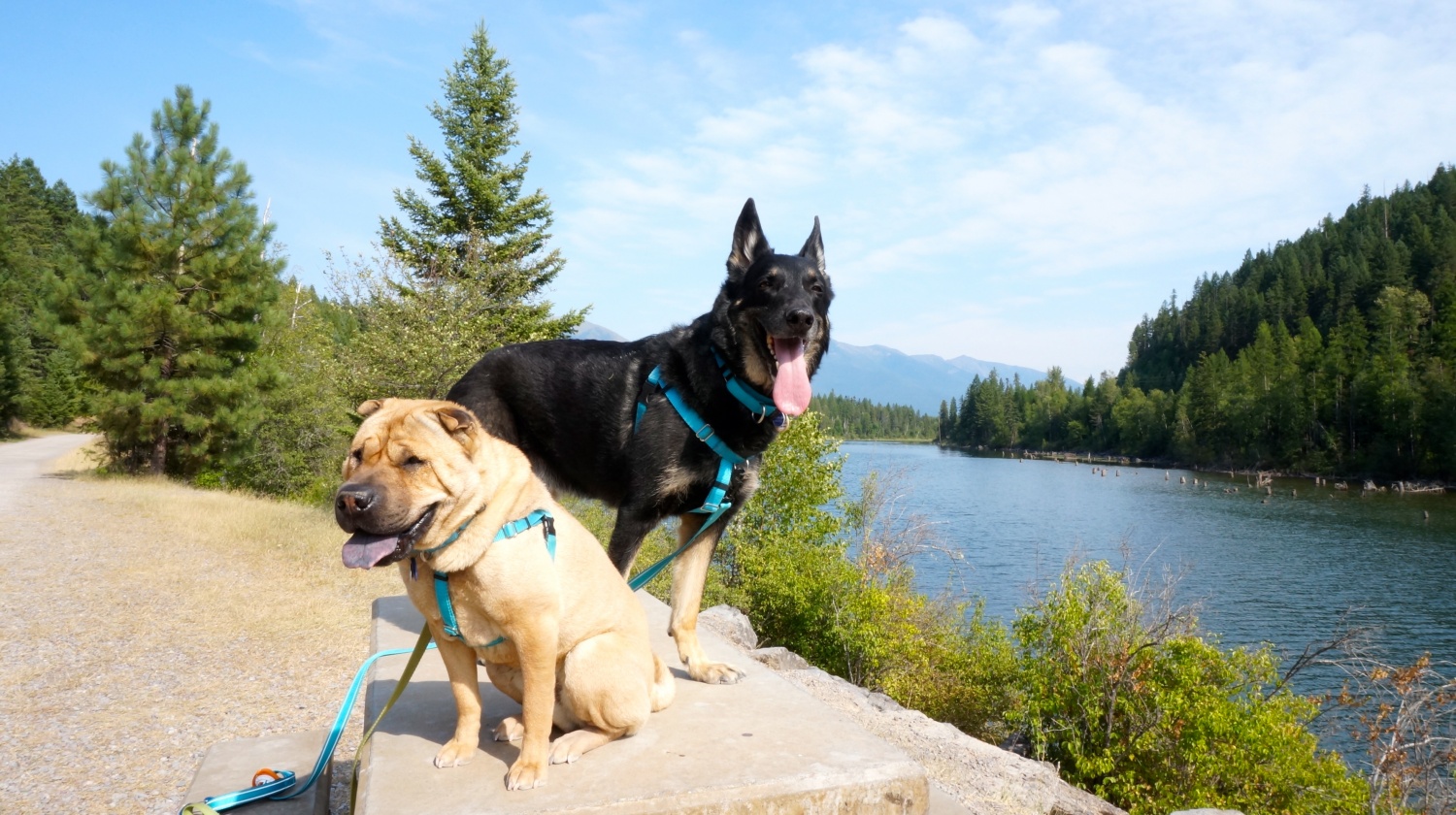 Additionally, the town of Bigfork is great if you enjoy the arts, theater, live music, film festivals, art festivals, farmer's markets, and even dog sledding in the winter! Bigfork also has several pet friendly lodging options if you're not up for camping.
READ MORE ⇒ Tips for Booking A Pet Friendly Cabin or Vacation Rental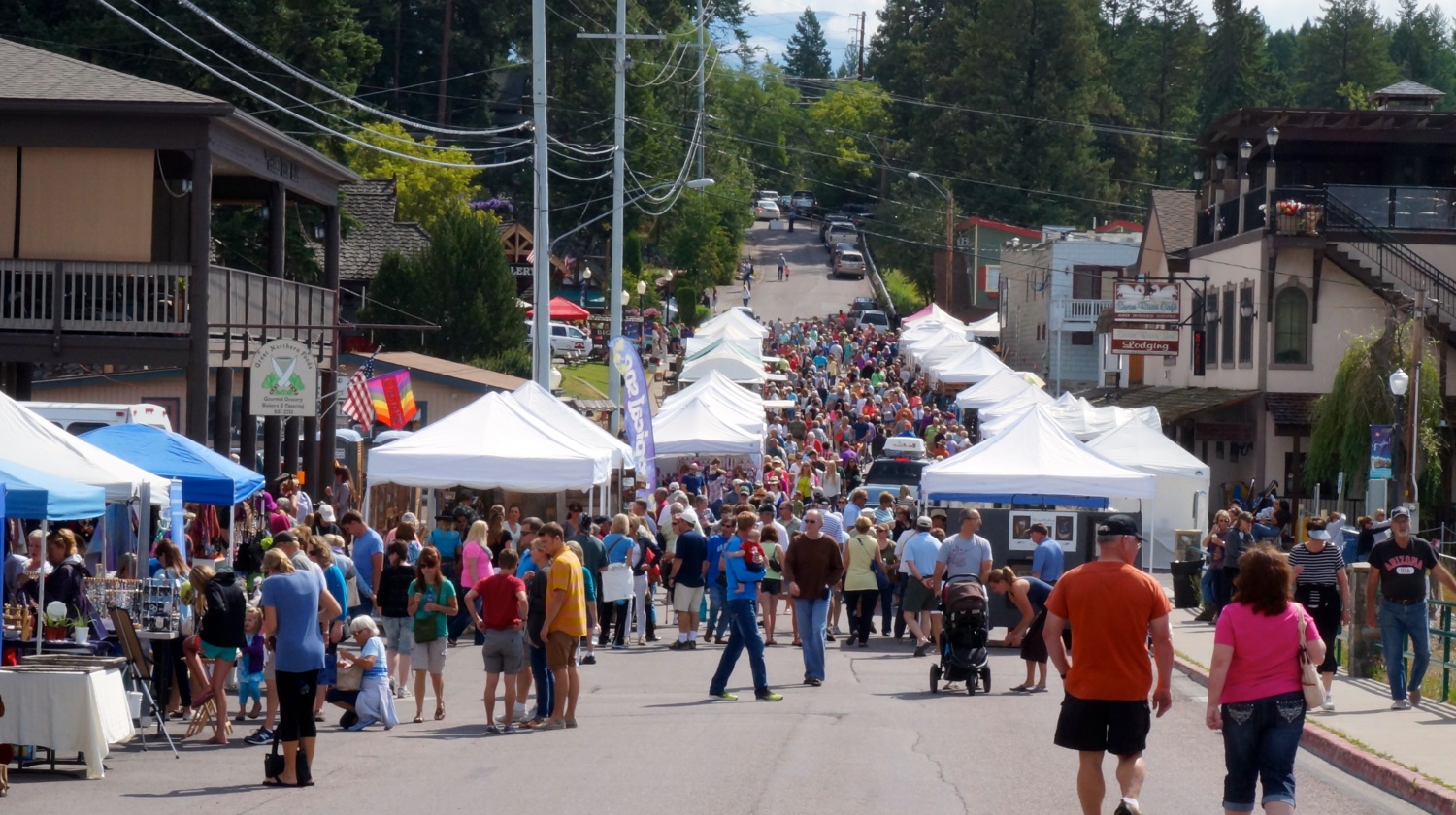 West Shore – Flathead Lake State Park
This was my favorite stop, and probably the dogs' too – the park ranger handed out several dog snacks upon our arrival! West Shore is where you'll want to go if you're seeking a place to relax in nature. The campground is situated in a spacious pine forest, which gives you plenty of room to breathe.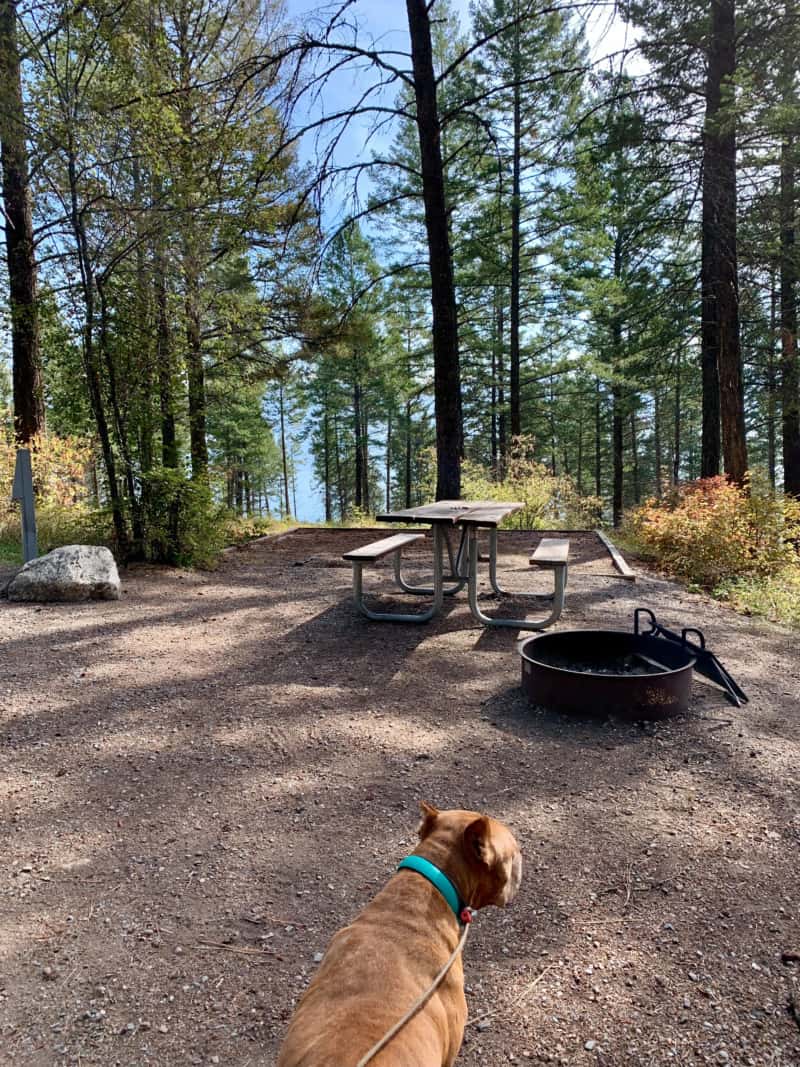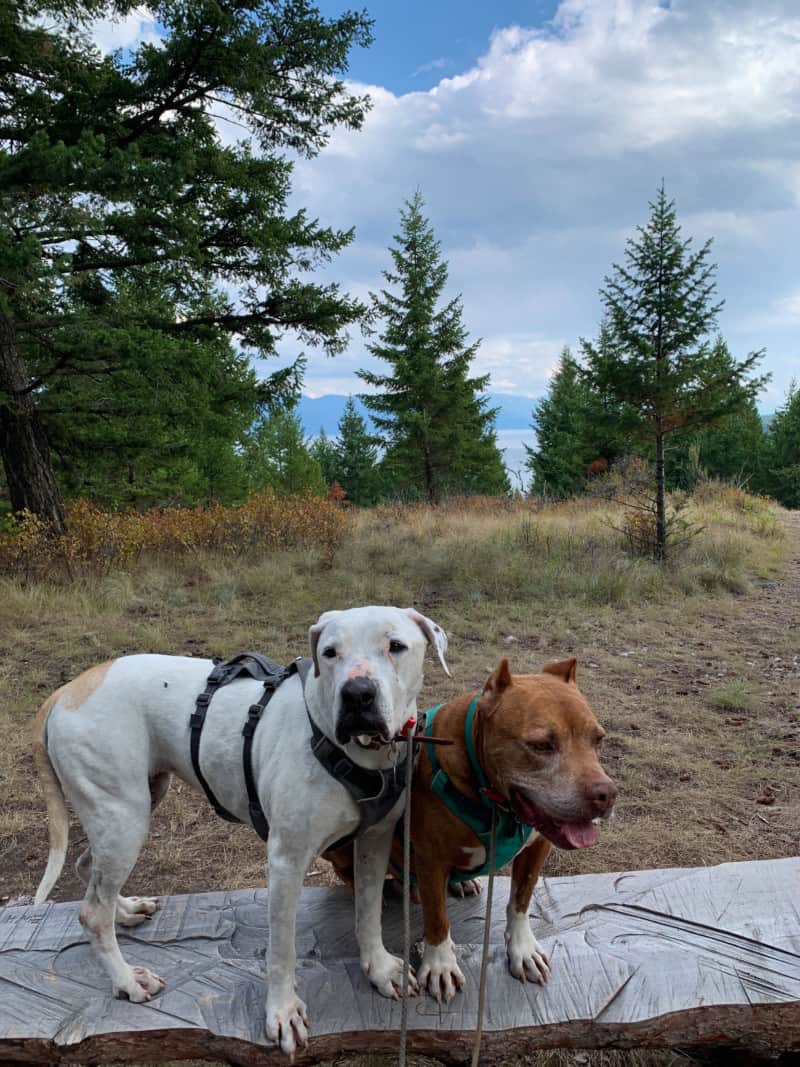 But don't spend all your time napping! There a several trails that crisscross through the park. Take Osprey Overlook Trail to the top of the hill for a lovely view. Then head down Linderman Lookout to Lakeshore Trail. The views through the trees to Flathead Lake are stunning!
At the lake, you can enjoy a snack at the picnic tables or skip rocks with the many smooth, colorful stones that make up part of the shoreline.
Cool Whip did not want to get her toes wet, but your dog can! Dogs are allowed along the shore and in the water as long as there isn't signage stating otherwise.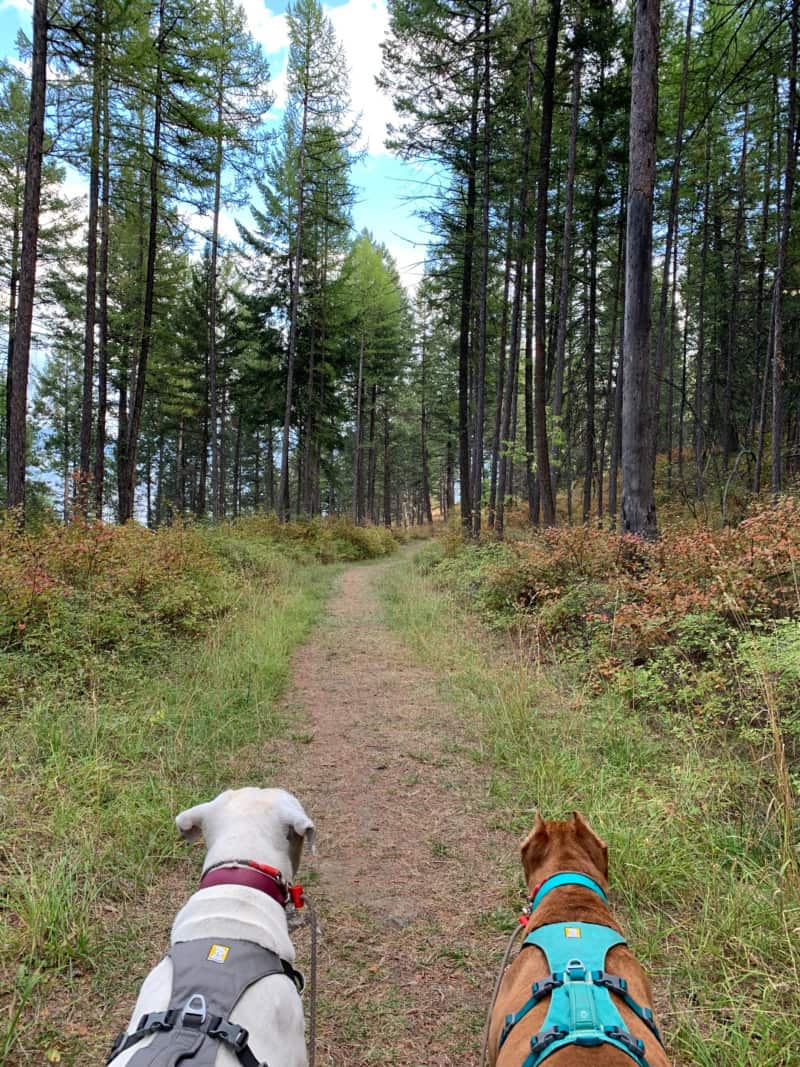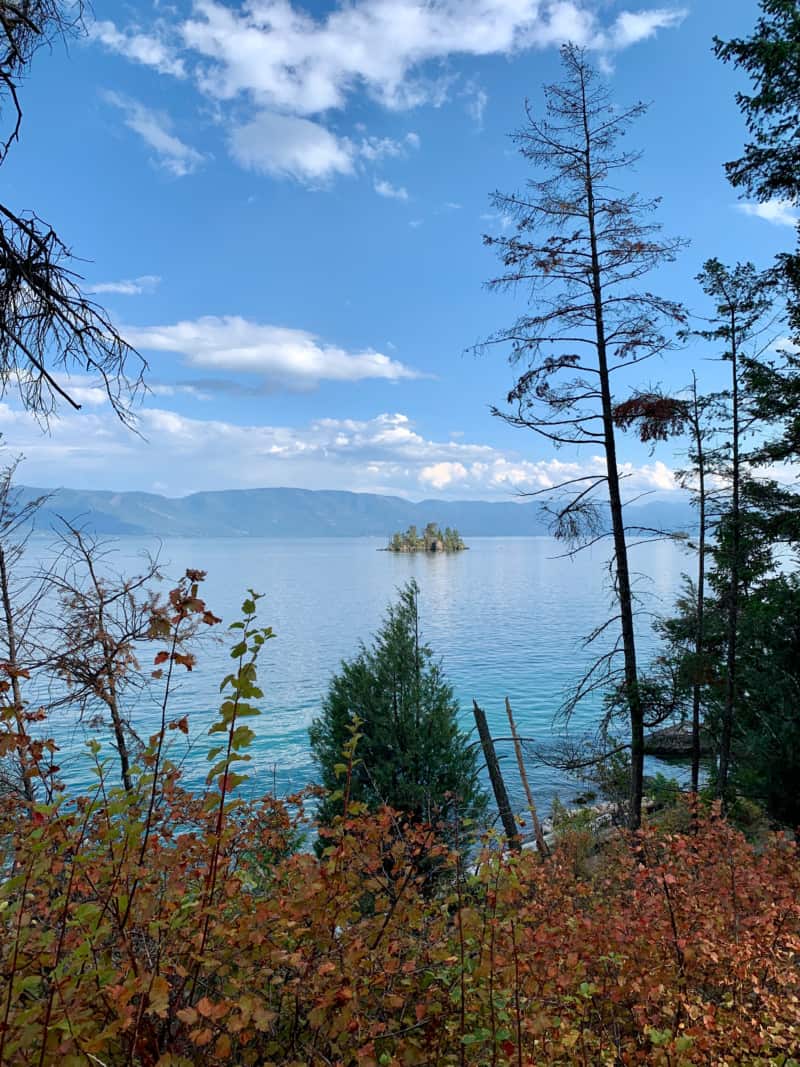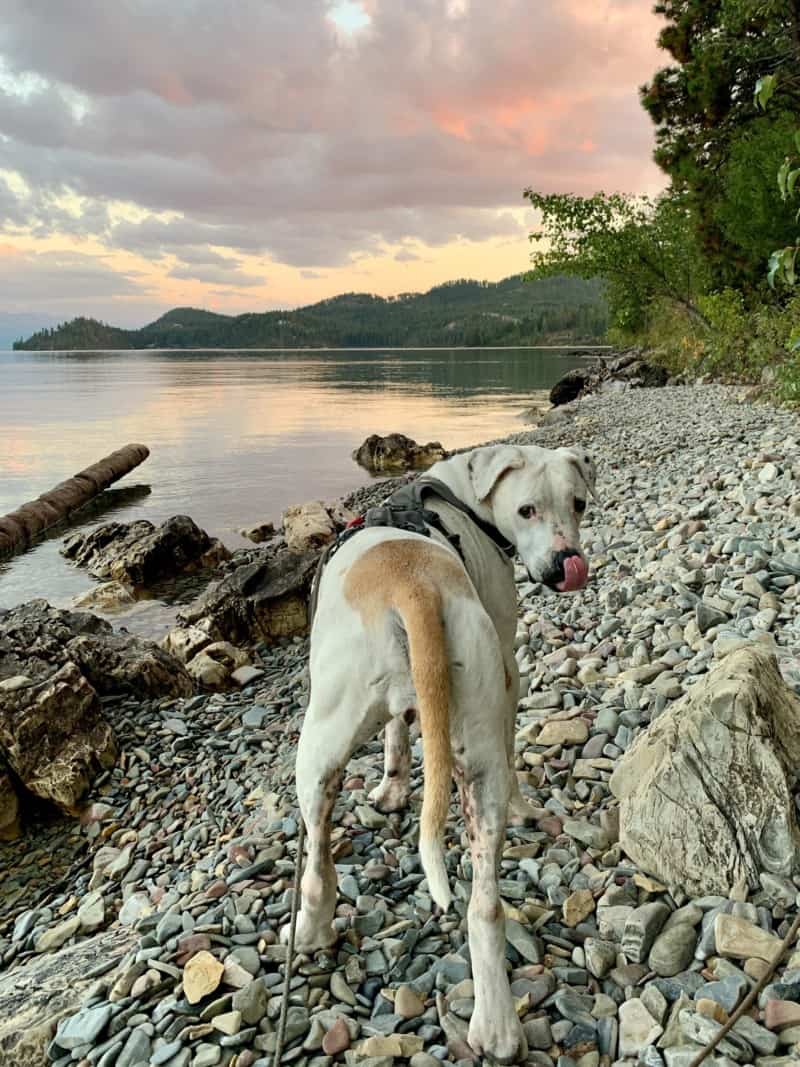 Big Arm – Flathead Lake State Park
If you and your adventure pup want to camp right next to the water, Big Arm is the park for you! Just be sure to bring some leveling blocks if you're staying in a van or RV — being so close to the shoreline, many of the campsites have uneven ground. It's worth the effort, though! There's nothing like cooking dinner and enjoying a campfire right next to the lake.
READ MORE ⇒ Beginner's Guide To Camping With Dogs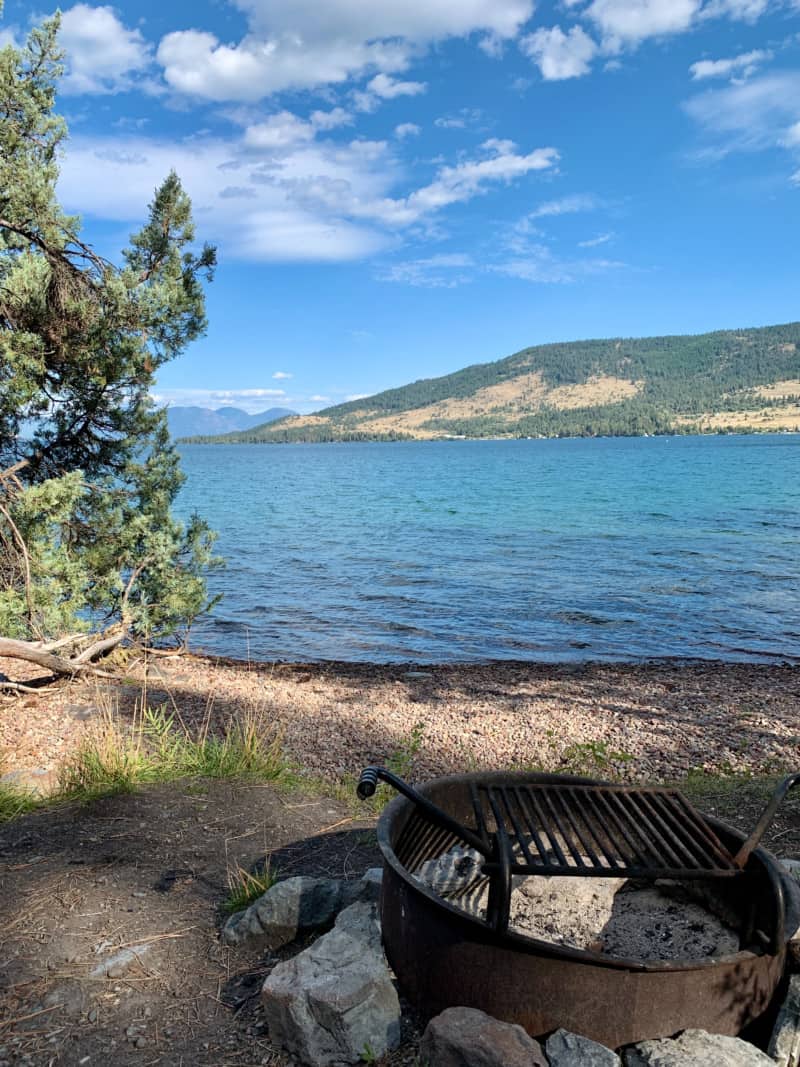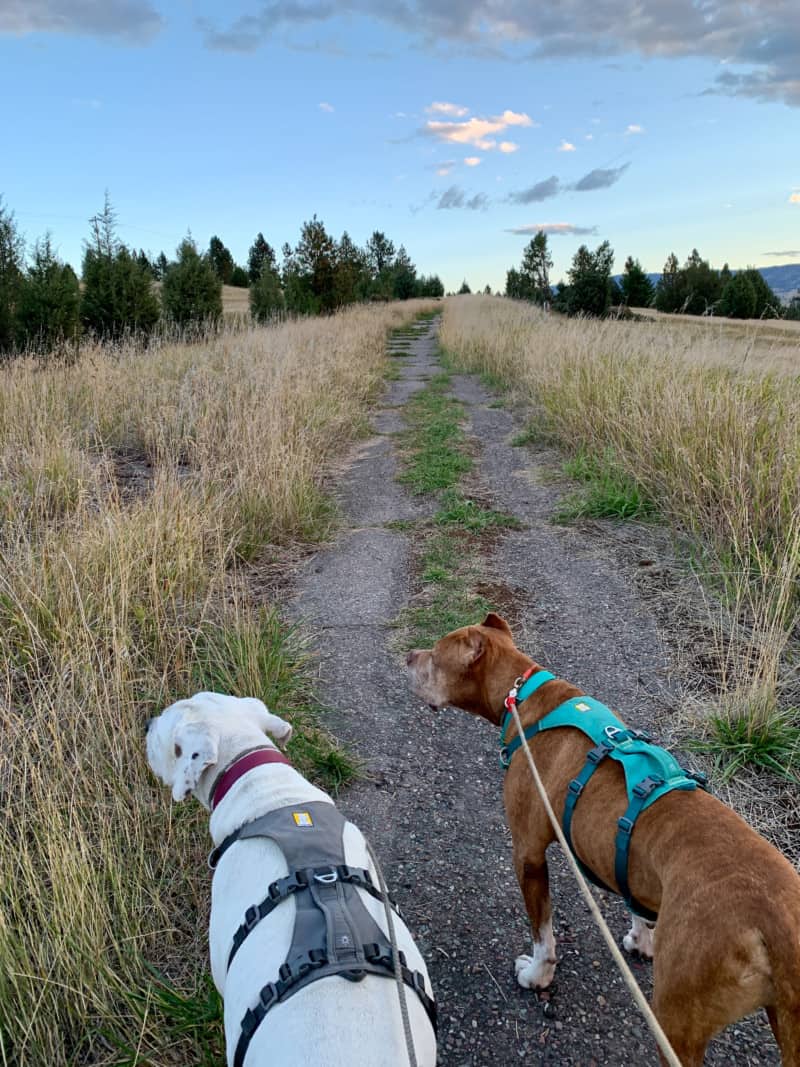 Kalispell, Montana
Kalispell, Montana is one of Outside Magazine's most up-and-coming towns of 2021. And it's just 30 minutes from Glacier National Park, Flathead Lake, ski resorts, and multiple state and national forests. Right outside of town is Lone Pine State Park with a variety of trails for hiking (no camping available).
Historically, the town focused on agriculture and industrial businesses. However, its appeal to outdoor adventurers and tourism is on the rise. It makes the perfect spot to set up a basecamp if you want to stay in town because you'll find the most options for pet friendly lodging, groceries, laundromats, vets, and pet supplies.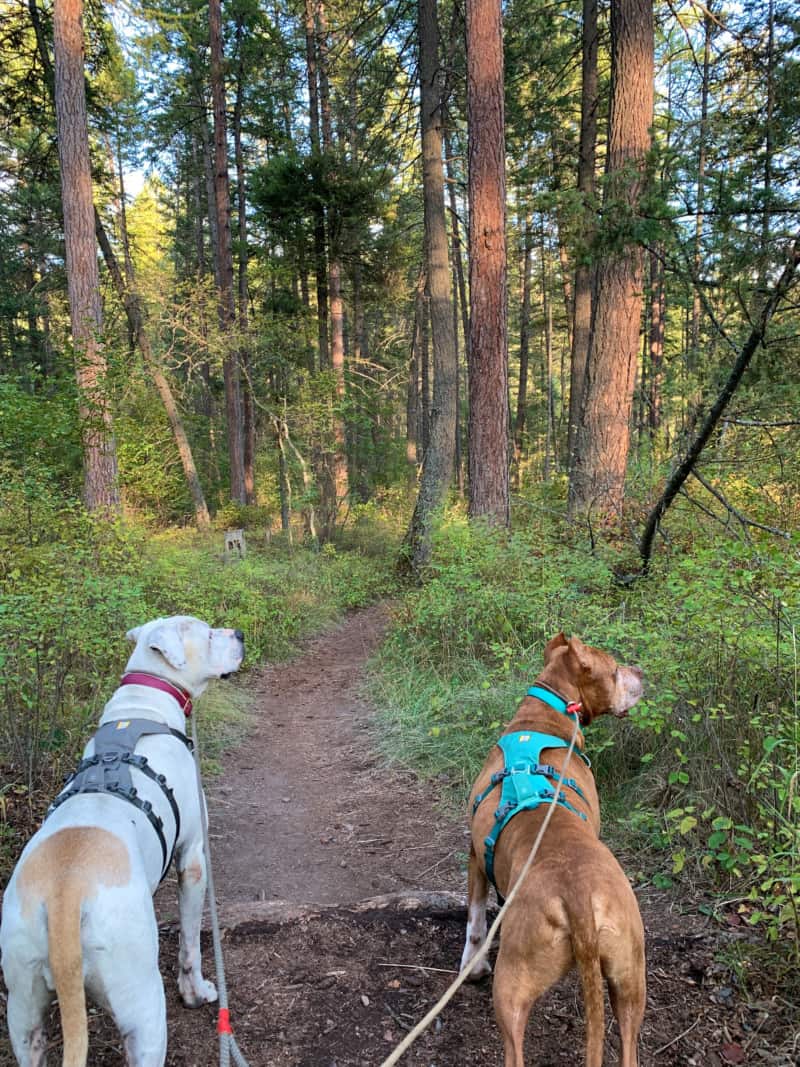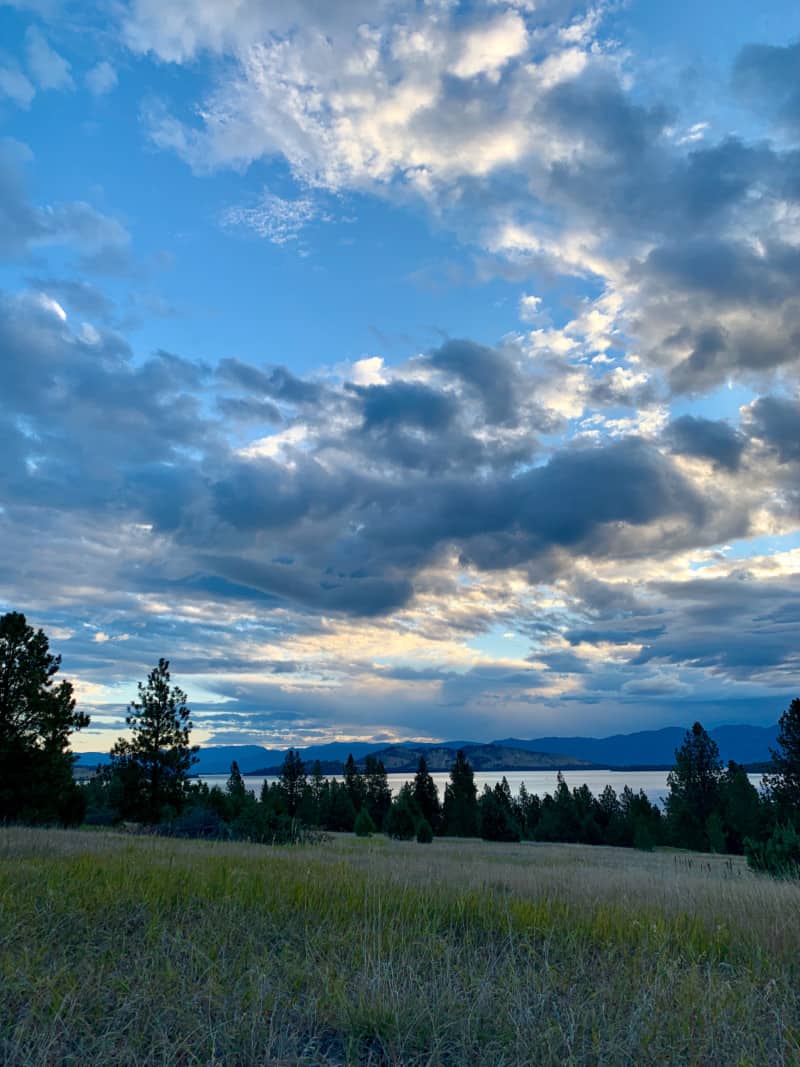 Polson, Montana
On the south end of Flathead Lake sits the town of Polson. This lovely little community has plenty to offer: cute coffee shops, museums, antique stores, and more.
Polson is also home to the Flathead Cherry Festival. During the festival, Main Street is blocked to traffic in downtown Polson for two days to celebrate cherries with vendors, artists, and lots of good food. Can't make it to the festival? Many cherry orchards thrive in this area, so you'll see a lot of roadside signs noting cherries for sale when they're in season.
Want to let your dog play off leash? Head to the Travis Dolphin Dog Park. There is space on the hillside for them to run, plus a dock and access to water if your pup likes to swim.
Polson also has businesses that offer kayak and canoe rentals. Practice canoeing with your pup before you go to ensure it is a safe and fun adventure for you both!
For more active adventures, check out these hikes around Polson:
Polson Interpretive Trail – 1.1 miles
Polson Hill Trail – 2.4 miles
Radio Tower Road – 8 miles, requires a tribal recreation permit
Hellroaring Road to Hellroaring Reservoir – 2.9 miles, requires a tribal recreation permit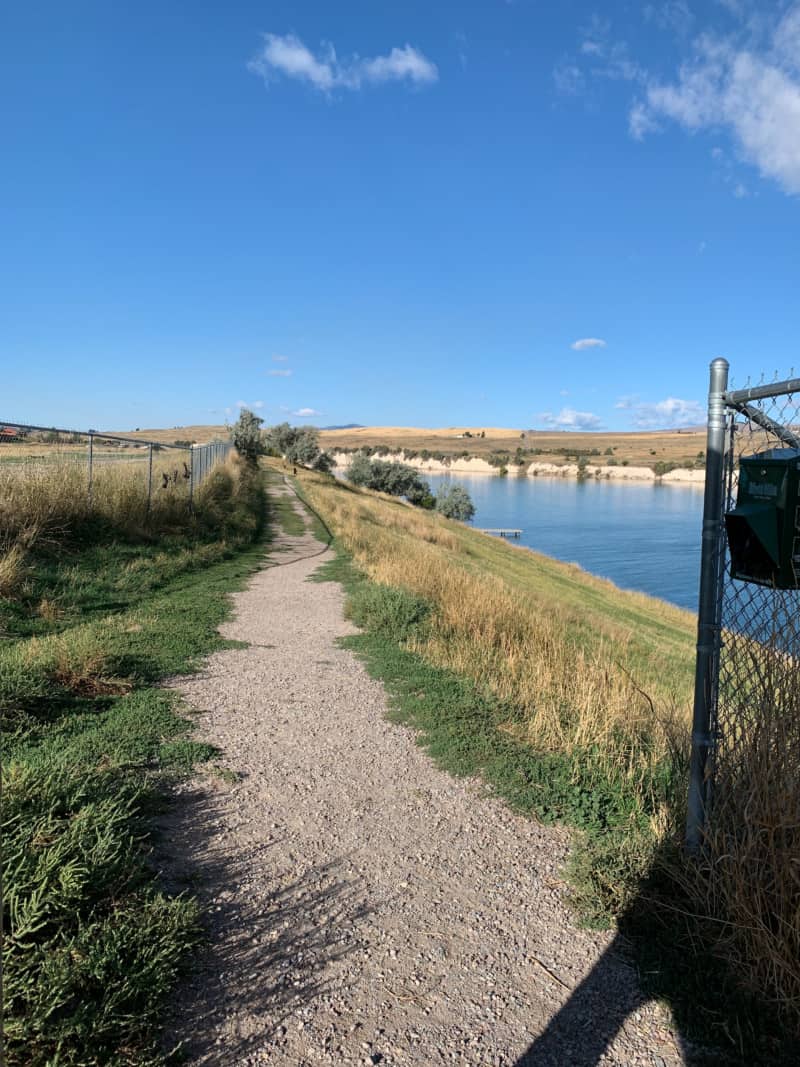 Swan River Valley
To the east of Flathead Lake is the Swan River Valley. Here, the Swan River meanders between the Swan Mountains and the Mission Mountains. From Bigfork, take the 90-mile Seeley-Swan Highway (MT 83) to explore this beautiful area.
Swan Lake, on the northern end of the highway, began as a logging camp in the 1900s to build the Great Northern Railroad. Now it's a launch point for outdoorsy activities in the Bob Marshall Wilderness and the surrounding area.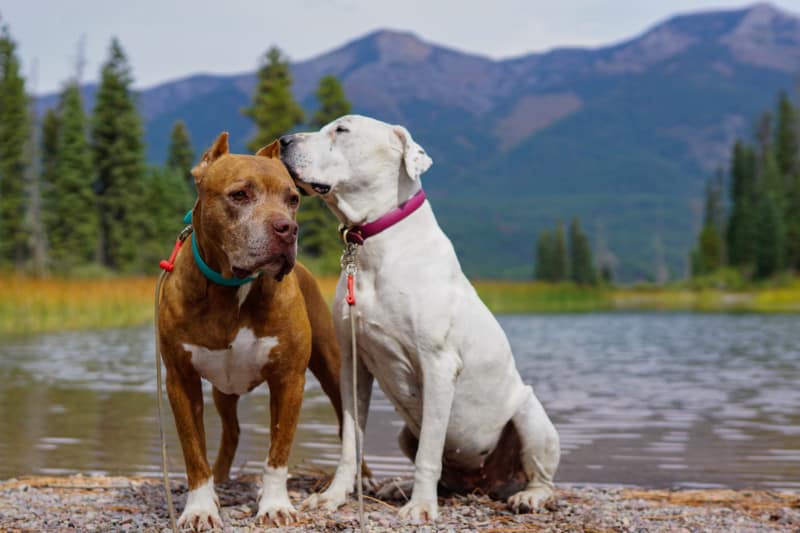 Seeley Lake, on the southern end, is home to Salmon Lake State Park and Placid Lake State Park. It's also where you can find Gus, the world's largest western larch tree. You and your adventure dog can hike to Gus from Camp Paxson on Seeley Lake. Also, consider checking out a few of these other hikes along the scenic MT 83 highway:
Swan River Trail near Bigfork – 4.2 miles
Glacier Lake Trail – 3.1 miles
Holland Lake and Falls – 3.3 miles
Morrell Falls National Recreation Trail – 5.5 miles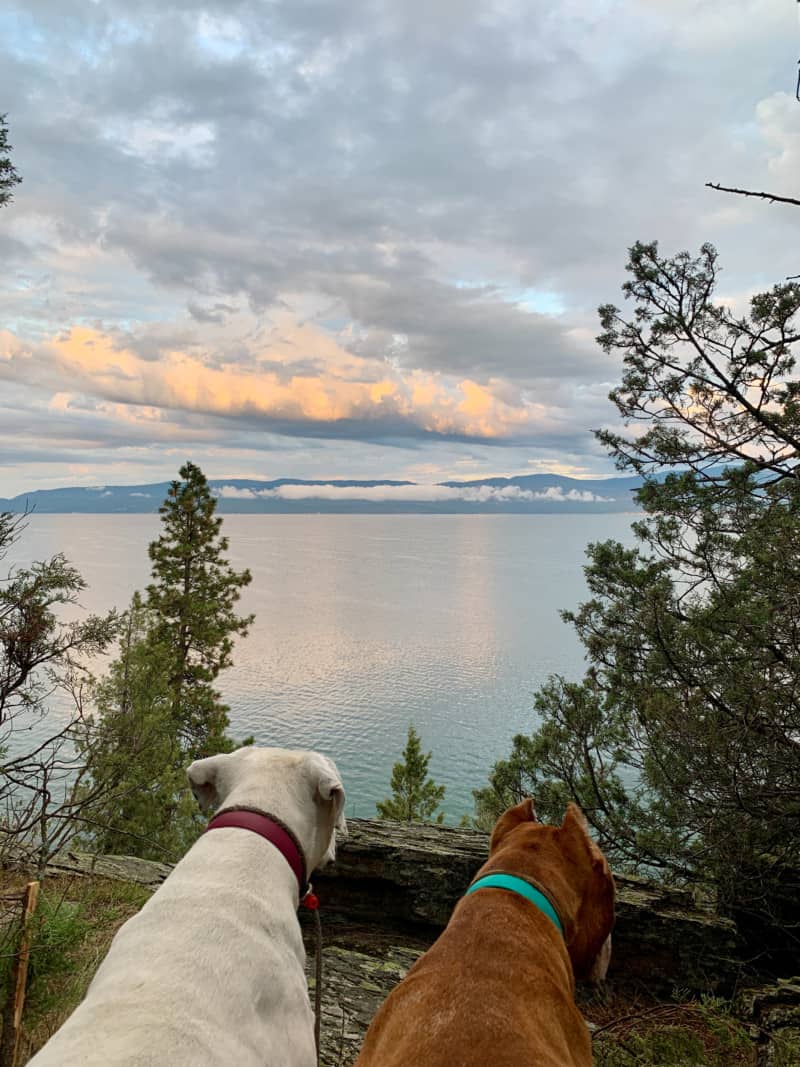 Whitefish, Montana
Whitefish is a quaint resort town tucked between Whitefish Lake and the Whitefish Mountain Range. While you're there, explore the many trails, check out the award-winning restaurants, or stop by the five-acre Hugh Rogers Dog Park in Armory Park.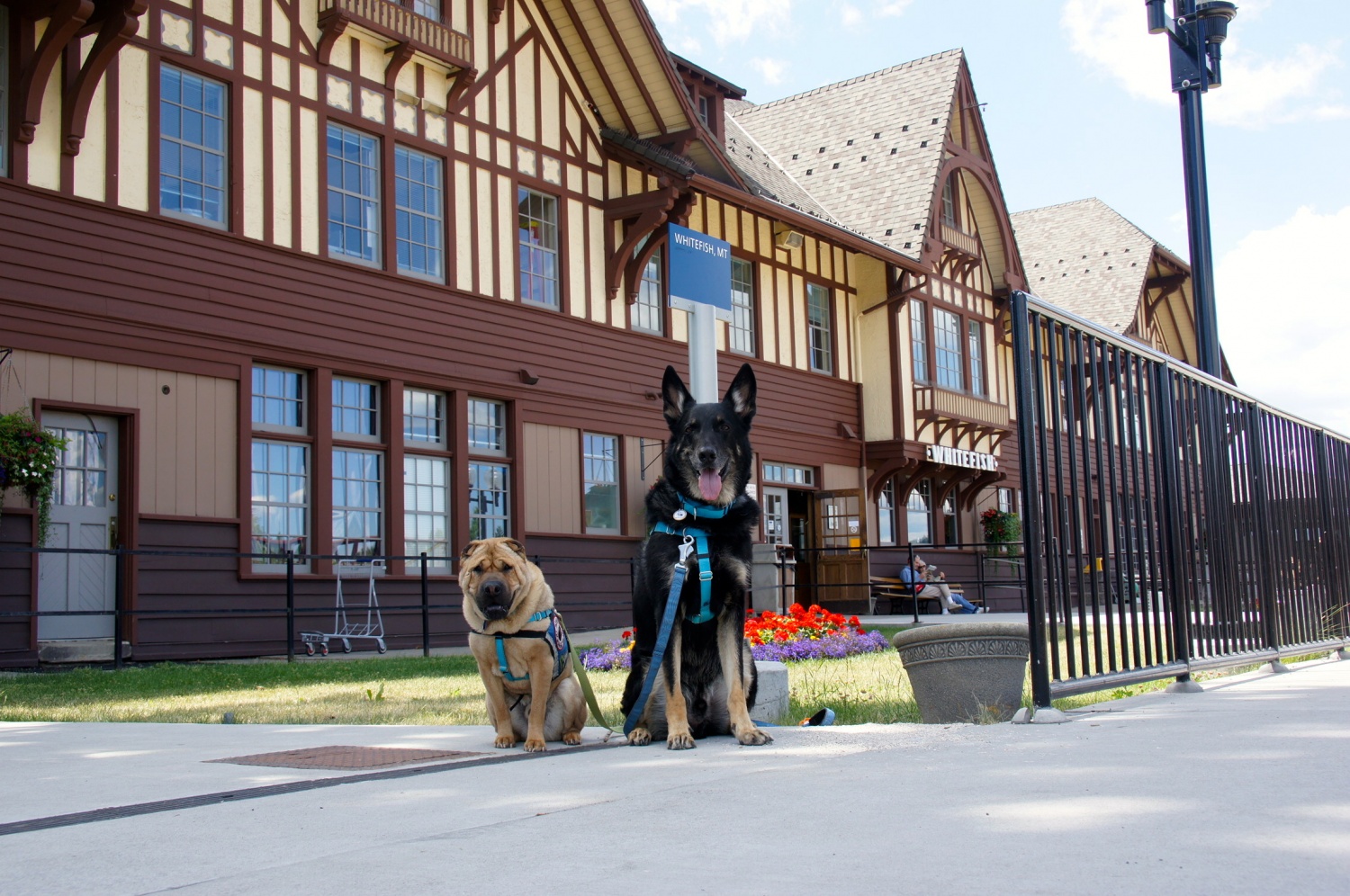 There are so many dog friendly adventures in and around Glacier National Park. Hopefully we've inspired you to plan a trip of your own!
Have you already visited western Montana? Share your tips in the comments!
(Visited 66,480 times, 1 visits today)