In a video that went viral on social media platform TikTok, a woman teared up as she recounted meeting a dog in the street wearing exactly the same sweater design as hers.
Carmen MacLeod shared the video on her TikTok page "Creatively Carmen Art," where she has 27,000 followers. More than 211,500 viewers have "liked" the video already.
The clip, which had 715,000 views at the time of this writing, was captioned, "There are no words to describe what just happened, other than GOD IS GOOD."
Artist and traveling muralist MacLeod told Zenger that her sweater was made by online Chinese retailer Shein — pronounced She-in, a short version of its former name "Sheinside" — and that the dog she encountered was called Angel.
She said she was left "shaken" after coming across the pooch with the same sweater design as the one she was wearing.
As the video starts, the words "Once in a lifetime opportunity and God chose me to experience it" appear briefly.
"So don't mind me shaking because I'm still processing what just happened to me, but I just need to show you. There are no words," MacLeod says in the video.
She moves aside to allow viewers a good look at her background image, in which she is crouched beside the tiny white dog, who is still on a leash. They are indeed both wearing sky-blue sweaters featuring the same pattern of fluffy white clouds.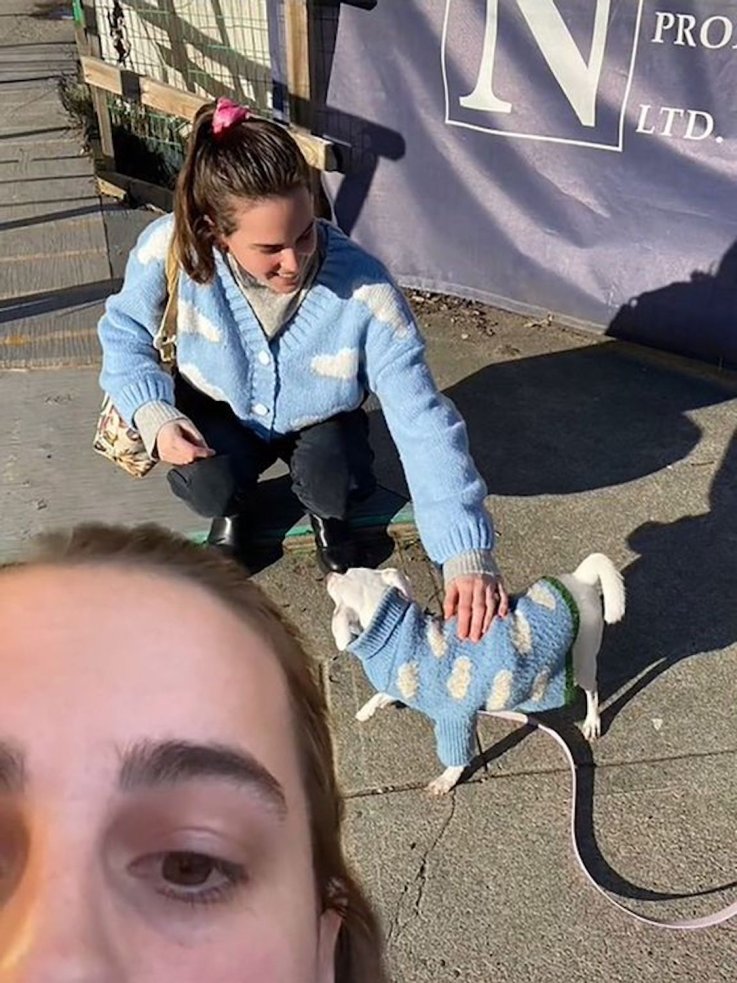 Artist and traveling muralist Carmen MacLeod teared up as she recounted bumping into a stranger's dog named Angel, who was wearing a sweater identical to hers.
@creativelycarmen.art/Zenger
While MacLeod's sweater is a button-down style, the dog appeared to be wearing a pullover.
"I met a dog today who was wearing the same sweater as me. In what world does this happen?" MacLeod asks in the video. "A really good world."
Over 1,000 commenters flooded MacLeod's post with remarks about the rare encounter, with TikTok followers telling her "That's your soulmate" and suggesting that she "officially lives in a Disney Pixar movie."
"My dream encounter!" said another TikTok user.
"The owner and I are even getting coffee together," MacLeod said in a related comment.
The dog clothing industry is expected to reach $16.6 billion by 2028, according to market research consultants Million Insights.
The Shein website offers a full line of pet clothing from hoodies and pajamas to dresses, costumes, raincoats and jackets, as well as fashionable accessories. It features a wide range of pet sweaters for both cats and dogs, but the sweater from the video is not currently listed for sale.
This story was provided to Newsweek by Zenger News.